Harnessing effective Genomics research
'Seeing the technology improve year after year, with genomics becoming more and more affordable makes people's hopes for their investigations become real possibilities.'
Victoria Coyne
Genomics
Senior Genomics Technologist
Our research centres foster high-quality and focused research activity that aligns to QUT's key research strengths. We investigate areas such as agriculture, bioproducts, clean energy, waste technologies and environmental sustainability.
IFE-aligned researchers work on collaborative projects in specialised research groups and facilities across disciplines and faculties.
What are IFE researchers and staff working on, why is it important and what inspires them about their field?
Contacts
Institute for Future Environments
Phone: 3138 9500
Int. phone: +61 7 3138 9500
Fax: +61 7 3138 4438
Level 6, P Block
Gardens Point
2 George St
Brisbane QLD 4000
Australia
Postal address:
Institute for Future Environments
GPO Box 2434
Brisbane QLD 4001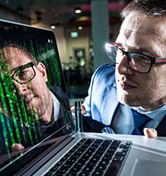 Podcasts
Listen to podcasts of our lectures and presentations.