Creating real global solutions
'We are building a foundation of knowledge on trust and responsibility in the digital age because of our evolving ways of perceiving and interacting with each other and with technology.'
Paula Dootson
Senior Research Fellow
Our research themes are linked to societal challenges and sectors of the economy, and our enabling platforms are technologies, techniques and systems that can find solutions to these challenges.
Our research centres and programs investigate areas including aerospace automation, biocommodities, groundwater systems and greenhouse gas emissions.
What are IFE researchers and staff working on, why is it important and what inspires them about their field?
Contacts
Institute for Future Environments
Phone: 3138 9500
Int. phone: +61 7 3138 9500
Fax: +61 7 3138 4438
Level 6, P Block
Gardens Point
2 George St
Brisbane QLD 4000
Australia
Postal address:
Institute for Future Environments
GPO Box 2434
Brisbane QLD 4001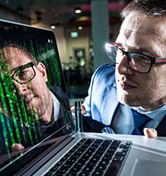 Podcasts
Listen to podcasts of our lectures and presentations.