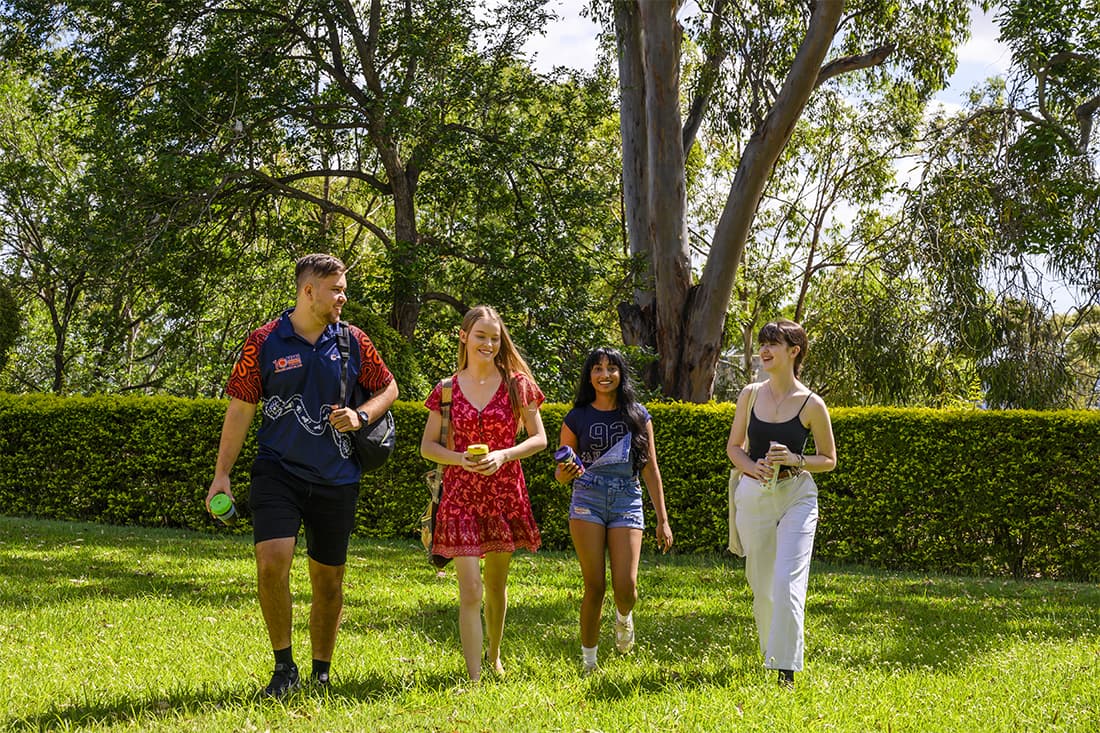 The university for a sustainable world
Our vision is to move to a low carbon future and reduce activities that result in greenhouse gas emissions. Sustainability and the Environment, one of the high-level priorities in the University's strategic plan 'Blueprint 6', reflects our ongoing commitment.
We realise the capacity of the next generation of decision makers, business leaders, specialist practitioners and citizens to maintain a sustainable world for the future.
We aim to tackle global challenges and achieve sustainability through our research, teaching programs, campus operations and partnerships.
Our strategy
Formal governance, high-level planning and reporting procedures are in place to ensure we are accountable for meeting our sustainability-related commitments.
The QUT Blueprint directs our integration of sustainability in our research and learning, operations and infrastructure, and everyday student and staff activities.
Corporate indicators
Our contributions are reported in the QUT Blueprint, using our key corporate indicators. We report on:
financial viability and responsibility
graduate outcomes
staff and student experiences
students' well-being
progress in reducing carbon emissions.
The QUT Blueprint
Sustainability policy
Our sustainability policy supports our commitment to reducing our impact on the environment, and contributing to meeting the challenges that will lead to a more sustainable world.
Climate change statement
We recognise climate change as a critical issue requiring all individuals and organisations to respond. The Climate Change Statement confirms our commitment to reducing activities that result in greenhouse gas emissions.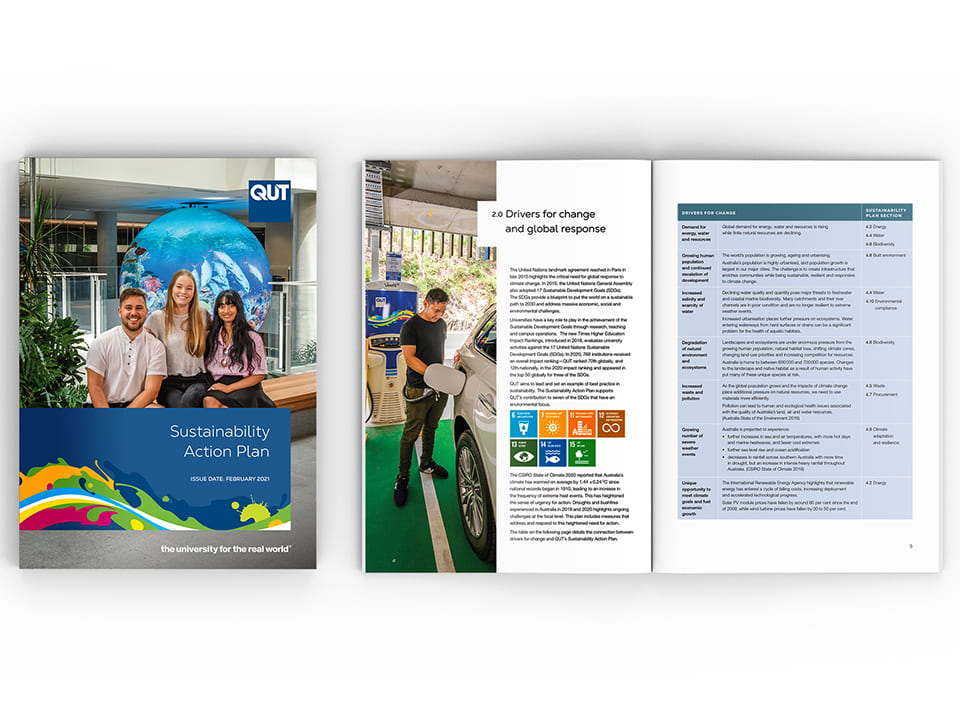 QUT Sustainability Action Plan
Our sustainability action plan provides the roadmap for the university to achieve positive environmental sustainability outcomes.
About the plan
News
5 Jul 2021
Creative industries and business student and aspiring actor Sarah Hesse is one of more than 50 real university students who feature in the new QUT television commercial that has just been unveiled.
30 Jun 2021
Janelle Weissman, Executive Director UN Women Australia joined QUT Business School's Dr Bree Hurst for a conversation that examined Sustainable Development Goal 5 and what achieving it could mean for Australia's future.
Our programs and initiatives
We recognise climate change as a critical issue requiring our response. We aim to tackle global challenges and achieve sustainability through our research and teaching programs.
Our sustainability targets and priority actions for operating the university will progress our commitment to reduce our carbon emissions. We will engage staff and students in our sustainability commitment.
QUT Sustainability Week
23-27 August
Join with students and staff as we explore, learn and celebrate living and working more sustainably.
Mark QUT's first Sustainability Week by getting involved in a range of activities from Waste Maker Day market stalls and hands-on workshops to planting trees and identifying flora and fauna via QuestaGame.
Hear the latest from leading Australian climate scientist Professor Tim Flannery and learn about the work of our own QUT researchers through student interviews, posters on The Cube, conversations and lectures.
See how we're championing sustainability by taking on-campus biodiversity or solar installations tours, or by participating in Active Commuter Day.
More details on QUT Sustainability Week are coming soon.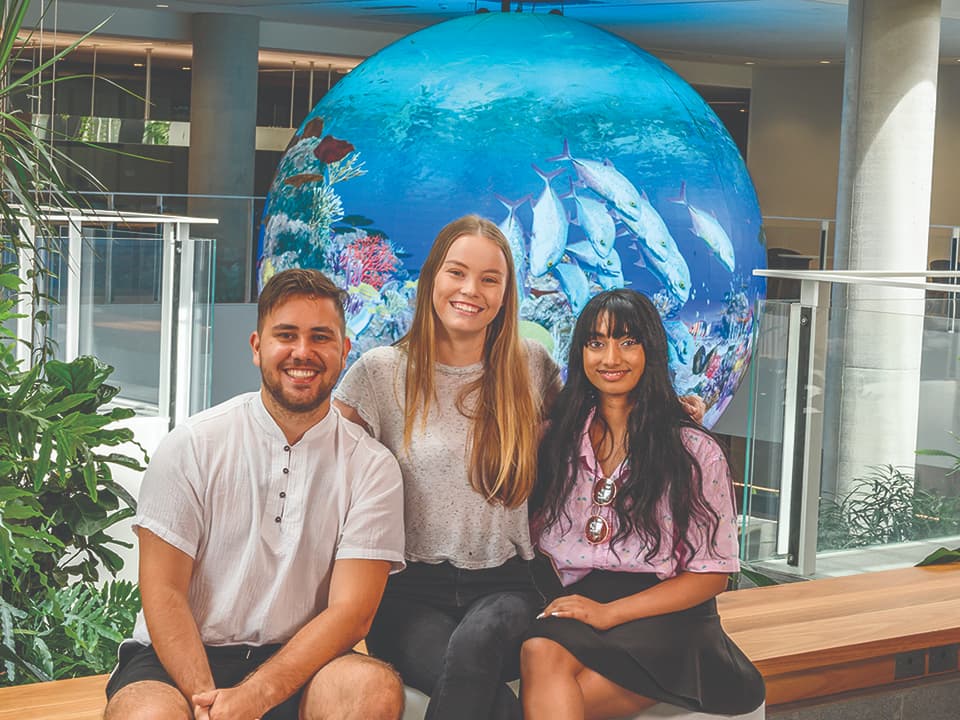 Committed to a low carbon future
QUT has signed a contract that will see 50% of its energy being sourced from a new solar farm in Columboola until 2028.
CS Energy will buy 100% of the output of the solar farm from owners Luminous Energy and on sell it to QUT, Griffith and CQU.
This will significantly reduce our carbon footprint and provide a pathway to achieve full carbon neutrality on our total electricity consumption.
In addition, the university has nine solar PV arrays on buildings across Gardens Point and Kelvin Grove campuses, with a total capacity of 885kW. All solar energy produced is consumed on site – reducing the need for grid electricity – thereby reducing costs and associated carbon emissions.
Electric vehicle (EV) charging stations
As part of our commitment to sustainable transport, we have installed three free EV charging stations available for use 24/7, with plug types CCS2 and ChAdeMO available.
Stations are located at Kelvin Grove campus (H Block and J Block) and Gardens Point campus (S Block).
Our EV charging stations are free to be used by all members of the public, as well as QUT staff and students.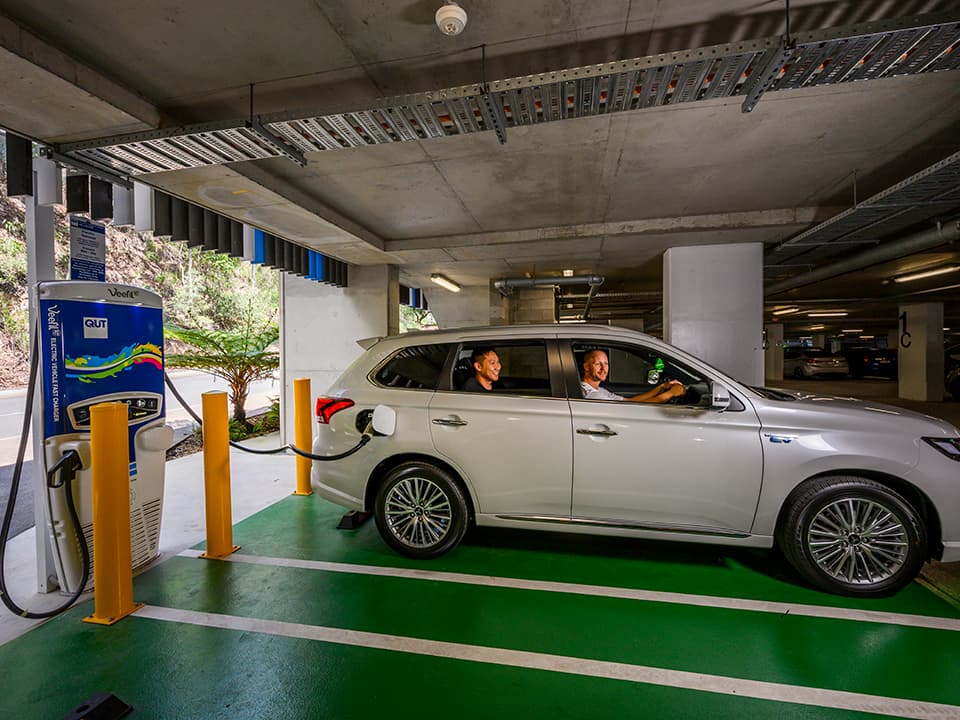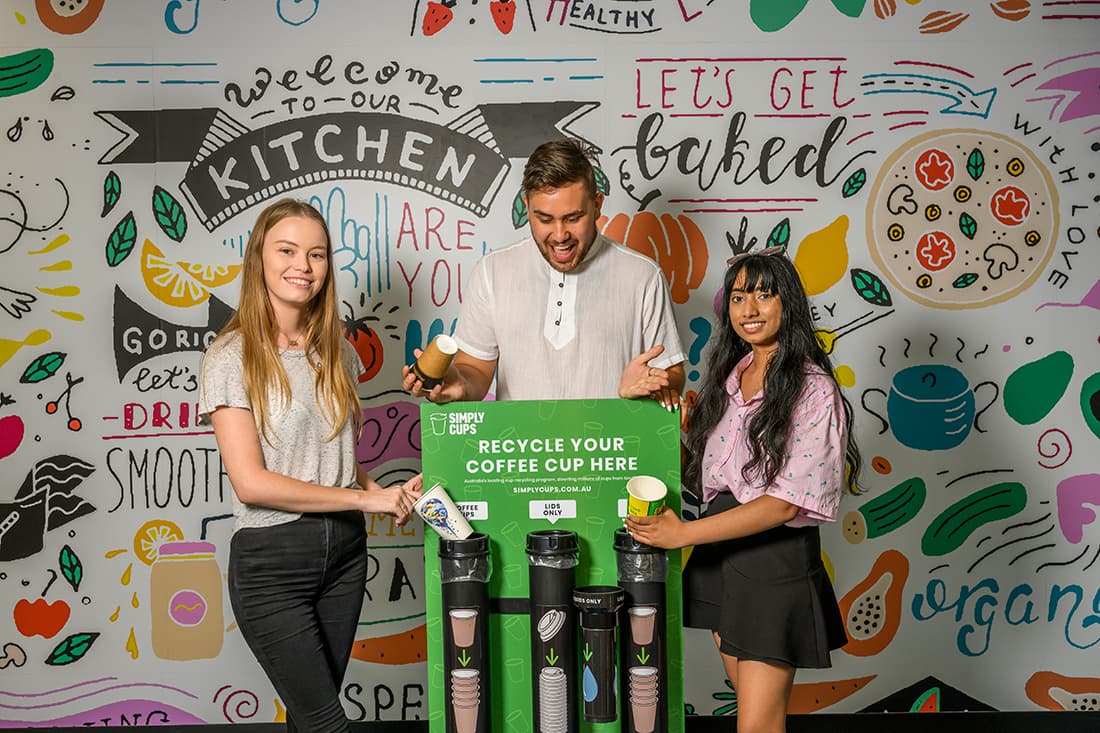 Coffee Cup recycling program
Each year Australians use more than one billion disposable coffee cups, with every cup ending up in landfill.
In 2018 QUT was the first Australian university to join forces with Closed Loop and their Simply Cups initiative to remove takeaway coffee cups from our waste stream.
Since conception, we have diverted more then 150,000 coffee cups from landfill.
To decrease more waste to landfill, Boost Juice cups are now also recycled via the coffee cups recycling program.
Carpooling with Liftango
Our latest initiative is Liftango, a free carpooling app open exclusively to QUT staff and students.
As well as being great for the environment and our community, the rewards for users include cheaper parking and designated parking spaces.
Save time, money and the environment by carpooling to either Gardens Point or Kelvin Grove campuses with Liftango.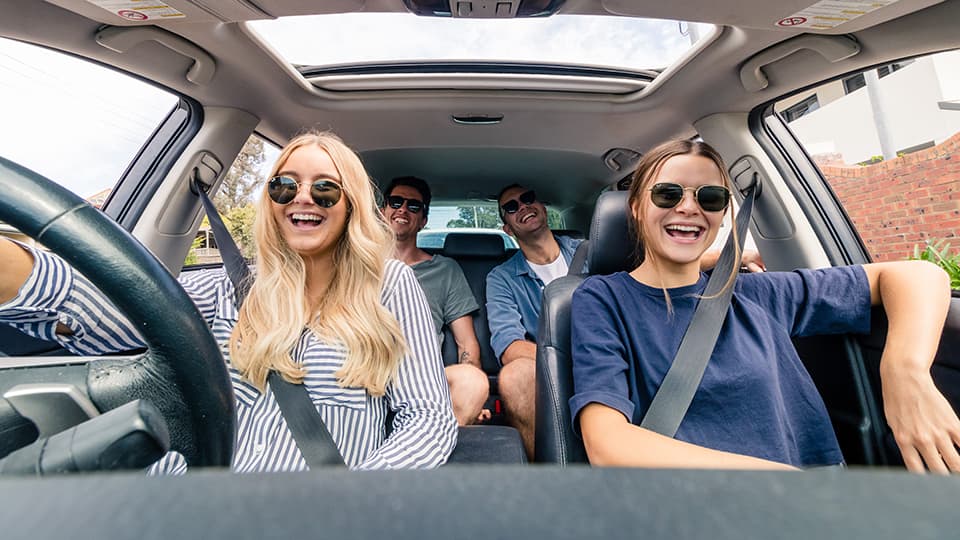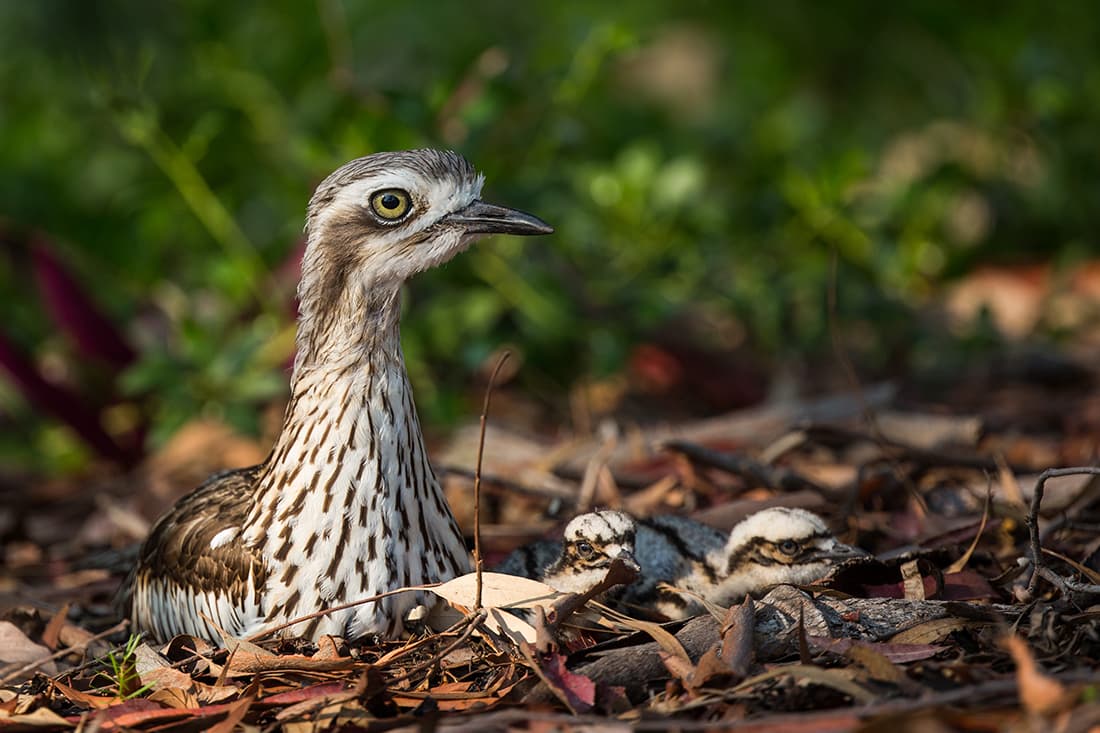 New habitat on Kelvin Grove campus attracts bush stone-curlews
In 2019, Facilities Management with assistance from our service partners Ecosure designed new landscaped gardens around H Block Kelvin Grove campus, to entice a breeding pair of bush stone-curlews to return after the construction of a new lab space.
Not only did the original curlews return to enjoy their new habitat, another breeding pair of curlews also set up home around the area.
While bush stone-curlews are considered common in Queensland, they are listed as endangered in New South Wales and considered threatened in Victoria.
Transport
Get active and use sustainable transport – catch public transport, jump on board our free intercampus bus, car share, or walk or cycle to uni.
Buildings
We aim to achieve at least a 5-star Green Star rating and to construct all new buildings and refurbishments with sustainability in mind.
Energy
We are committed to reducing energy consumption and increasing production of renewable energy on our campuses.
Biodiversity
We are committed to maintaining and enhancing campus biodiversity.
Water
We are committed to best-practice water management.
Our Water Efficiency Management Plan includes conservation, capture and reuse of water around QUT's campuses.
Waste
We are committed to sustainable waste management practices.
We are working to minimise waste going to landfill and increase recycling.
Workplace
Our vision is to move to a low carbon future and reduce activities that result in greenhouse gas emissions.
Our workplaces play an important part in supporting QUT's sustainability commitment.
Our partners
In collaboration with our partners in higher education, industry, government, business and the wider community, we are committed to reducing our carbon emissions and addressing global and local sustainability challenges.
Tertiary Education Facilities Management Association
Facilities management, which involves designing, procuring, and furnishing buildings, has evolved into managing facilities in response to the demands of ecological sustainability.
The Tertiary Education Facilities Management Association (TEFMA) is producing a global reporting framework, that can be applied to public and private organisations, with principles that will measure and report economic, environmental, and social performance regardless of organisation size, sector, or location.
Packaging Stewardship Forum, Australian Food and Grocery Council
In partnership with the Queensland Department of Environment and Heritage Protection, we contribute to the beverage container recovery targets set by the Packaging Stewardship Forum of the Australian Food and Grocery Council.
By providing education and infrastructure, the program aims to reduce the 1,500 tonnes of landfill waste generated by QUT students and staff annually.
Council of Australian University Directors of Information Technology
The annual IT turnover of the university sector in Australia and New Zealand is in excess of $1 billion and affects the environment through the generation of waste materials (e-waste) destined for landfill with a potential for contamination.
The Council of Australian University Directors of Information Technology (CAUDIT) is involved in building a set of resources, strategies, and best practice examples to minimise e-waste.
The Australian Green Development Forum
The Australian Green Development Forum (AGDF) helps integrate sustainable practices in the Australian building and development industry.
Projects and case studies include the Oxley Creek revitalisation, showcasing sustainable home living and design, eco-tourism and creating eco-villages, and building a water supply network for south-east Queensland to deliver up to 232 megalitres per day of purified recycled water.
Australasian Campuses Towards Sustainability
Australasian Campuses Towards Sustainability (ACTS) aims to inspire, promote and support change towards best practice sustainability across all types of campuses.
ACTS builds cross-sector partnerships, bringing together sustainability educators, practitioners and change-makers to create a community for positive engagement, capacity building and impact.
Collaboration aims to boost environmental sustainability
A community engagement collaboration between QUT and the Barcaldine Regional Council aims to explore ways to boost environmental sustainability, increase employment, and elevate industry diversification in central west Queensland.
A memorandum of understanding enables QUT and Barcaldine Regional Council to explore opportunities for collaborative projects and activities that build on their respective strengths, knowledge and expertise, primarily in the fields of clean energy and agriculture.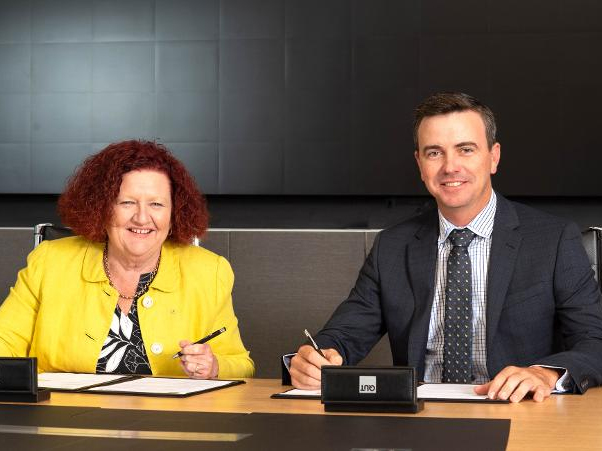 Contact us

Find us at
Facilities Management Y1 Block
Victoria Park Rd
Kelvin Grove QLD 4059