About us
Our facility is a living laboratory for research and teaching across ecology, urban planning, agriculture, engineering and more.
The property was generously bequeathed to QUT in 2009 by the estate of renowned Queensland entomologist Dr Elizabeth Nesta Marks AO.
The 51-hectare property provides a unique opportunity to investigate the climate, environment, soil, water, vegetation and wildlife of a peri-urban ecosystem (at the edge of the city). The property is located in the Samford Valley, 25 minutes north-west of QUT's Gardens Point campus.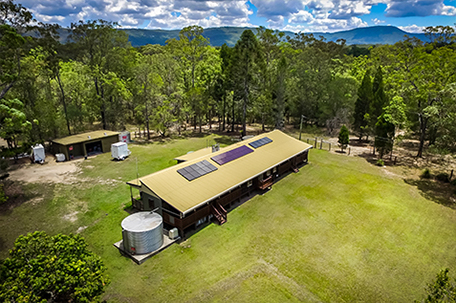 38 hectares
remnant Dry Sclerophyll Forest
last patch in Samford Valley
only 30% of original vegetation type remains in Queensland
3 hectares
remnant Gallery Rainforest (Riparian zone)
listed as endangered
only 10% of vegetation type remains in Queensland
10 hectares
modified since European settlement
clearing for grazing
Field station
Our on-site facilities include:
The Barracks, which houses an on-site office, meeting space for up to 40 people (lecture style) and accommodation for up to seven people (more possible in tents on grounds)
screenhouses, originally designed and installed to facilitate research on fruit flies, and now available for other research applications
permanent monitoring installations including a weather station, phenocam, pitfall traps, soil pits, soil moisture and carbon sensors, flux monitoring station, and litter traps.
Environmental data
The Samford Ecological Research Facility is a part of TERN, Australia's land ecosystem observatory that measures key terrestrial ecosystem attributes over time at hundreds of locations across the country.
The data is then provided openly to enable researchers, environmental managers, and decision-makers to detect and interpret changes in ecosystems.
Access data from the TERN Data Portal
Access data from SERF weather monitor - Barracks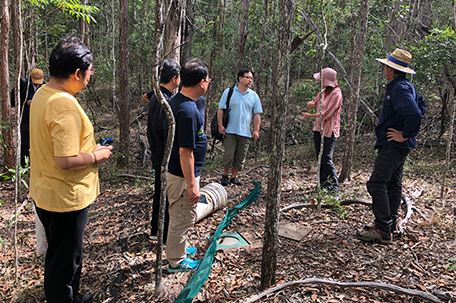 Collaborative research networks
SERF's participation in a range of national and international networks extends our impact from site to region, continent and the globe.
The networks include:
TERN, Australia's land ecosystem observatory
Our involvement gives our researchers access to national and international expertise, opportunities and collaborations.
Accessing the property
The SERF is available for a range of research and teaching activities consistent with its mission of research, education, sustainability and long-term natural resource protection. The property is available for events, school visits, community group visits and similar purposes.
Please contact us if you'd like more information about accessing the SERF. We do our best to make SERF accessible to as many people as possible, but please note charges may apply for people from outside QUT.
QUT staff and students will also need to access the online SERF induction.
If you are a school interested in using SERF for teaching purposes, please email us.
Case studies

Monitoring biodiversity using sound
Researchers are using acoustics sensing technologies to listen in to and preserve Australia's fragile and diverse environment.
How ecoacoustics is being used at SERF
Education about the environment
As part of QUT's STEM School Engagement program, Year 11 biology students from Brisbane State High School visited SERF to conduct fieldwork investigating how bandicoots are affected by habitat fragmentation and human disturbance.
Where science and art entwine
An experimental science-art project based at Samford Ecological Research Facility is tackling the question of how we might address ecological degradation using an immune-like response.
Learn more about Common_Thread
Dealing with pasture pests
Pasture dieback is spreading significantly in Queensland, and QUT researchers, in collaboration with Meat and Livestock Australia, are investigating the role that mealybugs play.
On guard against the mealybug menace
Legacy of Dr E N Marks
Dr Elizabeth Nesta Marks (Pat) was a world-leading entomologist and known for her service and leadership to the scientific community and her local community in Samford and surrounds. She published more than 100 scientific papers, described 38 new species of mosquito as well as other insects, and was a member of sixteen societies including service as the President of the Royal Society of Queensland.
In 1990, she was appointed a Commander Officer of the Order of Australia (AO) for her services to science.
Dr Marks also had a long and active association with the Samford community, especially as an active member of the Samford District Historical Museum Society.
Pat left an enduring mark on the Samford community and the global scientific community, and it is our privilege to play a small role in sustaining and growing this legacy through the Samford Ecological Research Facility (SERF).
Search the Marks family history, collections and publications
Our partners