About us
We develop innovative products and processes to build a sustainable and profitable biorefining industry in Australia. Our team engage in projects and consulting activities with industry as part of our everyday business.
We aim to increase the uptake of renewable bioproduct technologies, circular economy operations and distributed manufacturing in Australia by developing innovative, commercially viable products and processes.
We want to know your challenges so we can assemble the right team to move your project forward. To arrange a consultation, please contact brf@qut.edu.au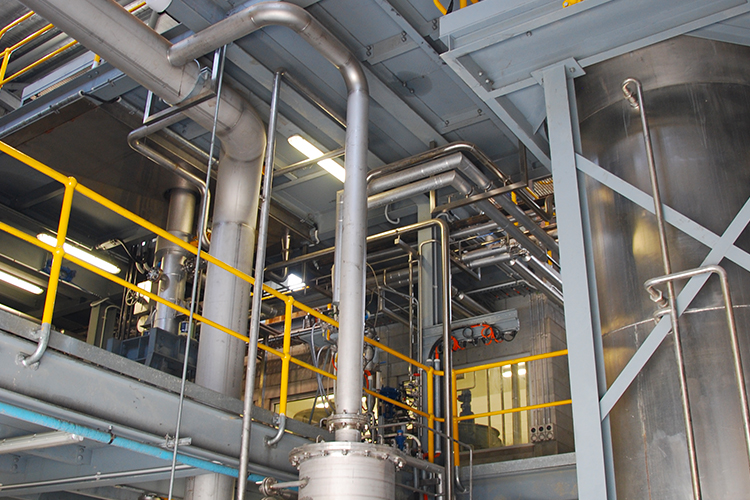 Our facilities

Mackay Renewable Biocommodities Pilot Plant
Our Mackay Pilot Plant is pioneering research and innovation in biorefining.
Fermentation and Bioprocessing Laboratory
Supports researchers, students and project partners with cutting-edge equipment and expertise in fermentation and synthetic biology.
Capabilities
We develop products and processes for research, industry and government partners in the biorefining sector.
We create end-to-end fermentation processes from strain development through to fermentation optimisation and scale-up.
Overview
Our expertise encompasses all stages of the fermentation process and can be segmented or scaled up to suit project scope.
Upstream processes
Strain development (genetically modified and non-genetically modified).
Screening and selection of fermentation strains.
Media optimisation.
Fermentation processes
1L with scale up to 1,000L fermentations.
Batch, fed-batch and continuous.
Gas formation and utilisation.
Process monitoring, control and optimisation.
Downstream processes
Solid-liquid separation and concentration.
Product purification.
Release of intracellular products.
Equipment
Our team has access to:
tools for microbial strain development
facilities for inoculum sterilisation and development
fermentation capabilities from 1L through to 1000L
product recovery and formulation capabilities.
We have a range of laboratory and pilot scale materials processing equipment to modify industrial materials to suit your bioprocessing needs.
Overview
We have a broad range of expertise and equipment to enable the effective separation of components of interest from complex mixtures.
Equipment
Our materials processing equipment allows for:
evaporation
cell disruption
centrifugation
membrane filtration
distillation
solvent extraction
vacuum drying
spray drying.
We operate large-scale steam explosion and chemical extraction equipment.
Overview
Our material pre-treatment systems may be used with a variety of materials from agricultural biomass to other waste materials such as textiles and digestates.
Our materials pre-treatment systems consist of various size reduction equipment, as well as a horizontal pre-hydrolysis reactor and a vertical reactor capable of undertaking steam explosion. The pre-treatment reactors are constructed of corrosion resistant Hastelloy C-2000 to provide the flexibility to perform a diverse range of pre-treatment technologies using various chemicals at moderate temperatures.
Equipment
We operate a variety of pre-treatment systems at QUT.
Reactors
Equipment
Details

Horizontal reactor – pre-hydrolysis process

Materials are mixed with chemicals and steam to break them up and make them easier to digest. The crystallinity of cellulose is reduced, and the porosity is increased in the process.

145L pre-hydrolysis chamber working volume for pre-hydrolysis processing
Equipped with integrated washing capacity to handle about 22kg of fibre per batch, depending on bulk density of materials
Up to 4 batches per day capacity

Vertical reactor – steam explosion

In this reactor, materials are pressurised up to 24barG temperature up to 220oC) in the reactor by steam and flashed into a blow-down tank at atmospheric pressure by opening a fast-acting blow valve.

This elevated temperature and fast decompression process can cause bursting of cellular tissue and weaken the links between fibrous components.

69L vertical high-pressure reactor designed and built specifically for steam explosion processes
Up to 50 litres of material per batch

Cutting mill Retsch SM300

Dried materials are cut and grinded down through mechanical shredding processes to reduce the particle size. It is specially designed for the grinding of soft, medium-hard, tough, elastic, fibrous, and heterogeneous mixes of products.

Up to 5 litres of material per batch
Cutting screen size from 6.0mm to 0.25mm
Variable speed from 100 to 3,000 min-1

Chipper/mulcher

This garden shredder / chipper / mulcher reduces the size of biomass feedstocks. Biomass can include, and is not limited to, sugarcane, bagasse, trash, corn stover, wood chip and energy grasses.

Deluxe 13 HP heavy duty tow behind shredder chipper
A 3.5" (89mm) chipping capacity in the side chipper hopper and 25mm shredding capacity in the top big hopper for easy feeding of bushy branches with less preparation
We enable the scale-up of technologies from laboratory to pilot scale while assessing and providing feedback to technologists on aspects of process economics.
Overview
Our processing and economics capability supports the development of biorefining technologies from laboratory- to pilot-scale. Our multidisciplinary team provides guidance and expertise to enable researchers and technologists to examine the economic viability of projects and create real-world impact.
Our team are experts in a wide range of key biorefining areas including synthetic biology, biochemistry, chemistry, engineering, process modelling and economics.We create a link between research and industry.
Our strong connections with other universities and technology providers enable us to access the best information and collaborators to ensure successful biorefining scale-up outcomes for our partners.
We possess hydrothermal biomass liquefaction and commercial-scale pyrolysis equipment and processes.
Overview
We provide bioprocessing hydrothermal liquefaction and pyrolysis technologies to produce effective and economically viable outcomes for our research and development project partners.
Thermochemical transformation converts biomass and waste feedstock into biocrude oil, syngas, solid residue and aqueous products in moderate to high temperature oxygen deficient environments to obtain high yielding energy conversions.
Hydrothermal liquefaction is ideal for processing a wide range of feedstocks, including low quality feedstocks having high moisture, oxygen and ash content. Pyrolysis is an alternative thermochemical process and best suited for processing feedstock with a lower moisture content. Typically, these thermochemical transformation technologies can be used to process a variety of feedstocks including:
lignocellulosic products such as agricultural waste, forestry waste and green waste
black liquor
paunch
food waste
sewage sludge and biosolids
stillage and digestate
biosolids
green waste
end-of-life plastics
municipal solid waste
tyres.
Components derived from these processes can be used to produce a broad range of products including liquid and gaseous fuels, and bioproducts used in flavours, organic acids, pharmaceuticals, phenolics, resins and plastics.
Our team has established a significant track record in the development of proprietary process conditions and catalyst selection to optimise product yields from conversion of waste feedstock for our partners. We also possess extensive analytical capabilities and bench and pilot scale facilities dedicated to hydrothermal liquefaction and pyrolysis.
Equipment
We have the following equipment to enable hydrothermal liquefaction and pyrolysis.
| Equipment | Details |
| --- | --- |
| Parr high pressure and temperature batch reactors | 5L, 7L and 20L capacities |
| Pyrolysis process development unit | |
| Continuous hydrothermal liquefaction (HTL) reactor | 10 L/hr continuous reactor, 250 bar and 340°C operating conditions |
Our equipment and expertise in separation technologies, including supercritical fluid extraction and antisolvent fractionation, enables a wide range of bioprocessing outcomes.
Overview
We possess a broad range of expertise and equipment to enable the effective separation of components of interest from complex mixtures and ensure accurate and economically viable results for our bioprocessing research and development project partners.
Supercritical fluid extraction and anti-solvent fractionation
Our supercritical fluid group within the Centre for Agriculture and the Bioeconomy explores the supercritical fluid extraction (SFE) and supercritical anti-solvent (SAS) fractionation of feedstock to produce a variety of products.
SFE is a green extraction technique with proven advantages over more established extraction processes. Benefits include:
higher extraction yields
improved selectivity
better fractionation capabilities
lower environmental impacts.
The QUT Banyo Pilot Plant houses world-class separation technology equipment including a laboratory variable volume view cell used to study solubility of extracted compounds in dense and supercritical carbon dioxide at elevated pressures.
Feedstocks and products that can be processed on the unit are extremely diverse and include the extraction and fractionation of bioactives, carbohydrates, proteins, lipids, bio-crudes, hydrocarbons and heavy metals.