The primary aim of e-Grad School is to help PhD and research masters student develop generic professional skills during their research degree candidature, so that they can enter the workplace more ready for industry, innovation, and to meet the needs of their employers.
Modules are available to any student or university.
Raising the bar on research training
The training is provided to research students via short, fully online, flexible and easily accessible modules.
The modules are designed to improve transferable skill development, promote cohort interactions and develop awareness of issues and themes relevant to internationally mobile research graduates.
Over 22,000 students have registered for training, including students from universities across Australia, Asia and New Zealand; and increasing student enrolments indicate the relevance of this training to globally mobile students.
For all e-Grad enquiries please contact the e-Grad School coordinator egsacoordinator@qut.edu.au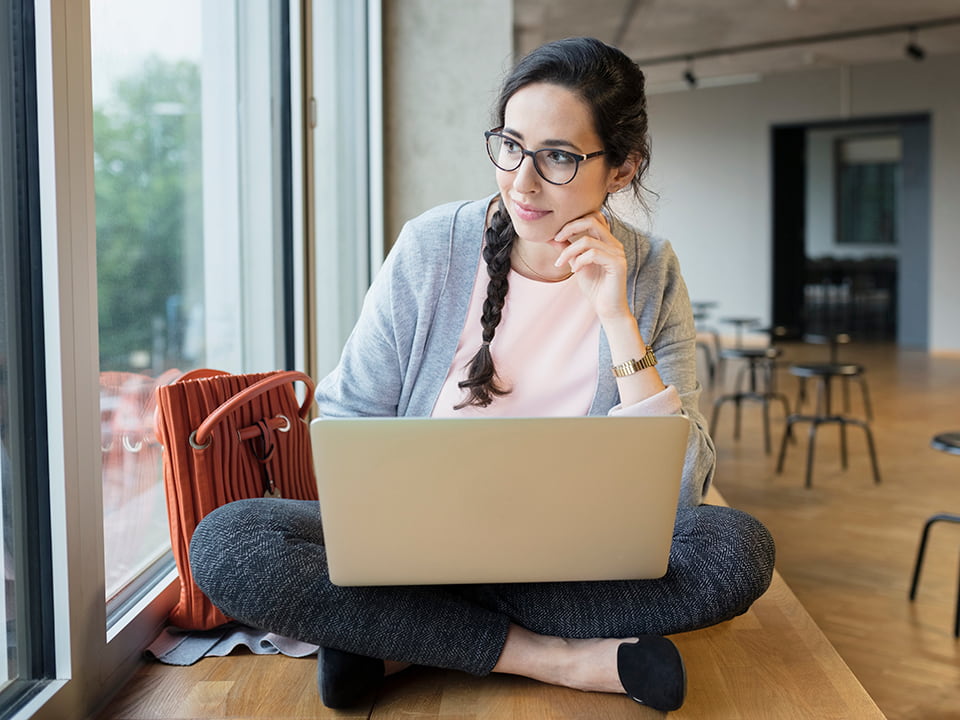 Online modules
The online learning environments are facilitated by leading experts in the knowledge areas and allow students to engage in cross-disciplinary discussions with peers across the country while building their competencies.
Students are able to select modules from any pathway based on their individual training and development needs. All modules are 5 weeks in length and are offered twice per calendar year to research students via email calls for registration.
The modules are assigned to three learning pathways: Advance, Lead and Engage, to allow students to identify relevant areas of development.
Online modules
Our e-Grad School modules are designed and taught by the experts in the field, tailored specifically for research students and early career researchers who need broader communication, digital capacity, innovation, transdisciplinarity, cross cultural, career development and industry engagement skills. The online modules are taught across 5 weeks and have pedagogically designed engagement strategies which factor in the time constraints of active researchers.
Students are able to select modules from any pathway based on their individual training and development needs.
The modules are assigned to three learning pathways:
to allow students to identify relevant areas of development.
Institutional licenses
These well received offerings are freely available to all QUT HDRs and at low cost to research students from other universities. Additionally, in the spirit of collaboration, e-Grad School provides approved partners access to a sample of our modules at no cost so that they can experience the quality of our offerings prior to any financial commitment. Please contact us should you wish to discuss our e-Grad School offerings and our access arrangements.
Email egsacoordinator@qut.edu.au for more information regarding institutional licenses.
Individual (without an institution license) registration for new students is AUD $350 + GST payable on registration.
Advance
Skills that help you consider, critique and contextualise your research.
Critical and creative thinking
This course involves learning more about critical and creative thinking, and how applying critical and creative thinking approaches, techniques and tools can assist you in your research journey. We will examine conventional accounts of critical and creative thinking and compare approaches to across field of practice. We will also consider the balance of logic, knowledge, belief, behaviour, and action involved in critical and creative thinking.
Dates

18 July – 26 August 2022
Digital competencies for researchers
In today's workplace, research graduates require a set of digital practices, behaviours and identities that inform their academic and professional practices. This module provides you with the tools and knowledge to communicate, collaborate and innovate within your research area and your career. We will look at the impact of big data and datasets on research, and utilise data analytics, digital creation, and data visualisation.
Dates

18 July – 26 August 2022
Global sustainability
This module is designed to enable you to critically reflect on how your personal, professional and academic practice relates to global sustainability. We will explore types of capital, consumption patterns, sustainable community initiatives and environment issues. The module will assist you in understanding and investigating the implications and potential application of your research in the context of global sustainability.
Dates

18 July – 26 August 2022
Introduction to coding for researchers
This module introduces you to the web development languages HTLM, CSS and JavaScript. It is a practical module. While getting to know these languages, you will be building your own website, creating an online career portfolio which includes tables, quizzes and webpage layouts.
Dates

18 July – 26 August 2022
Practice-led research in creative arts, media and design
The aim of this module is to familiarise students working in the creative arts, media and design with the methodological research design implications of undertaking enquiry through practice. While the emphasis is given to areas of creative practice, the general scope and pathways can be applied to research based in any form of professional, artistic, creative or innovative practice.
Dates

12 September – 21 October 2022
Research integrity in practice
This module allows you to explore scenarios that reflect common research integrity practices and issues (e.g. authorship, plagiarism, data management) and to problem solve these hypothetical situations with your peers. Throughout this module, we will be considering ethical principles and their applicability to real life.
Dates

12 September – 21 October 2022
Lead
Skills that help you lead projects, people and careers.
Communication and collaboration
This module will address the specific communication skills required of you as a researcher, to collaborate with a broad and complex diversity of stakeholders. Navigating our way in this complex communication milieu can be confusing and demanding. We will present and examine these and other related key communication items, critical to effective communication within the world of local and global collaborative initiatives.
Dates

May 2023
Explore your career potential
This module introduces you to contemporary strategies that enhance your career potential. You will learn how to identify and harness your personal strengths; how to understand the complex HDR job market; and how to utilise your network to leverage opportunities. This module is not for the faint-hearted. It requires you to deep dive into the attributes and assets you offer future employers, collaborators and investors, and emerge with a clearer perspective on your HDR career plan. Regardless of whether you are in first year or final year, have a set career plan or not, you will find that this module provides insightful and practical solutions to exploring your career potential.
Dates

May 2023
Leadership and communication
This module allows you to explore the key concepts of leadership and communication, and considers how this information can be contextualised in your own research environment. We will also explore ways to translate knowledge of leadership and communication into better self-management and professional engagements.
Dates

March 2023
Mental wellbeing for researchers
This module is designed to provide basic strategies, support helpful thinking habits, raise awareness of mental wellbeing issues, and understand where to go for help with mental wellbeing. The researcher work involved a significant research project and can be characterised by isolation, feedback, time and project management issues, frequent setbacks, and often financial difficulties. That is why researchers need self guided wellbeing.
Dates

12 September – 21 October 2022
Project management
This module introduces you to the foundations and principles of Project Management. We explore the scope and phases of projects and consider how your projects can be better managed. This module combines theory with practise, as we apply new-found knowledge to real projects. We will consider the challenges you may encounter in projects and the best way to achieve your project goals.
Dates

March 2023
Presenting your research
This module is about creating and delivering research presentations that will have your audience enthralled and informed. This module will help you explain your complex ideas simply, give you confidence in your own skills and offer insights into how the professionals do it. Enrol in this module if you want to inform and inspire your audience in research milestone, competition and conference presentations. Practice your new skills in a supportive environment with rich peer feedback.
Dates
May 2023
Write your journal article in twelve weeks (WYJA)
This module will give you practical experience writing a research article for a peer-reviewed journal. You will work on turning your draft paper into a quality article to submit for publication. Join us if you wan to get your publication written and submitted to a journal by the end of the module. We will help you to stay focused and engaged in a step-by-step process and you will receive feedback from other researchers and your moderator.
Dates
18 July – 8 October 2022 and March 2023
Engage
Skills that help you engage with innovation, end-users and industry.
Entrepreneurship
The study of entrepreneurship is multidisciplinary so this module will assist you in understanding not only the nature of entrepreneurship, who entrepreneurs are, and how they take advantage of an opportunity; but also why it is important to researchers. It's designed for those who wish to directly undertake, support, finance or facilitate the creation and growth of new ventures that are based upon innovative ideas which significantly change the status quo.
Dates

May 2023
Financial and legal concepts for researchers
This module will help researchers navigate the crucial, and sometimes overwhelming, world of financial and legal aspects of research projects. You will learn about various funding environments and how researchers fit into this environment. The module will also examine strategies to find and apply for funding, completing contracts and the practical aspects of costing budgets.
Dates

March 2023
Public policy
Public policy existing somewhere between order and chaos. In this module we will be exploring this contested space, to consider what public policy incorporates and how it is implemented. This module is about learning more about public policy, and how this information can be contextualised in your research environment.
Dates

12 September – 21 October 2022
Research commercialisation
This module aims to develop an understanding of intellectual property in light of its potential for commercialisation, and a working knowledge of typical commercialisation processes. This module provides tools for your success in managing collaborations, identifying opportunities and engaging with industry.
Dates

May 2023
Transdisciplinarity in research
This module introduces participants to an emerging research practice known as transdisciplinarity. You will learn how to communicate and collaborate with researchers from your own and different disciplines, how to better define a research problem and what skills you will need to be effective at these. You will also develop a better understanding of how to engage with broader stakeholders in the research context, including industry and how to see research through the lens of an end user. This is an invaluable module for all new and emerging researchers.
Dates

18 July – 26 August 2022
Contact us

For all e-Grad School enquiries, contact the e-Grad School coordinator.