The primary aim of e-Grad School is to support the development of generic professional skills in Higher Degree Research (PhD and Masters by Research) students during their research degree candidature, so that they can enter the workplace more employer, innovation and industry ready.
Modules are available to any student or university. For more information on the calendar of offerings and fees, please download the brochure.
Raising the bar on research training
The training is provided to research students via short, fully online, flexible and easily accessible modules.
The modules are designed to improve transferable skill development, promote cohort interactions and develop awareness of issues and themes relevant to internationally mobile research graduates.
More than 10,000 students have registered for training, including students from universities across Australia, Asia and New Zealand; and increasing student enrolments indicate the relevance of this training to globally mobile students.
For all e-Grad enquiries please contact the e-Grad School coordinator egsacoordinator@qut.edu.au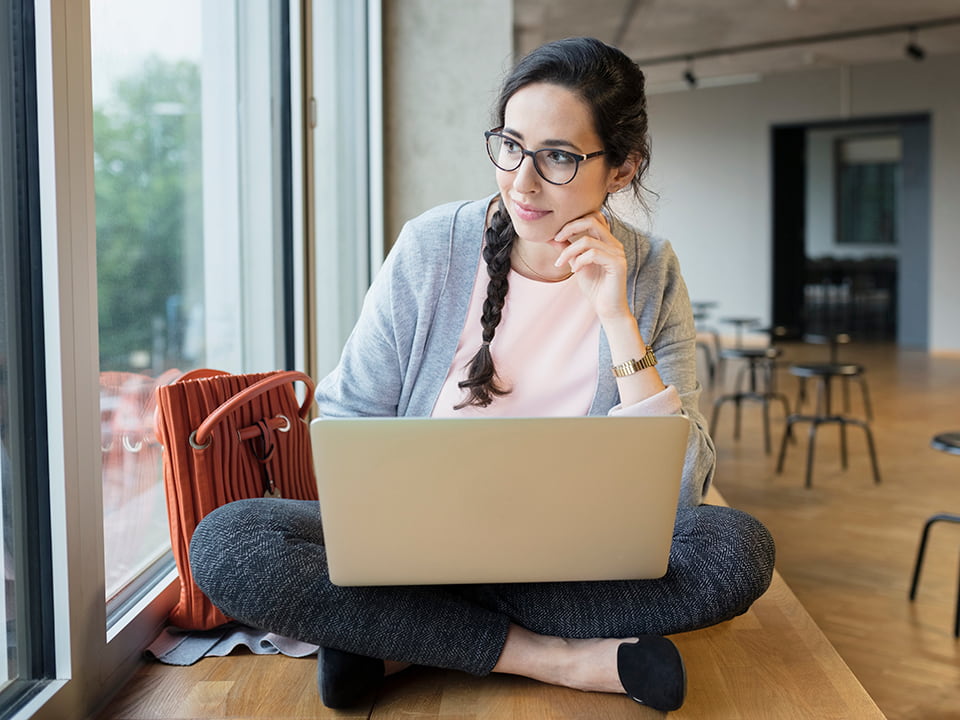 Online modules
The online learning environments are facilitated by leading experts in the knowledge areas and allow students to engage in cross-disciplinary discussions with peers across the country while building their competencies.
Students are able to select modules from any pathway based on their individual training and development needs. All modules are 5 weeks in length and are offered twice per calendar year to research students via email calls for registration.
The modules are assigned to three learning pathways: Advance, Lead and Engage, to allow students to identify relevant areas of development.
Advance
Skills that help you consider, critique and contextualise your research.
The aim of this module is to enable participants to improve their understanding of the role and nature of critical and creative thinking and how these techniques can help to unpack the social, professional or technological practices, problems, or solutions to problem, they are focussing on in their research.
The Global Sustainability module is designed to enable participants to critically reflect on how their own personal, professional and academic practice relates to Global Sustainability. Specifically it has been designed to assist students in understanding and investigating the implications and potential application of their research in the context of Global Sustainability.
This module aims to provide participants working in the area of creative arts, media and design with the opportunity to familiarize themselves with the methodological research design implications of undertaking enquiry through practice.
In today's workplace, you will be required to possess a set of digital practices, behaviours and identities that inform your academic and professional practices. You will also need to communicate, collaborate and innovate with digital technologies during your career. This module is about providing you with an applied understanding of:
digital scholarly identity and communication including data analytics
digital creation
data visualisation
the impact of big data and datasets on research
information literacy including social media tools, digital identities and communication platforms.
All HDR students must complete the RIO module as part of candidature, but how do you apply this learning? This module allows you to explore scenarios that reflect common research integrity practices and issues (e.g. authorship, plagiarism, data management) and to problem solve these hypothetical situations with your peers.
You will learn how to actively apply research integrity principles and values such as integrity, honesty and professionalism to your research and will reflect on your understandings and those of your peers to build a greater understanding of research integrity in practice.
This module provides you with a fundamental understanding of the core front-end web development languages HTML, CSS and JavaScript, to give you the skills to create your own web applications. As a researcher, you may need to promote and disseminate your results, output, and even yourself to a broad audience. The ability to create your own websites can boost your researcher profile.
Lead
Skills that help you lead projects, people and careers.
This module aims to provide participants with introductory knowledge of the topics on Leadership; Communication; Interpersonal skills; Team membership; Mentoring and Coaching. Students will be provided with an opportunity to critically reflect on how their own personal, professional and academic practice relates to any of the topics under discussion.
The module aims to develop skills in defining a project, an appreciation of the generic project management processes and some knowledge of the parameters relevant to managing it. At the end of the module participants will have developed a useful document that will assist them in managing their research project better.
The aim of this module is to enable participants to learn about themselves, hear about current employment trends for research graduates and learn how to consider and plan career options. It is not designed to persuade students to follow any particular field or direction but rather to help them navigate the decision points along this journey and assist in identifying skills and career building strategies which will help to make the most of every career opportunity.
This module will address the specific communication skills required of you as a researcher, to collaborate with a broad and complex diversity of stakeholders. Navigating our way in this complex communication milieu can be confusing and demanding. We will present and examine these and other related key communication items, critical to effective communication within the world of local and global collaborative initiatives.
Engage
Skills that help you engage with innovation, end-users and industry.
This module aims to develop an understanding of intellectual property in light of its potential for commercialisation, and a working knowledge of typical commercialisation processes. By becoming more familiar with these concepts participants should have more success in managing collaborations, identifying opportunities and engaging with industry.
This module has been developed to help participants understand what entrepreneurship is. The study of entrepreneurship is multidisciplinary so the course will assist students in understanding not only the nature of entrepreneurship, who entrepreneurs are, how they take advantage of an opportunity, but also why it can be studied and why it's important to researchers.
This module aims to stimulate inquiry into the processes involved with the identification, development, implementation and analyses of public policy, and to gain an in-depth understanding of the role that governments play in driving the policy process from problem identification to implementation and evaluation.
This module will help researchers navigate the crucial, and sometimes overwhelming, world of financial and legal aspects of research projects. You will learn about various funding environments and how researchers fit into this environment. The module will also examine strategies to find and apply for funding, completing contracts and the practical aspects of costing budgets.
This online module is all about learning more about an emerging research practice known as transdisciplinarity and how this information can be contextualised in your research environment.
Contact us

For all e-Grad School enquiries please contact the e-Grad School coordinator.