QUTIC, a part of QUT, offers English language and academic pathway programs for international students.

Find out about our English language programs, university preparation courses, and follow our step-by-step applying process.

Need more information? Contact us.

Our leading IELTS test centre facilitates up to 26 IELTS test days per year, and hold tests on Saturdays.
Stay connected
Get just the information you want on courses, scholarships and events.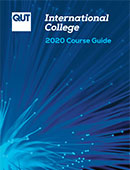 Download our
International College
course guide