Why study IELTS Advanced?
We will help you:
improve your English to a level equivalent to IELTS 7.0
learn a range of strategies and topics to achieve your goal
improve your English level with professional guidance
learn essential time management skills in weekly IELTS practice tests, completed under exam conditions
get ready for your test day
take the test with confidence.
Get more information on IELTS Advanced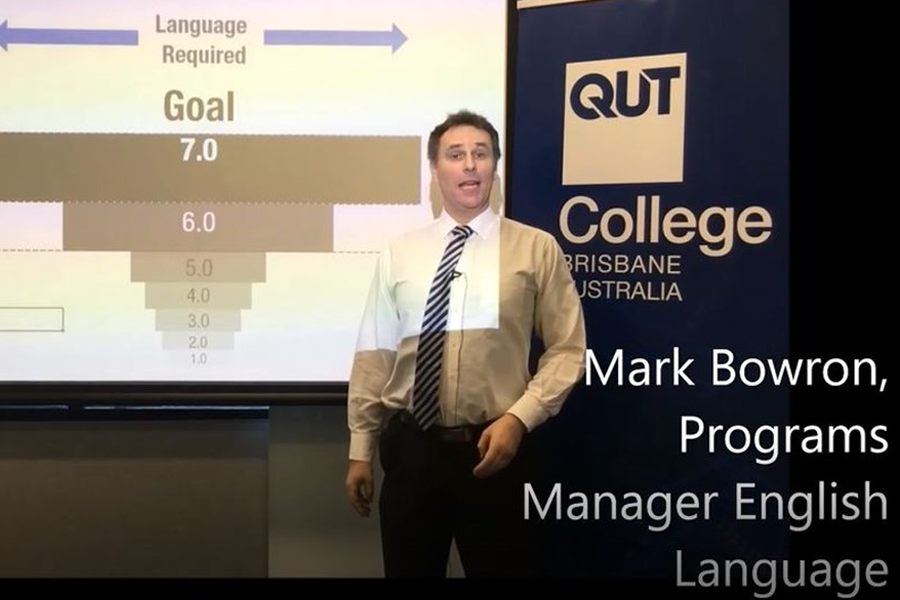 IELTS Advanced (QC15)

Fees
Standard fee

$4,500

2021 promotional fee (for the first 30 students to accept their offer after 1 March)

$3,750 (including two complimentary IELTS tests)
Entry dates
29 March - 4 June 2021
18 October - 24 December 2021
Location
Online or QUT Kelvin Grove campus
Eligibility

To receive two complimentary IELTS tests you must be in Australia
The $750 tuition fee reduction is available to students in Australia or overseas and is for the first 30 students who accept their offer after 1 March and enrol in IELTS Advanced in 2021.
To be eligible for the tuition fee reduction and/or two complimentary tests, you must commence the IELTS Advanced program in 2021 and be enrolled in the program past census date.
You can book only one free test at a time by the due date provided by the College.
Complimentary tests are to be taken at the QUT IELTS Test Centre, are non-transferable and non-refundable.
Complimentary tests must be taken after the census date, and within 3 months after the completion of the IELTS Advanced program
If you are successful in achieving an IELTS 7 (sub-scores 7) in your first test, you will not be eligible for the second free test.
I achieved the IELTS scores I needed
"The QUT IELTS Advanced program was challenging, stressful and intensive but I learned skilful techniques to directly reflect on my own skills to help me pass the IELTS test.
I got a lot of practice, not only through the weekly mock tests but also from the lectures. I also received personalized feedback from my teachers, which I needed especially in my writing.
My teacher is an expert of IELTS testing and he taught me a lot of useful skills, largely improving my language expression.
I achieved the IELTS scores I needed to enter my Nursing degree."
Fengyu (Lynne) Liu, China