Real world success
Nick discovered his interest for digital economy law at QUT with the choice of technology and internet law units. Now, he's a digital economy lawyer in London.
Find out how QUT prepares you for success.
It's never too early to start researching your study options.
Find out what it's like to be a university student.
If you're an adult planning to study at university, there are many ways to gain entry to QUT.
Student clubs, sports on campus, student support and extracurricular activities.
Our guide will help make your relocation to Brisbane as smooth as possible.
Whether it's finding a course to suit you or getting into the course you want, there are plenty of resources to help.
Our Oodgeroo Unit offers information about entry programs, scholarships and support for Aboriginal and Torres Strait Islander students.
Follow the step-by-step guide to apply for entry.
We can help if you've experienced difficult circumstances that have impacted on your studies.
Find out about study costs and how to support yourself while you study.
Double your study options and career possibilities.
As a QUT student you can travel overseas for exchange, study tours and other opportunities.
Kickstart your research study with undergraduate research degrees and experience
We encourage you to apply for as many scholarships as possible.
Resources for schools, teachers and career practitioners for advising students about studying at QUT.
Speak to QUT staff and students about your study options and university life.
Our guide for parents, carers and guardians of prospective university students.
See where our graduates are now, and where your studies can take you.
University entry is changing for students starting in 2021 and beyond. Find out how this might affect you.
Study areas
Stay connected
Get just the information you want on courses, scholarships and events.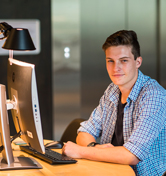 Institution information set
General admission criteria and student profile