We want to make applying to QUT as easy as possible. Follow this step-by-step guide for applying for QUT degrees, including:
undergraduate and postgraduate coursework degrees
diplomas
standard foundation courses
university certificates in tertiary preparation.
If you want to apply for a different type of course, you can also apply for:
If you're an international Year 12 student studying an Australian curriculum, either in Australia or overseas, follow the applying process for international Year 12 students.
12 steps to apply

Step 2: Check important dates
Check when applications open or close for your course. You'll need to make sure your application is submitted on time.
Offshore applicants are those that will need to submit a new Australian student visa application offshore. Applications close 4 weeks prior to the start of classes.
Onshore applicants are those students who may submit a new Australian student visa application onshore. Applications close 2 weeks prior to the start of classes.

Offshore applicants are those that will need to submit a new Australian student visa application offshore. Applications close 4 weeks prior to the start of classes.
Onshore applicants are those students who may submit a new Australian student visa application onshore. Applications close 2 weeks prior to the start of classes.

Step 3: Entry requirements
Academic entry requirements
Check your course information to see the academic requirements you will need to meet. This includes any additional requirements like auditions, interviews or portfolios.
Some courses with additional requirements have specific closing dates. Make sure you check these on your course information.
English proficiency requirements
You will need to meet the English language level required for your course, which you can check via your course information.
We accept results from a variety of standardised tests. You can see the minimum test scores required via your course information.
You must take your proficiency test no more than two years before the start of your course.
IELTS Test Centre
If you are in Australia, you can complete the IELTS exam at our IELTS Test Centre.
I don't meet the entry requirements
If you don't meet the English language or academic requirements for your preferred course, we may offer you a course package, which combines your preferred course with an English or pathway program. If you pass these courses, you can move straight into your full degree.
Explore English and pathway programs
Genuineness requirements
As part of streamlined visa processing, we must ensure that your application is genuine and that you can successfully complete your planned study. We will consider a range of personal and academic factors when we assess your application, including:
your immigration history, including any prior visa refusals
your personal circumstances
the relevance of your proposed study to your previous study and work experience.
You can explain why you chose to apply for this course, and how it will benefit your future career prospects, when you apply.
Step 4: Check costs and scholarships
Tuition fees
You can check your course information to see the indicative tuition fees for your course. We review fees each year, and your fees might change depending on how many credit points you enrol in.
A standard full-time semester (or study period) load is usually 48 credit points, and an individual unit (or subject) is usually 12 credit points.
Your offer letter will let you know what your indicative fees are for a full-time study period.
Tuition fees usually increase every year. Read the international student fee policy (PDF file, 245.4 KB) and refund policy (PDF file, 132.5 KB) before you accept your offer.
Fees for English language pathway programs
There are extra fees for English language programs that are part of a pathway package. These include:
tuition fees
a program registration fee of $175
a $3,000 deposit on your degree program
an optional airport reception fee of $110
an optional homestay placement fee of $250 (students under 18 must stay in a homestay).
Extra costs
Some courses have extra costs for things like field trips, equipment or practical training. See your course details for any additional costs.
Financial capacity
You must have access to sufficient funds to cover the full cost of your studies in Australia. This includes tuition, study costs and living expenses. Find out more about your study fees and costs.
Scholarships
We offer dozens of scholarships for students studying in a range of fields. Search our scholarship collection to see if there's a scholarship you're eligible for.
Merit scholarships
If you're a high-achieving student, you may be eligible for a merit scholarship. We offer an unlimited number of merit scholarships that cover 25% of your course feed, as long as you maintain a minimum grade point average while you study.
You don't need to apply separately for these scholarships. If you're eligible, we'll offer you a scholarship along with your offer for a place in your chosen course.
Our merit scholarships include the Creative Industries International Scholarship, the Triple Crown Scholarship for business students, an the International Merit Scholarship for students in science, IT, engineering, mathematics and urban development.
Government aid
Many countries offer financial support for students studying overseas. See what government aid programs you might be eligible for.
Health cover for international students
If you're an international student with an Australian student visa, you must have valid Overseas Student Health Cover (OSHC) with an approved provider. You need to organise your OSHC before your come to Australia. OSHC gives you access to health care while you're here. If your family is coming to Australia with you, they must also have OSHC cover.
You don't need OSHC if you are:
a Norwegian student covered by the Norwegian National Insurance Scheme
a Swedish student covered by the National Board of Student Aid or by Kammarkollegiet
a Belgian student covered under the Reciprocal Health Care Agreement with Australia
studying for less than four months on a visitor or tourist visa. You will not be eligible for OSHC and are advised to purchase Overseas Visitors Health Cover or comprehensive travel insurance
an Australian government scholarship student (Australia Award students).
The Department of Home Affairs has implemented mandatory visa length cover as a requirement for all student visa applications. This means you must show that you have OSHC for the entire proposed duration of your student visa.
Preferred provider
Our preferred OSHC provider is Medibank. We organise a Medibank Comprehensive OSHC policy for international students. We'll arrange cover for the length of your visa with Medibank Private. You'll need to pay for this cover when you accept your offer.
Benefits of the Medibank Comprehensive OSHC policy include access to a 24/7 student health and support line, memberships for singles, couples and families, and it is 100% Student Visa compliant.
If you'd rather use a different provider, the privatehealth.gov.au website has information about which health funds offer OSHC. You'll need to provide us with proof of your policy.
If you have not arrived in Australia and no longer require OSHC, you'll need to cancel your existing policy.
Make a OSHC policy change request
I have received an Australia Award Scholarship
If you hold an Australia Award Scholarship, you are entitled to basic OSHC through Medibank Private. We will pay for your OSHC (single person cover) before you arrive. You can contact International Student Services for more information about your cover, including family upgrades.
Step 5: Advanced standing (credit)
What is advanced standing?
Your previous study may count as credit toward your QUT course. That means you won't have to complete all of the units listed in your course structure, and you may be able to graduate sooner.
Am I eligible?
We have arrangements with a number of institutions overseas and in Australia where advanced standing is approved. You can see which institutions are included and what you may be eligible for through the Advanced Standing Precedent List.
If you can't find your institution, course or units on the Advanced Standing Precedent List, you can let us know about your previous study on your application form. Make sure that you provide copies of:
your academic transcript, including the unit code, unit title and your grades
documents proving that you've completed your course (if applicable)
unit outlines or course syllabus for the units you want advanced standing for. They should include credit points, contact hours, aims and objectives, texts and references, and details of any assessment.
If you're currently studying, you can provide a current enrolment statement or a list of units that you'll complete before you start studying at QUT, and we'll take that into account when we assess your application.
What happens next?
If your application is successful, we'll tell you how many credit points you've been granted in your offer letter. This may make your course duration shorter.
Step 6: Supporting documents
When you submit your application, you'll need to include certified copies of:
award certificates
academic transcripts
formal identity papers, like your passport, national identity card, or student visa.
If you are currently in Australia, you must include a copy of your current confirmation of enrolment (CoE).
Make sure you also include information about your previous study, and any study you are currently doing.
My documents are not in English
If your documents are not in English, you will need to supply a certified English translation.
Documents can be certified by:
an official QUT representative (you can find a representative in your country)
a public notary
an authorised officer from the institution that issued the documents, if the institution sends your documentation directly to QUT.
English proficiency test results
Include a copy of your English test results in your application. You must have taken your test within the last two years.
We accept test results from:
IELTS (Academic)
TOEFL iBT (internet-based)
Pearson Test of English (PTE Academic)
Cambridge English: Advanced (CAE)
Cambridge English: Proficiency (CPE).
There may be other ways to meet the proficiency requirements, depending on your previous study and qualifications. Check your course information for details.
If you're completing the Pearson Test of English (PTE), you can assign your score to QUT for online verification. You can do this via your PTE account. We'll be able to view your scores online within 48 hours.
Your next step
Once you've gathered your supporting documents, you'll be able to submit your application.
Step 7: Submit your application

Do I need an agent?
A QUT official representative is required for applicants from certain countries.
Afghanistan
Iran
Iraq
Syria
Lebanon
Yemen
Bangladesh
India
Nepal
Pakistan
North Korea (DPRK)
Myanmar (Burma)
Note: This list is subject to change. Australian sanction laws enforce United Nations Security Council (UNSC) and Australian Autonomous sanctions regimes. Up to date details on country specific sanctions can be found on the Department of Foreign Affairs and Trade website.
Application fee
When you submit your application, you'll need to pay a non-refundable application fee of $100. Pay your application fee through QUTPay.
Pay your application fee
Step 8: Accept your offer
If your application is successful, we'll send you an offer. Find out how to accept your offer, including important information about submitting your documents.
How to accept your offer
Step 9: Pay your fees
You must pay your fees when you accept your offer. Find out about the different ways you can pay.
Ways to pay your fees
Step 10: Apply for your visa
Applying for your visa is one of the most important parts of this process.
Find out more about how to organise your visa, including what to do if you're under 18 years old.
How to apply for your visa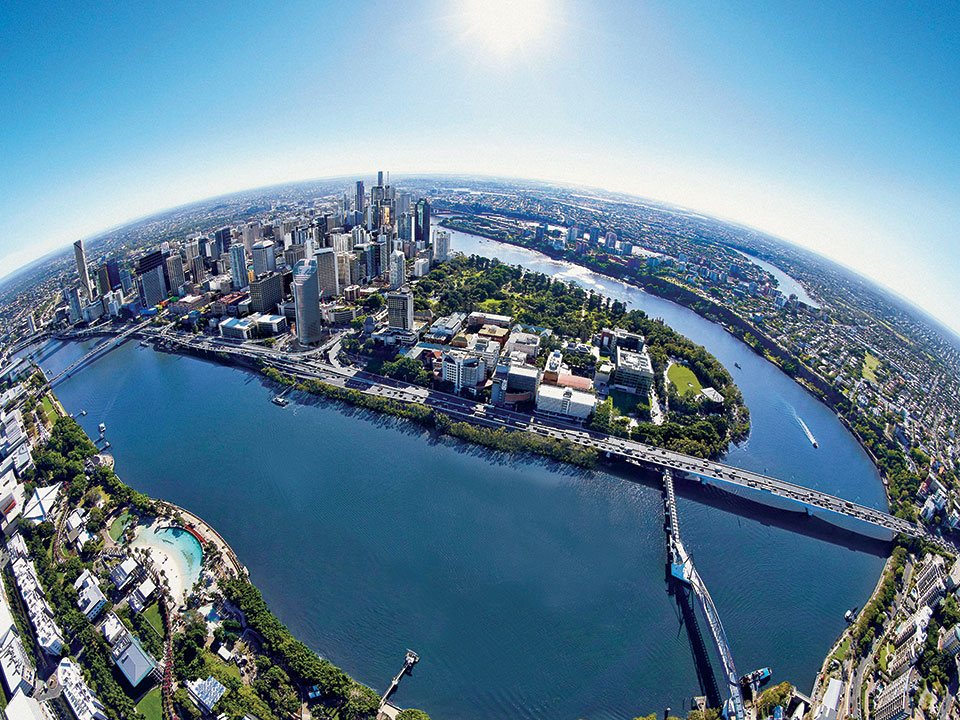 Step 11: Travel to Brisbane
Travelling to Brisbane is exciting, and can also be a daunting.
We've got services in place to help you settle in, including an airport reception service that can meet you when you arrive, and accommodation services to help you find somewhere to live.
You'll also have the chance to attend a pre-departure briefing before you leave, which can help you make sure you're ready to go.
No Australian address?

You can use International Student Services as a temporary address. You can have your mail sent to:
Your name, your student ID number
c/o International Student Services
Queensland University of Technology
Gardens Point Campus
GPO Box 2434
Brisbane, Qld 4001, Australia
Step 12: Attend orientation
Your offer letter includes information about the compulsory international orientation.
Orientation week is the perfect time for you to get to know the QUT campus, experience student life, and make important connections with support staff and your fellow students.
There'll be fun, games, travel experiences and heaps of opportunities to make new friends and get settled in Brisbane.
Find out more about orientation and the orientation schedule once you've accepted your offer.