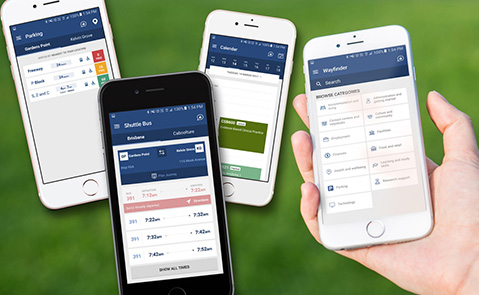 Once you're studying at QUT, you can download our free student mobile app to help you manage your studies and find your way around campus.
We asked our students to help us design the app, so you'll know you're getting the information you need to support your studies.
What's in the app?
The QUT app includes:
your unit information, including enrolment, study materials, class schedules and booklists
a calendar to view your classes
parking availability and cost
inter-campus shuttle bus timetable
maps and wayfinding to help you find your way around campus
access to help and support with call-back feature
messages and QUT notices.
Updates and new features
Regular updates and new features mean that you'll be connected and up-to-the-minute with information you need to get the most from your uni experience.
Multiple platforms
You can download the QUT app via the App Store and Google Play.
Contacts
HiQ QUT mobile app
Get in touch with feedback or suggestions for app features.