Study areas
Creative practice brings together a range of creative disciplines, encouraging collaboration that's reflective of the real-world creative industries.
Our courses provide a job-ready balance of communication skills and creative thinking.
Learn the strong design engagement principals you need to bring your ideas to life, and find solutions to real-world problems and social issues.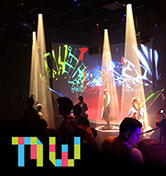 No Walls
Be inspired at the intersection of creativity, technology and innovation.
10-08-2020 A deeply moving and funny play exploring the universe of a small American town, by Will...
03-02-2020 QUT is lending its expertise in education and research to Brisbane's first new inner-city school to...
09-06-2020 A wonderful comedy chiller, with blood on the carpet before bedtime. By Moira Buffini


QUT Creative Enterprise Australia aims to be Australia's leading business development agency for start-up creative businesses and your first point of call when wanting to grow your business.