Study areas
Creative practice brings together a range of creative disciplines, encouraging collaboration that's reflective of the real-world creative industries.
Our courses provide a job-ready balance of communication skills and creative thinking.
Learn the strong design engagement principals you need to bring your ideas to life, and find solutions to real-world problems and social issues.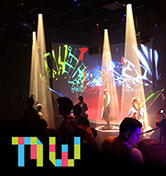 No Walls
Be inspired at the intersection of creativity, technology and innovation.
23-10-2018 An award-winning, multidisciplinary artist known for his avant-garde use of robotics in large scale installations and...
22-10-2018 A QUT journalism academic says the current freelancer-heavy market for media professionals could be preventing photographers...
17-10-2018 QUT Fashion celebrates its 15th year anniversary!


QUT Creative Enterprise Australia aims to be Australia's leading business development agency for start-up creative businesses and your first point of call when wanting to grow your business.