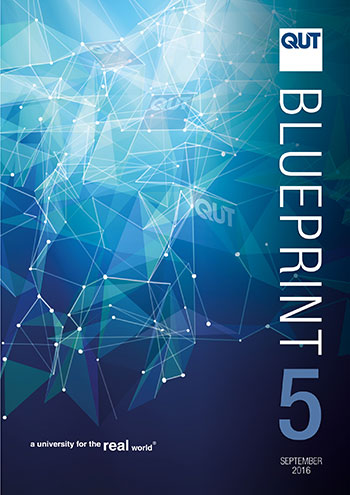 The QUT Blueprint is our institutional strategic plan. It:
identifies major priorities
articulates broad strategies
drives greater coherence and coordination of our efforts.
Our vision for the future
Our overall vision for the future is to:
provide outstanding learning environments and programs that lead to excellent outcomes for graduates, enabling them to work in and guide a diverse and complex world characterised by increasing change
undertake high-impact research and development in selected areas, at the highest international standards, reinforcing our applied emphasis and securing significant commercial and practical benefits for the community and for our partners
strengthen and extend our strategic partnerships with professional and broader communities to reflect both our academic ambitions and our civic responsibility.
QUT Blueprint 5(PDF file, 257.6 KB)
Aboriginal and Torres Strait Islander Action Plan
Our Aboriginal and Torres Strait Islander Action Plan brings together the strategies of Blueprint 4 in relation to Aboriginal and Torres Strait Islander peoples, and guides QUT faculties, divisions and institutes in their strategic planning.