About Blueprint 6
Blueprint 6 features a series of priorities that integrate and align our different plans and activities, focus and express our aspirations, express and reinforce our values, exploit our distinctiveness, and reflect our refreshed vision as the university for the real world.
Blueprint 6 will allow us to transform our practices to enhance our institutional resilience all while staying true to our purpose, and our enduring commitment to engagement with the real world.
From the Vice-Chancellor
With a history of access, innovation and inspiration, QUT has earned a global reputation as the university for the real world.
We are committed to providing real world learning experiences and research solutions across a broad range of fields - with more than 50,000 students studying at our campuses, our courses are in high demand. Our strengths include award-winning teaching, relevant research that benefits the community, a commitment to entrepreneurship and creativity, high student satisfaction and excellent graduate employment outcomes.
We live in a world that is constantly changing, so it's important that we change with it and remain poised to capitalise on the opportunities change brings. This is where Blueprint 6 will guide us.
Blueprint 6 includes a focus on Indigenous Australians. This is about addressing questions of sovereignty and the legitimate assertion of Aboriginal and Torres Strait Islander peoples' rights. We will do this by increasing our Indigenous Australian staff and research focus and attending to the needs of Indigenous Australian future and existing students.
Our refreshed vision as 'the university for the real world' will help us realise the organisation's purpose to provide transformative education and research relevant to our communities.
Blueprint 6 is a plan which will allow the university to better highlight its distinctiveness, foster creativity and manage constant change.
Professor Margaret Sheil AO, Vice-Chancellor and President of QUT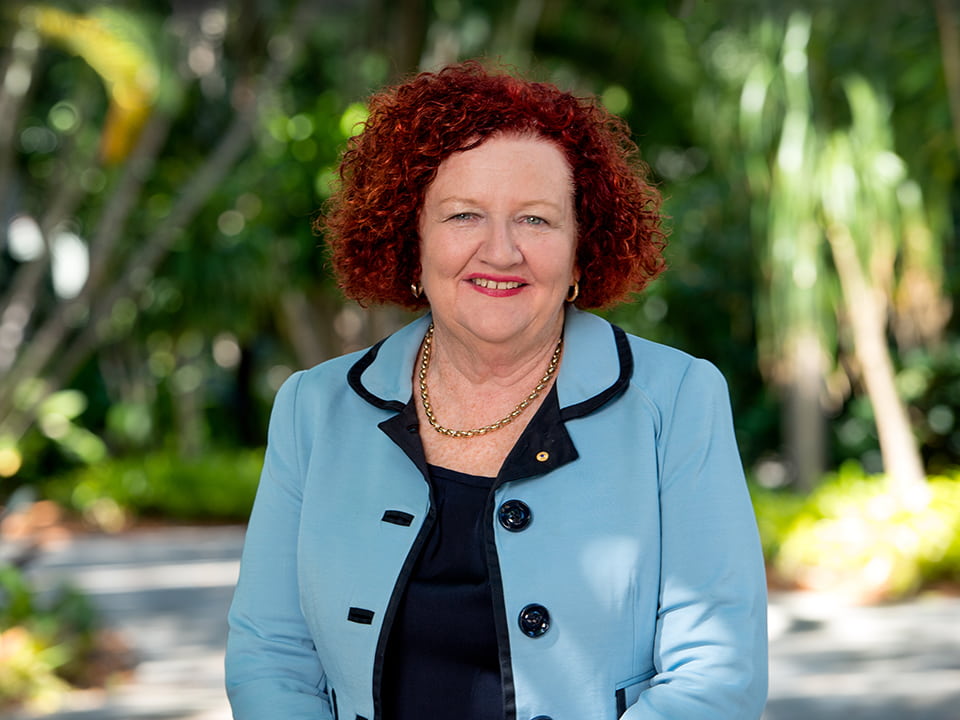 Performance areas

We will measure our success by means of key indications that measure how well we:
This will be achieved by how well we:
attract students of quality and diversity
progress our major projects, on time and on budget
achieve a positive student experience, foster student success
provide real-world learning experiences and enable positive graduate outcomes
win research income and achieve recognition for research quality and disciplinary standing
maintain our strong financial performance
improve our employment rates for Indigenous Australian staff and our participation and success rates for Indigenous Australian students
foster entrepreneurship activity and generate commercialisation income
attract philanthropic support and provide life-changing scholarships
provide engaging wholly online learning and flexible course offerings
produce benefits from transformation of curriculum content and delivery
improve diversity and inclusion among students and staff
foster mentoring and leadership among students and staff
generate industry and community benefit through partnerships and engagement.
Indigenous history
The Brisbane campuses of QUT are situated on the land of the Turrbal and Yugara people. As thought leaders in the wider Australian community, we know it is beyond time to properly attend to the Indigenous context.
The Blueprint has a strong focus on ensuring Aboriginal and Torres Strait Islander voices are heard, through increasing the Indigenous Australian staff and research focus and further developing Indigenous Australian researchers. It is also committed to increasing out Indigenous student intake and providing dedicated support to Indigenous students.
The Indigenous artwork which features in Blueprint 6 is by Aboriginal graphic designer and artist Keisha Thomason. She is a proud Waanyi and Kalkadoon (Mount Isa, Queensland) and Chinese woman. Her artwork style is contemporary, influenced by her culture, identity and the modern world.
"The Country tells a story of history and place. The stories of the Country link and flow, from the past to the present, creating a blueprint of history. QUT and Aboriginal people share the same land with different stories, being told in conjunction to each other, coming together now to create a better future together." - Keisha Thomason
Queensland Government Objectives for the Community
Through the provision of world-class learning and teaching, and through the discovery of new knowledge through research, QUT contributes directly to all of the Queensland Government's Objectives for the Community.
We are especially involved in the objective Investing in Skills, as educators of the workforce of the future, and in the objective Backing our Frontline Services, both as a leading educator of Queensland teachers and as a significant institution of higher education in our own right.