The Challenge
In 2020 QUTeX became the preferred provider of a professional military education product for the Australian Army.
The Ryan Review (2016) had a number of recommendations to ensure that the Army was future-ready.
Recognising that size and technology would not be an advantage in future conflict, a strategy was formulated around increasing intellectual and decision-making ability leading to the development of a new professional development initiative, COVE+.
The Client


Australian Army logo
The Australian Army is a respected institution comprised of professional men and women who serve the nation.
The Australian Army is Australia's military land force and is part of the Australian Defence Force. It provides a potent, versatile and modern Army which contributes to the security of Australia, protecting its interests and people.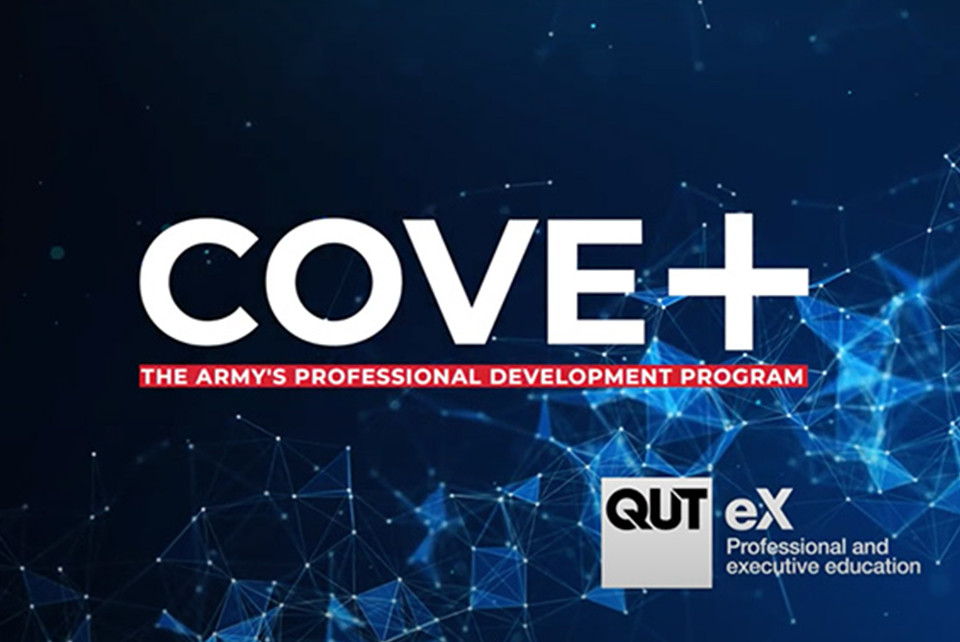 The Solution
In April 2020 the Graduate School of Business/ QUTeX was successful in winning the contract for the first year of development of COVE+. COVE+ is a series of co-designed and customised learning solutions across 68 topics, to provide a library of self-paced online learning modules.
COVE+ is available at no cost to learners and is targeted at soldiers in the first 15 years of their Army service after which they typically attend military college for their specific military education. All serving Army personnel can choose units of general learning to benefit their professional career as well as their personal life. It is expected that participation in the program will enable participants to tackle a broader range of complex problems through improving critical thinking skills. The goal is for Australia to be better prepared to outpace, out-manoeuvre, and out-think conventional and unconventional threats, and to create a truly future-ready workforce able to operate in an era of accelerated warfare.
COVE : The Army's Professional Development Program
COVE+ is the Australian Army's Professional Development Program and is open to all serving uniformed members of the Australian Army -regardless of rank, trade, SERCAT or Corps. The aim of COVE+ is to enhance the intellectual component of fighting power to improve the Army's capacity to apply force, or threaten to apply force, against an adversary in the land domain.
In this video, Daniel Keighran, Australian Army Victoria Cross winner and QUT EMBA graduate, describes COVE+ as a great initiative to improve leadership and understanding through education.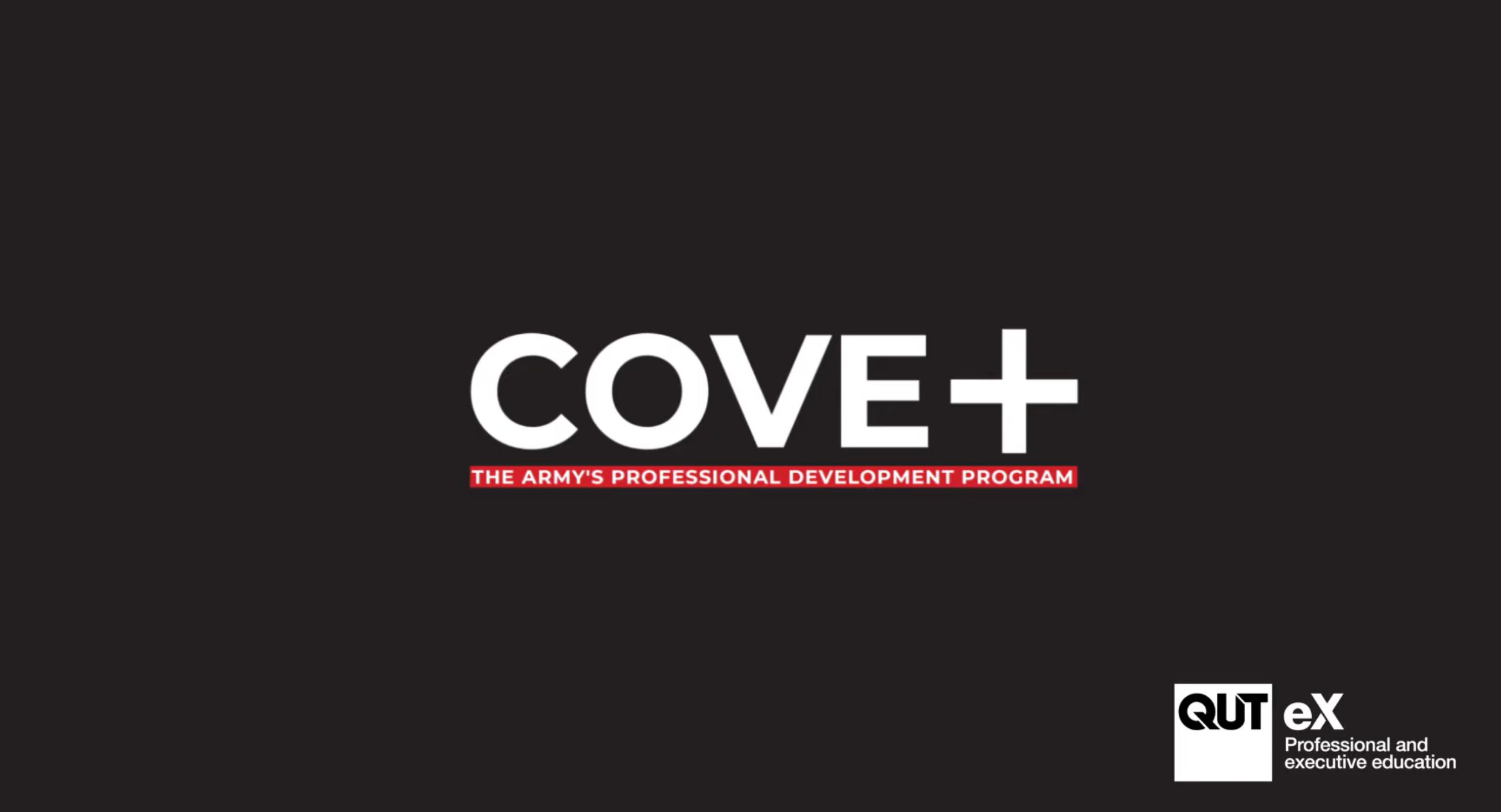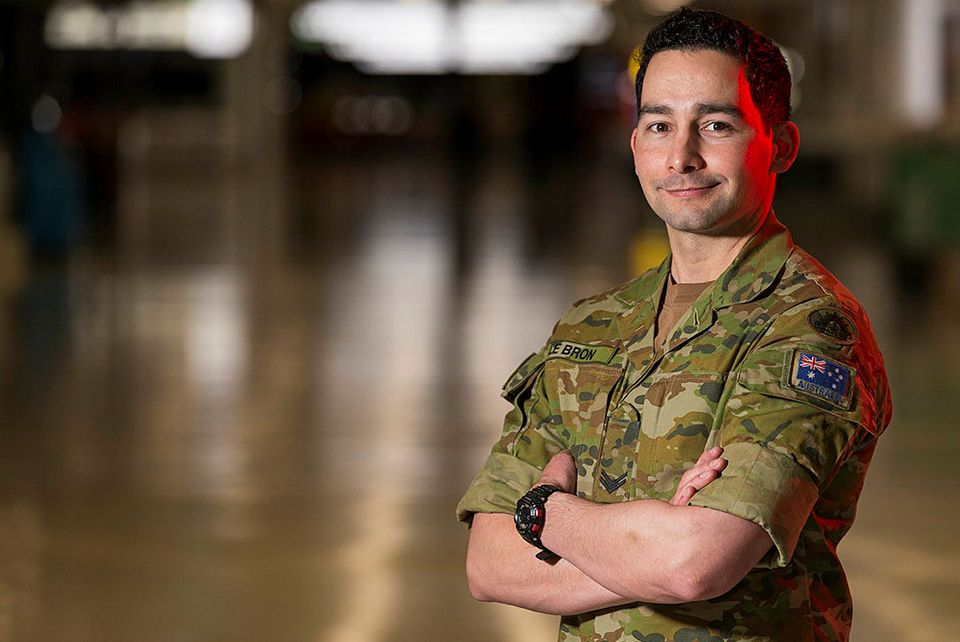 The Impact
The strong co-design element with collaboration between QUTeX and Army especially relates to joint development of the unit learning outcomes and @Work activities, which are practical applications of the unit content contextualised for the Army setting. The core unit, Reflective Practice, provides the skills required for learners to undertake all other units which include titles such as:
Introduction to Psychology
The Art of Good Thinking
Information Technology and Artificial Intelligence
Different Perspectives in Leadership
… and many more.
For each unit the content is developed by QUTeX subject matter experts, working closely with a learning design team to deliver state-of-the-art online units, applying adult learning principles. The strong internal and external review process ensures that the units meet with QUT's high academic standards, as well as the Army's future vision, and are engaging for the learners. Key features of the program to date are the highly collaborative and positive relationship between QUTeX and the Army project team, and a high-quality product.
Within the first 24 hours after launch, COVE+ had 461 program registrations, 243 unit enrolments, and 44 unit completions, and just over a week later there were 1032 registrations, with 501 people enrolled in units and 261 unit completions, which far exceeded expectations, especially with many personnel deployed on COVID19 related activity.
Results: 2021

To mark the first anniversary since the initial launch of the learning platform, QUT conducted an evaluation of COVE+ to assess progress against the original goals, and to inform ongoing development. Data was collected via online surveys and 24 telephone interviews, from which the following insights were gleaned:
1. Awareness: The most effective channel for promotion was internal advertising and chain of command recommendation.
2. Learner Experience: Users were seeking professional and personal development, accessing the program during work hours (55%) or in the evening (30%).
3. Learner Impact: Learning enhanced users' leadership and management skills as well as providing a gateway into further learning on other topics of interest.
4. Transferrable Knowledge: Learners felt the acquired knowledge could be transferred to the workplace, and practical course exercises were a good test of their understanding of the material.
5. Structure vs Flexibility: While some learners valued flexibility, others desired more guidance around the structure and purpose of each program and unit.
6. Better Ways of Thinking: Aside from the cornerstone unit 'Reflective Practice', other popular units related to better ways of thinking (e.g., 'Brain and Behaviour', 'Cognitive Processes' etc.).
I am pleased to say it is, by far, the most professional looking package I have seen … and something I think both QUT and the Directorate of Army Education can be proud of.
- LTCOL Greg Colton, Professional Military Education unit and Director of The Cove
How can QUTeX help you?

Harnessing the knowledge and expertise of the entire university, QUTeX is a revolution in professional development that customises educational solutions for your organisation to meet your context and motivations. Thought your team's learning journey QUTeX continues to work with you adapting the program to meet your emerging needs and their learning experiences.