Help students develop the skills to succeed in creating future jobs, organisations and industries.
Create the next generation of entrepreneurs
Entrepreneurs will create the jobs, organisations and industries of the future. By investing in our students, you will be helping budding entrepreneurs develop the knowledge, skills and experiences they need to create and deliver value for others.
Through inspiring, developing, mentoring, and connecting students with others in the wider entrepreneurial ecosystem, QUT Entrepreneurship empowers the next generation of entrepreneurs. Short extra-curricular learning programs, alongside resources available in the foundry spaces at Gardens Point and Kelvin Grove campuses, contribute to creating a supportive environment for students to build their futures through entrepreneurial actions. This includes programs like Iterate, Spark, Fuel and Ignite, T minus 6, and events such as Lunch and Learn, Community Coffee and Open Pitch Night.
At QUT, entrepreneurship is a priority and is evident in our commitment to real-world learning, research and engagement. We support entrepreneurship in all forms and contexts. Students also benefit from our partnership with MIT – the world's most entrepreneurial university. This strategic collaboration with the Martin Trust Center for MIT Entrepreneurship bridges connections through shared learning resources and networks.
Our alumni epitomise our entrepreneurial ambition. This includes recent Outstanding Alumni Award recipients such as:
Field Orthopaedics co-founder, Dr Chris Jeffery
TrademarkVision founder, Sandra Mau
TANDA co-founders, Josh Cameron, Tasmin Trezise, Alex Ghiculescu and Jake Phillpot
Girl Geek Academy co-founders, Lisy Kane, Sarah Moran and Tammy Butow
Skedulo CEO and founder, Matt Fairhurst.
All have applied innovative and entrepreneurial thinking in their ventures, showing how entrepreneurship at QUT takes many forms.
In fostering the dreams of budding entrepreneurs, generous supporters including loans.com.au, Skedulo and Dr John Puttick, have contributed named scholarships to support students' entrepreneurial journeys. Your additional support will help even more students become the resilient leaders of tomorrow and drive necessary change to elevate entrepreneurship in Australia.
Your gift will help:
Provide scholarships to Budding Entrepreneurs starting in any undergraduate degree at QUT, at $8,000 per year or $24,000 over three years for a named scholarship.
Create and deliver learning events such as bootcamps, speaker series, innovation challenges, immersions, missions and tours, hackathons, start-up weekends or entrepreneurial showcases.
Support the Entrepreneur in Residence program to attract talented alumni and international entrepreneurs to QUT to develop and implement programs that further develop entrepreneurial capability.
Seed and reward the development of entrepreneurial ideas pitched at bootcamps or in the curriculum in 'accelerator' type programs.
The real-world impact of your gift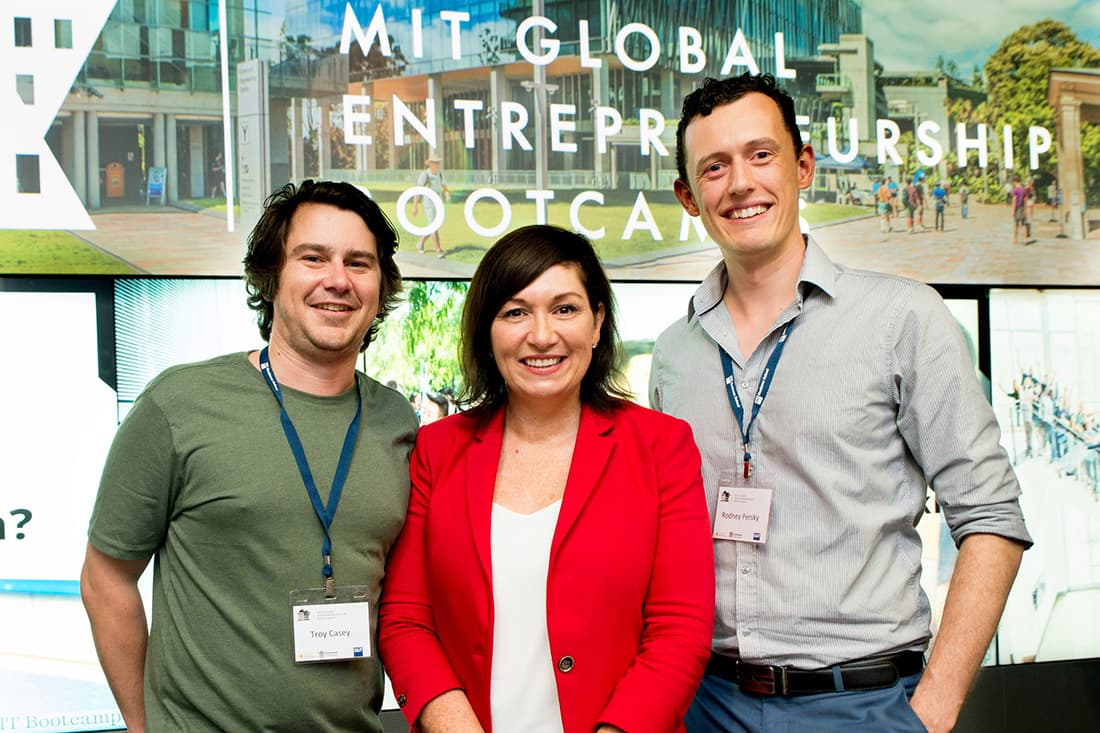 Your gift will enable us to equip students with the skills, capabilities and experiences needed to realise ambition, drive innovative change and propel entrepreneurship in Australia.