Friendly and supportive environment
Kim - Norway
"I really appreciate the friendly and supportive students, teachers and environment at QUT. Both campuses have beautiful environments, and the shuttle bus between them is really convenient. There are a lot of cafes and restaurants available, as well as events, making you want to be at the university both when you're in class and in your spare time."
How to apply

There are a few entry requirements you need to meet to apply for our exchange program.
General
You must:
be 18 years or older
not hold Australian citizenship or permanent residency.
Academic
You must:
be nominated by one of our partner institutions
have completed at least 1 year of full-time study at a recognised institution
have a minimum GPA (grade point average) of 2.5 on a 4-point scale, or equivalent.
English language
You'll need to provide an English language test result taken within the past two years if:
English is not your first language
you haven't taken a course taught entirely in English.
Some units have higher English language requirements than others - we'll work with you to make sure you meet them. We accept scores from the following tests:
| Test | Score required |
| --- | --- |
| IELTS (Academic) | An overall score of 6.5, and no sub-score less than 6.0 |
| TOEFL (Internet-based) | An overall score of 79 (writing 21, reading 16, listening 16, speaking 18) |
| Pearson Test of English (PTE Academic) | An overall score of 58, and no sub-score less than 50 |
| Cambridge English: Advanced (CAE) | An overall score of 176, and no sub-score less than 169 |
| Cambridge English: Proficiency (CPE) | Grade of C1 |
I need help to meet the entry requirements
If you do not meet the English language entry requirements for our exchange program, don't worry, you can study English language programs at the QUT College before your exchange semester.
When you apply for our exchange program, select the 'English language program' option and we will let you know the process you will need to follow. There are separate costs for exchange with English.
Tuition fees
You do not need to pay tuition fees as an exchange student coming from a partner institution. You will continue paying tuition fees to your home institution instead of paying them directly to QUT.
Exchange with English fees
If you do not meet the English language entry requirements for our exchange program, don't worry, you can study English language programs at the QUT College. There may be additional fees to study English before your exchange semester.
Health cover
You must maintain valid health insurance for the full length of your visa. This usually means organising Overseas Student Health Cover (OSHC). OSHC covers medical costs, hospital care costs, some prescription drugs, emergency ambulance service, and some pregnancy-related costs.
We will tell you how much your OSHC will cost when you receive your offer to study with us.
Students from Belgium, Norway and some students from Sweden who have health cover in their home countries may be exempt from OSHC. Find out more about which types of insurance are recognised for this exemption through the Department of Home Affairs website.
Your OSHC only covers you while you're in Australia, so you'll need to take out extra travel insurance if you'll be travelling overseas during or after your time at QUT.
Living costs
Brisbane is an affordable city, but you still need to plan to make sure you have enough money for your study and living expenses.
During your first few weeks you will need around $2,500 to get set up, including accommodation costs, money to set up your new home, food and transport. After this, you should budget around $500 a week for food, rent, transport, bills, study costs and entertainment.
If you're going to travel (which we're sure you'll want to), you will also need to factor this into your budget.
Check the application closing dates
Applications for Semester 1 (February-July) are due on 1 November each year.
Applications for Semester 2 (July-November) are due on 1 April each year.
Be nominated by your home institution
To complete the online nomination, your home institution will nominate you to QUT and provide the following documentation in English:
your current university academic record (grades)
evidence of your English proficiency, if required, and
bachelor and master degree transcripts if you're a research student.
If your home institution doesn't nominate you for exchange, don't worry. You can still study with us through our study abroad program.
Complete the online application
Once you have been nominated by your home institution and your nomination has been accepted, we will send you an email with a unique link to complete the online application form via the QUT Application Portal. This email sometimes gets sent to junk folders, so keep checking daily!
You will need to attach all the required documents, including a copy of your passport, which must be valid for at least 6 months after your exchange program finishes.
Choose your units
As part of the application, you will also need to list the units you wish to study at QUT
While QUT students usually study 4 units each semester, you need to include at least 6 units on your application. This is in case we are unable approve some of your preferences. You should make sure your home institution also approves these unit choices.
You'll also have the chance to include supporting documents in this part of your application. It's a good idea to submit the detailed unit outlines for all the units you've already completed as this helps us determine if you meet prerequisite study.
If your application is successful, we'll send you an offer letter. Your offer letter will list all the next steps you need to complete to accept your place at QUT.
To accept your unconditional offer, you need to:
Login to QUT Application Portal
Go to: Respond to your offer and select Accept
Complete the acceptance of offer form and details.
You will then be taken to a payment portal to finalise your payment.
We will be notified when you have finalised your acceptance, and we will send you a Confirmation of Enrolment (CoE), if applicable. If you require a student visa, you can then use your COE to apply for one. You will not be able to apply for your Australian student visa until you have received your CoE.
Student visa
It is very important that you check that all the details on your eCoE are correct before you apply for your visa. Use your CoE to organise your Australian Student Visa online, either through your closest overseas Australian embassy or consulate.
It can take up to 8 weeks to be granted your student visa so make sure you apply with enough time to process your visa application.
Working holiday visa
If you plan to study at QUT using a working holiday visa, we require a copy of your approved visa before we can process your acceptance. Not all students are eligible for a working holiday visa, so we recommend you apply for an Australian Student Visa.
Visa assessment
Your application for a visa will be assessed by the Department of Home Affairs. Find more information about visa assessment processes via the Department of Home Affairs website.
QUT accommodation service
We welcome thousands of new international students every year and the QUT Accommodation Service provides lots of information about places to stay. The QUT accommodation team can help you find everything you need to know about moving to Brisbane and life in Australia.
If you're moving to Brisbane as a part of a study abroad or exchange program, we can guarantee you accommodation in one of Brisbane's student residential complexes.
You can choose from several guaranteed accommodation packages that include:
a guaranteed place in purpose-built student accommodation,
competitive pricing, and
short stay accommodation tailored to the length of your study.
Find your new home
Gardens Point

Kelvin Grove
Semester in Australia
Semester in Australia (SiA) housing is specifically for study abroad and exchange students - they understand that you're only in Australia for a few short months, and you want to make the most of your time here. SiA have more than 25 years of experience supporting international students. With their support, you can live, study and travel with a ready-made peer network of other exchange students.
SiA provides fully furnished housing with utilities, bills and internet included, so you'll have nothing more to worry about. You will be placed with like-minded exchange students, and you'll be introduced to them before you arrive.
Get support from the on-site resident director, who will introduce you to the other SiA students, QUT, your local area and life in Brisbane. SiA will help you make the most of your time at QUT with on-going semester activities and travel options.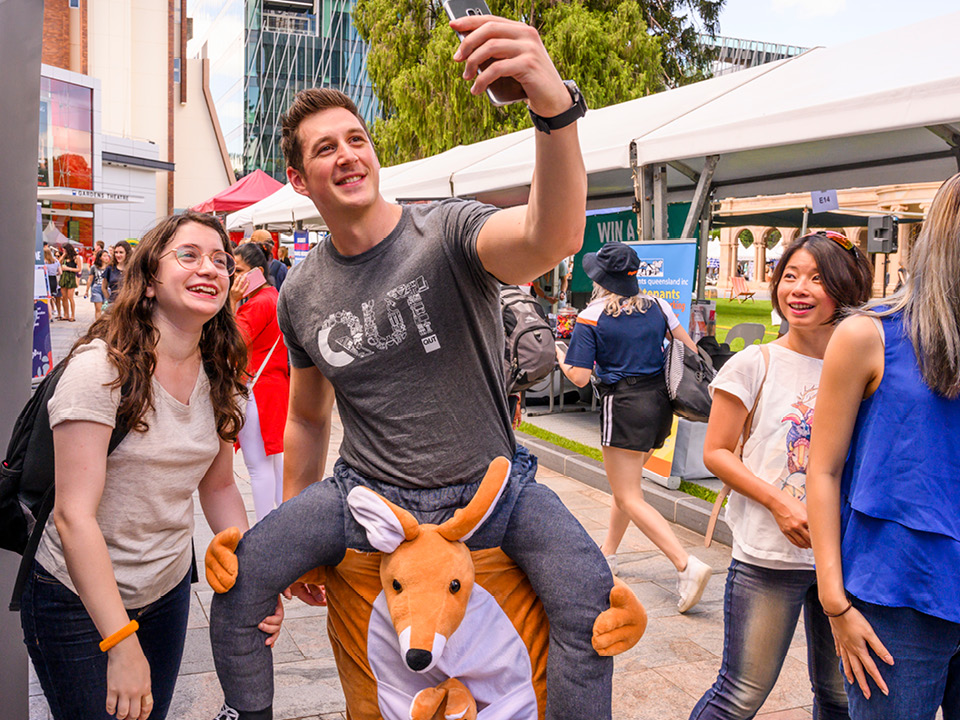 Orientation
Orientation week is the perfect time for you to get to know the QUT campus, experience student life, and make important connections with support staff and your fellow students.
There'll be fun, games, travel experiences and heaps of opportunities to make new friends and get settled in Brisbane.
Find out more about orientation and the orientation schedule once you've accepted your offer. Your offer letter includes information about the compulsory international orientation.
Contact us

Contact our Study Abroad and Exchange team if you have any questions about the application process.