Taneya is enrolled in the Graduate Diploma of Education program at QUT, and is studying externally. She commenced her first teaching practicum in a secondary school classified as remote, which is still one hour's drive from the regional city.
Taneya was a Year 12 graduate of this school, with family connections to the 'country' surrounding the school site. Her return as a preservice teacher was great news for most of the school staff, and she had relatives studying in the secondary school.
Taneya commenced her teaching practicum well prepared for both Dance and English by drawing on her discipline and cultural knowledge. Her knowledge through her cultural identity and connections to place was a powerful tool in her planning and curriculum decision making.
In appreciation: painting by Taneya upon graduation.
'It's definitely influenced her practice as well. I remember the first lesson with this group of Year 9 students, she acknowledged the traditional owners of the land and instantly that was a very powerful moment within the lesson. Instantly the students were engaged, wow. I think they were almost impressed. It was totally unexpected for them and then another lesson I remember she did quite a grounded earth sort of warm up with the students and they went through imitating different animals… and I suppose for the students to be able to experience that is very unique and I definitely think that they appreciated it.' (Abby, Dance supervising teacher, 2013)
'Taneya is an outstanding preservice teacher. English may be her second area but you definitely wouldn't know it the way she approaches it. Everything from her command of the subject itself to the way she prepares which is meticulous, organised, consultative and very, very well implemented. She is one of the better, if not the best preservice teacher that I had over the years and there has been many, many good ones. I've had lots of student teachers.' (Jake, English supervising teacher, 2013)
School and community as a site for Indigenous knowledges
Taneya's case demonstrates the school site as a powerful element with the cultural and pedagogical interfaces for embedding Aboriginal and Torres Strait Islander knowledges and perspectives in the curriculum. The knowledge she brought with her to the teaching practicum empowered the preservice teacher's agency to negotiate spaces within curricula.
'It all just has to be done a one inclusive, fluent program. And I think we are very fortunate here to have such a richness and diversity of cultures. And especially with respect to the local elders being involved at times. We have connections from teaching staff with some of the local… family who willingly give up some of their time to come and do that. In that class that Taneya got at the moment for instance she's teaching short stories. So she's been able to use written and oral traditional stories from… culture and a couple of other Indigenous perspectives as well.' (Jake, English supervising teacher, 2013)
Importantly within this context, there is a clear relationship between the school and community. Jake asserted that establishing community support and participation built on mutual respect exceeds all tokenistic and political correctness of embedding Aboriginal and Torres Strait Islander knowledges in the school curricula. The cultural interface becomes a place/space of knowledge convergence and opportunities are mutually created and engaged in a process of affirmation of knowledge systems, cultural identities and pedagogical practices.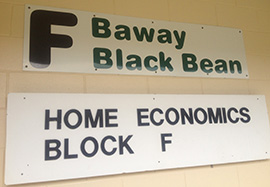 Language use: naming of school resources.
Naming of school buildings and resource centres through both languages represents school acknowledgement of the significance of both knowledge systems. The natural way of embedding Aboriginal and Torres Strait Islander knowledges, its value equally shared with the 'normal' curriculum, allows students to learn both knowledge systems that are uniquely Australian.