High school business competition
BlueShift is a business case competition for secondary school students. Students work in small teams to develop real business solutions for a real business.
Participants compete in teams of three or four to analyse the business challenge and prepare a written solution to a real business case.
Teams with the best submissions present their ideas to a panel of judges at the BlueShift finals held at our Gardens Point campus in Brisbane.
The competition started in 2014 and more than 145 teams have participated.
2022 competition

The 2022 QUT BlueShift expressions of interest are now open.
Register by Monday 28 February 2022 to receive an invitation to an online coaching session.
There are also great prizes up for grabs including a $2,000 scholarship to QUT.
Key dates

Registrations open

Thursday 4 November 2021

Early bird registrations close

Monday 28 February 2022

Business case sent to teams

Tuesday 1 March 2022

Written submissions due

Tuesday 26 April 2022, 12pm

Finalist teams announced

Thursday 5 May 2022

Champions round, QUT Gardens Point campus

Saturday 21 May 2022
Exact timing will be confirmed closer to the day.
How to enter
Interested in competing in the next BlueShift competition, find out how you can enter a team, the details for the next competition, the process and eligibility.
Prepare for the competition
Find the resources you need to create your business case submission including what to include in your business proposal.
Why compete?

Real world cases
When you participate in BlueShift, you'll:
apply what you've learnt and work in a team on a real-world business case
develop relevant business skills such as professional presentations, financial analysis and creative problem-solving
gain valuable insights into the business industry.
Networking opportunities
Finalists have the unique opportunity to meet and network with:
other BlueShift competitors from around the world
QUT staff and alumni
our award-winning international business case competition team of QUT students
business industry professionals.
Working with real businesses

We work with real businesses to provide participants the opportunity to address real-world business challenges.
Competition prizes

First place
Each member of the winning team receives:
a $2,000 QUT scholarship
a $250 EFTPOS card
a prize pack from our sponsors.
Your school also receives a $3,000 cash prize from QUT.
Second place
Each member of the team in 2nd place receives:
a $100 EFTPOS card
a prize pack from our sponsors.
Third place
Each member of the team in 3rd place receives:
a $50 EFTPOS card
a prize pack from our sponsors.
2019 BlueShift Winners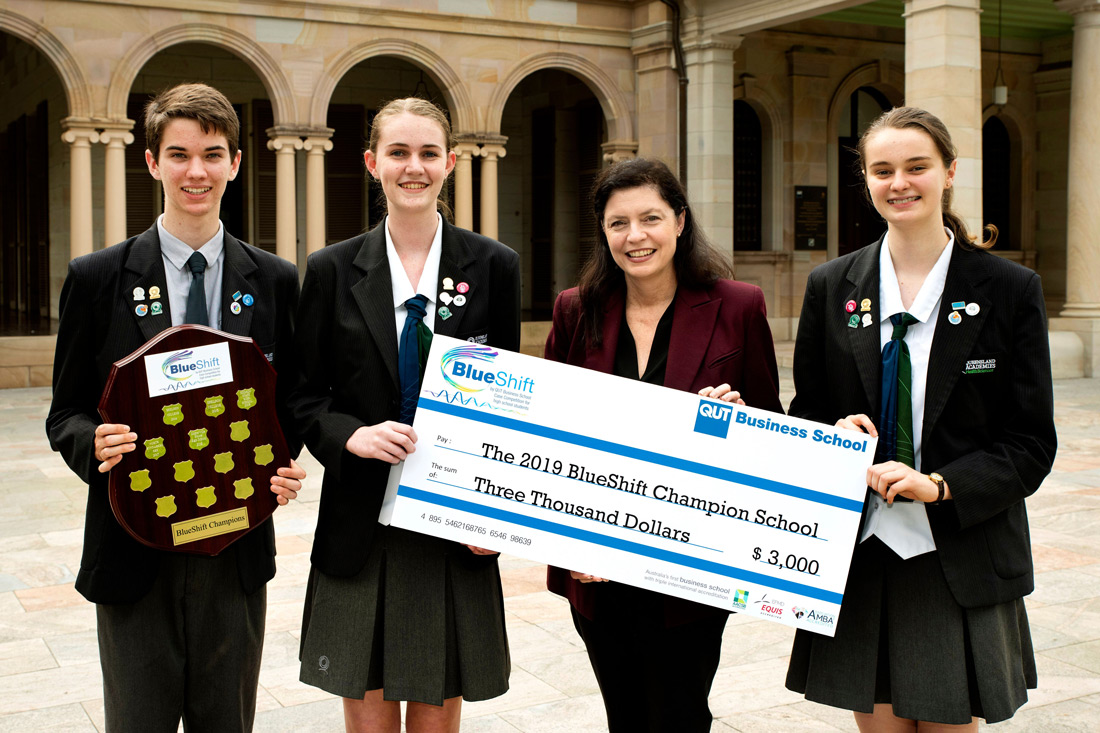 Champion team
QAHS Consulting - Queensland Academics - Health Sciences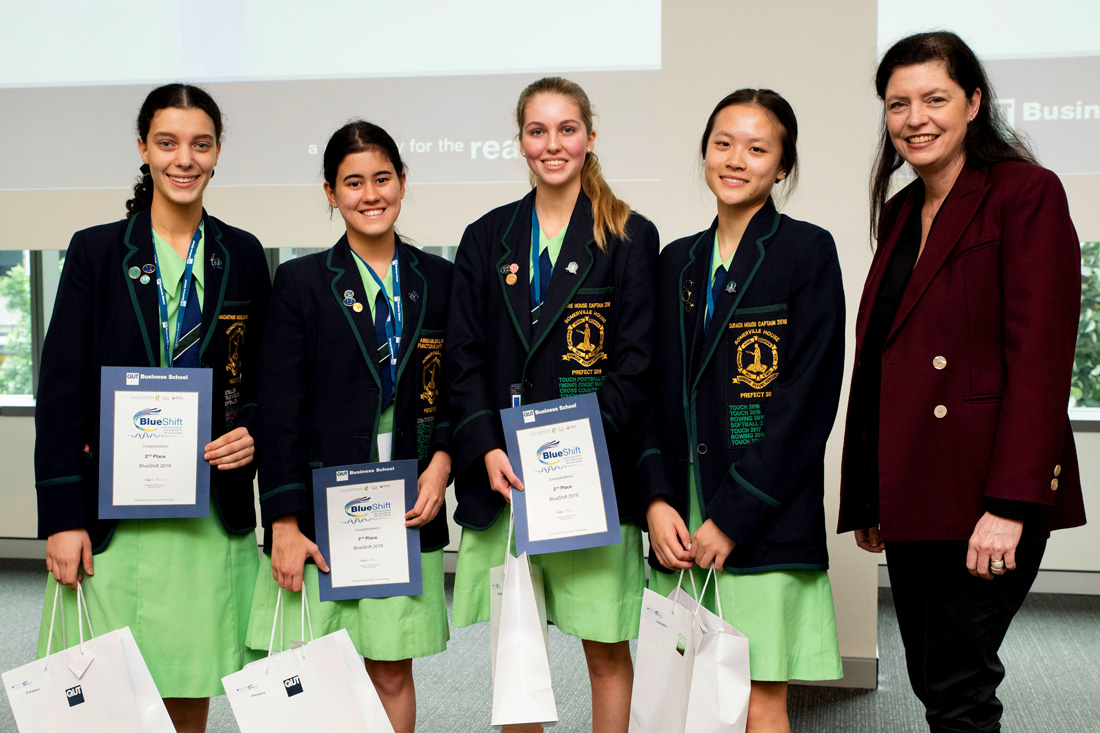 Second place
Team Somerville - Somerville House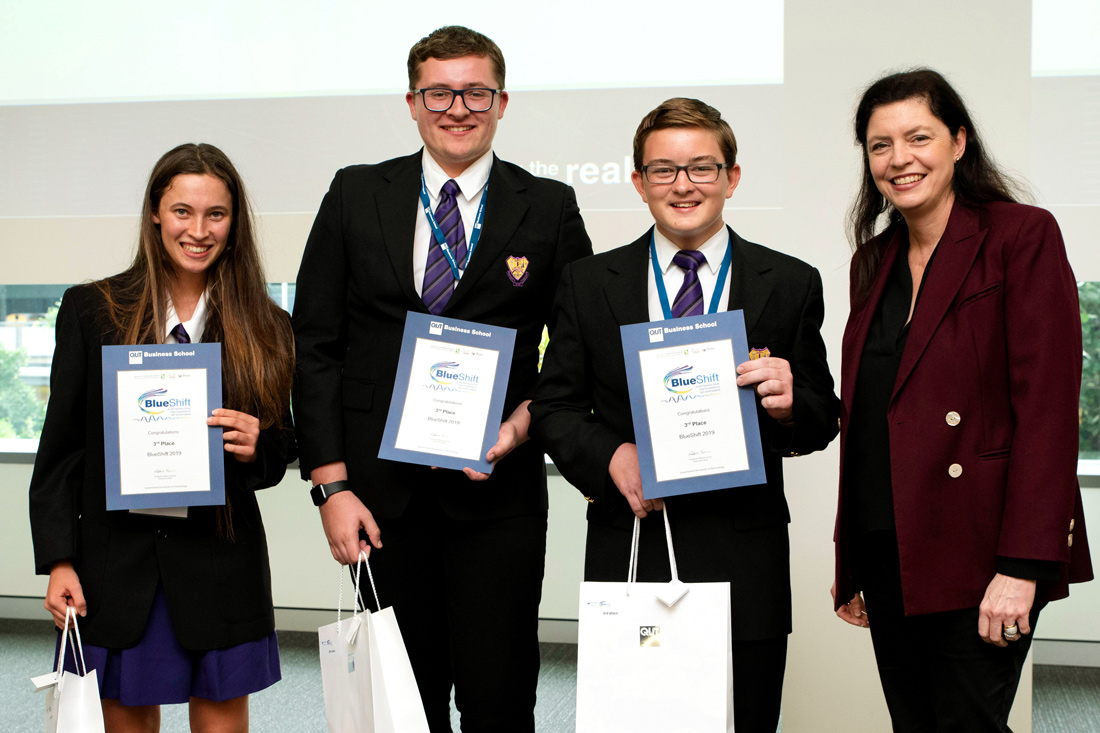 Third place
Tenacious Top Dogs - Bundaberg North State High School
Become a sponsor

By becoming a sponsor of BlueShift you'll support young leaders in their business career goals. Reach an audience of local and international high school students, and connect with the wider QUT community.
If you're interested in sponsoring BlueShift or would like more information, contact us.
Contact us

If you are interested in participating in the QUT BlueShift business case competition, or partnering with us, please get in touch.