Make evidence-based decisions and stay ahead of your competition by mastering data analysis and evaluation.
Overview
High-performing organisations are sophisticated users of data and analytics. They understand the valuable role that correctly analysed and actioned data has in delivering a competitive advantage. Grow your analysis skills to get the most out of your organisation's data to quantify risks and opportunities and ultimately deliver value.
This module is part of the Enterprise Leadership series. Learn more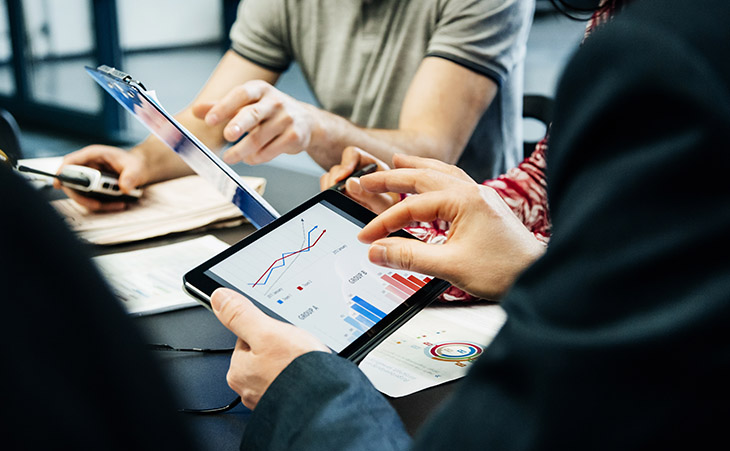 Evolve with QUTeX
Foster your understanding of the importance of data-driven decision making with QUTeX's Enterprise Leadership (ELP). Learn to evaluate and interpret data, visualise metrics and analytics and use data to quantify organisational risks and opportunities. With these skills, you can persuade decision-makers and make informed, evidence-based management and business decisions.
Who should participate?
Making Decisions with Data places the ability to make more informed, effective and reliable business decisions in the hands of team leaders and program managers.
As part of QUT's Enterprise Leadership series, this course aligns to the Leadership competencies for Queensland. Call our team on 07 3138 6573 to learn more, or download the competency map.
Core concepts
Immerse yourself in data-driven decision making and unlock your understanding of;
The role of data and analytics in business processes and planning;
The utilisation of data analysis techniques to identify trends and patterns to support data-driven driven decision making;
Combining data sources to identify organisational opportunities and risks; and
How to build compelling evidence-based business cases for recommended strategies and initiatives.
Details
Where and when
QUT Executive Education Centre
Level 4, B Block, QUT Gardens Point
2 George St
Brisbane QLD 4001
Dates to be confirmed
Certification
At the end of the course, you'll receive a Certificate of Attendance documenting your participation in the course.
Cost
| Registration type | Cost |
| --- | --- |
| Professional Development Module EARLY BIRD (closes 4 weeks before enrolments close) | $1,710 (GST exempt) |
| Professional Development Module (closes 2 week before pre-work opens) | $1,900 (GST exempt) |
| Professional Development Module - Group Registration (4 or more) | $1,710 (GST exempt) |
| Professional Development Module - QUT Alumni / Staff registration (25% discount) | $1,425 (GST exempt) |
More details
Part of the QUTeX Enterprise Leadership Series
QUT's Enterprise Leadership provides a flexible pathway for managers and aspiring senior leaders to develop the confidence, frameworks, and capability to understand complex environments and lead successful business outcomes.
With a suite of flexible learning Professional Development Modules designed by leading experts across QUT, you'll benefit from the ability to pick and choose the right study areas for you.
Graduate Certificate in Business (Enterprise Leadership)
Did you know that you can transform your leadership development into a postgraduate qualification?
This Enterprise Leadership module can be completed with an additional (optional) Credential unit. This provides you with the accreditation needed to go towards the completion of a Graduate Certificate in Business (Enterprise Leadership), an MBA, or an Executive MBA.
QUT's Graduate Certificate in Business (Enterprise Leadership) has been designed as an extension of the Enterprise Leadership series, to provide participants with a postgraduate level qualification in leading with an enterprise perspective. To attain this qualification, you will need to complete two core Enterprise Leadership modules (Leading Self and Others and Actioning Strategic Innovation) plus any two electives from the available Enterprise Leadership modules.
This program encourages leaders to work on behalf of the whole organisation as well as on their own business unit or team. It is suitable for leaders in corporate, public and non-profit sectors.
Learn more about the Graduate Certificate in Business (Enterprise Leadership)
Customised and contextualised for your organisation
QUTeX can work closely with your organisation to develop and deliver learning solutions to help build capability and achieve your specific business objectives.
Join a growing community of leading Australian organisations creating results-driven learning solutions with QUTeX, in industries including government, financial and professional services, health and community, construction and mining, retail, education, agribusiness and more. Get started today.
QUTeX Professional Advantage Package
Set your team up for leadership success with access to QUTeX Professional Programs through a corporate subscription to our Professional Advantage package.
Through Professional Advantage, you'll gain access to constantly evolving course content in Enterprise, equipping your team with the skills to grow as leaders, manage complex challenges and adapt to change. You'll benefit from a generous discount off the standard program rate (up to 28%) and get access to exclusive package inclusions.
Click here to find out more today!