Know your customers, your teams and your organisation using data analytics.
Overview
Today's real world organisations house massive data sources and use them for a sophisticated competitive advantage. More than ever, data analytics has become a go-to for organisations wanting to turn their data into useful information about their customers, their teams and business processes. Savvy organisations use their data to map trends and reveal patterns with machine learning, and then integrate innovative solutions into their business.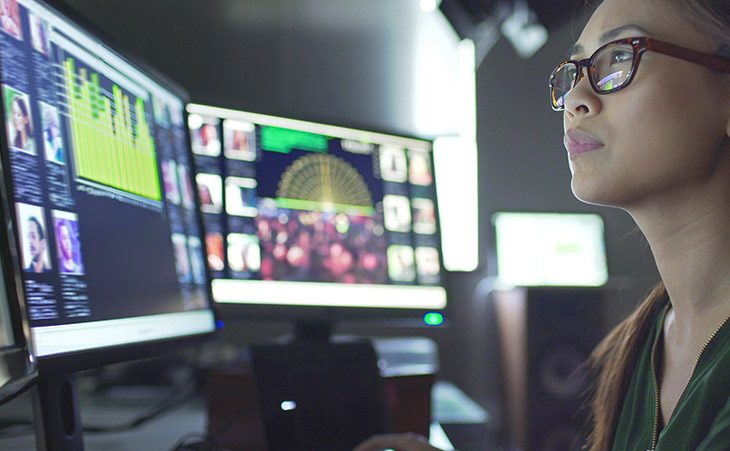 Evolve with QUTeX
Professionals who continue to develop their expertise with QUTeX are backed by QUT's cutting-edge research combined with its leading experts and academics in data analytics and machine learning. With this workshop you'll have the knowledge to apply new innovations using data analytics and machine learning to your organisation. You'll gain an understanding of how businesses use big data and good data analytics methods so you can make sophisticated and informed decisions in your organisation.
This course is a slightly updated version of the QUTeX course, The Use of Big Data for Decision Making. If you did this course previously, we suggest you do not do this one as you may find most of it similar.
Who should participate?
This one-day workshop has been designed for business leaders, managers and IT professionals who want to understand the impact of data analytics on business and learn technology to transform huge amounts of data into useful information for decision making.
Your expert facilitator
Associate Professor Richi Nayak
Associate Professor Richi Nayak has combined knowledge in these areas very successfully with diverse disciplines such as Social Science, Science and Engineering, to enable technology transfer to real world problems. She is a steering committee member of the Australasian Data Mining Society, and was awarded the 2016 WiT (Women in Technology) Infotech Outstanding Achievement Award for exemplary service to the field of Data Analytics
Learn more about Associate Professor Richi Nayak
Core concepts
This one-day workshop covers a range of topics, including:
data analytics for big data
decision making with big data
machine learning
data mining
predictive data mining
descriptive data mining
ICT
business intelligence
information architecture
cutting-edge data and information models
strategy planning with big data
using big data for sales and marketing.
Details
Where and when
QUT Executive Education Centre
B Block, QUT Gardens Point
2 George St, Brisbane QLD 4001
Course date: Tuesday 19th July 2022
Certification
At the end of the course, you'll receive a Certificate of Attendance documenting your participation in the course.
Cost
| Registration type | Cost |
| --- | --- |
| Early Bird registration (closes 4 weeks prior to course) | $790 (GST included) |
| Standard registration (closes 2 days prior to course) | $880 (GST included) |
| QUT Alumni / Staff registration | $660 (GST included) |
| Group registration (4 or more) | $790 (GST included) per person |
Fees include: course materials, morning tea, lunch and afternoon tea.
More details
Customised and contextualised for your organisation
QUTeX can work closely with your organisation to develop and deliver learning solutions to help build capability and achieve your specific business objectives.
Join a growing community of leading Australian organisations creating results-driven learning solutions with QUTeX, in industries including government, financial and professional services, health and community, construction and mining, retail, education, agribusiness and more. Get started today.
QUTeX Professional Advantage Package
This exclusive package enables you to immerse yourself and your team in fresh ideas and ground-breaking business thinking through QUT's real world learning. Through Professional Advantage, you'll gain access to constantly evolving course content in the QUTeX Professional Program and Enterprise Leadership Program (ELP), equipping your team with the skills to grow as leaders, manage complex challenges and adapt to change. You'll benefit from a generous discount off the standard program rate (up to 28%) and get access to exclusive package inclusions. Click here to find out more today!