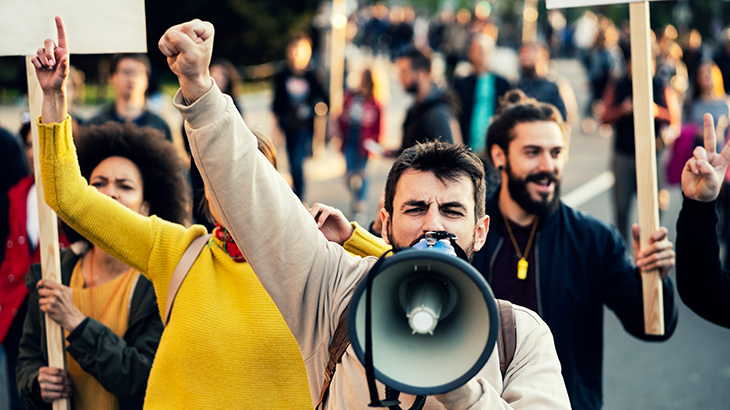 Societies on the Brink: Understanding the Dynamics of Partisanship and Polarisation
6:00-7:00 pm on Thursday, 30 September 2021
Rioters in the US Capitol. Anti-vaccination protesters in the streets of Australian cities. Divisive and intractable debates everywhere, fuelled by fringe media outlets, disinformation campaigns, and social media pile-ons.
The increase in hyperpartisanship and polarisation that these developments highlight presents an urgent challenge. It intensifies social conflicts, threatens economic prosperity, undermines public trust, and ultimately destabilises societies.
This Real World Futures presentation by Professor Axel Bruns explores the drivers of these developments and examines the role of digital and social media as well as of broader social and political contexts in enabling them.
This event will be held live at the QUT Kelvin Grove Campus, Brisbane and live-streamed to registered participants.
Find out more and register for this event
Technology is changing how we think, work and live. QUTeX's Real World Futures program keeps track of what this means.
What is Real World Futures?

Future thinking
Thought and creativity will become the individual's most important assets as technology shapes a future with new ways of working, playing and connecting...

Future working
Digital tools and machines will replace many process jobs over the next decade. They will create both efficiency and dislocation, requiring businesses and employees to think differently ...

Future living
The connected society is already changing the way we work and relate to each other. The latest mobile devices put what we once would have called a supercomputer in every pocket or handbag...
Some concepts so simple, yet so powerful and so immediately beneficial.

Jennifer St George

The Leadership for Coaching and Mentoring program was a very powerful opportunity for me learn, and to grow as an individual.

Peter Carne

The Public Trustee of Queensland

I have grown as an individual, challenged myself with new concepts and ideas, and been able to integrate and apply my learnings to enrich my career.

Vanessa McCormack

The format for the day and the facilities were great

I enjoyed participating in the ELP. The module I completed covered some important key leadership topics. I think the balance between teaching and small group activities was perfect at creating a good learning environment.

Matthew Cox

Hastings Deering (Australia)

Navigating Transformative Technology – A Case Study in Artificial Intelligence, Autonomous Vehicles and Robotics.

Prof Melinda Edwards with Prof Michael Milford

Real World Futures event
Join our community
Join the QUTeX community and learn more from like-minded professionals with the QUTeX newsletter.