Learn how to take a human-centered approach to your work by exploring the methodology known as design thinking.
Overview
This course will support you to understand evidence-based methods and tools that help you transform the way you solve organisational and community challenges. Using human centered design and systems thinking, you will learn the principles of understanding organisational and social challenges, using empathy to innovate and design solutions to address place-based community needs.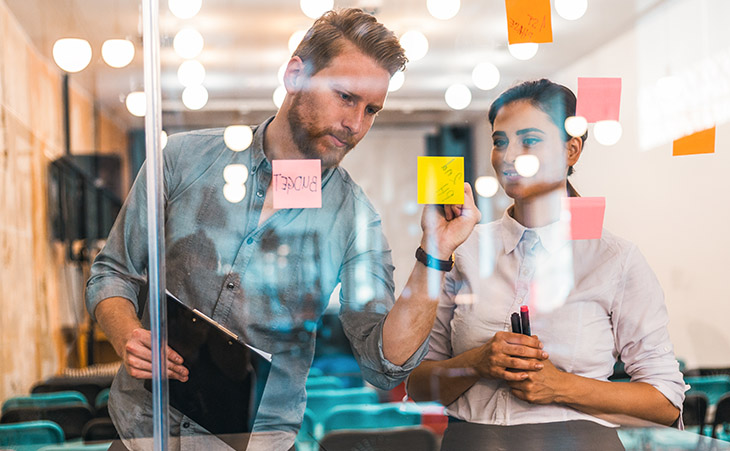 Evolve with QUTeX
This course consists of two full day sessions. It is designed for those in a leadership or board position within the nonprofit or social enterprise sector in Queensland who want to design and evaluate the creation process involved in driving social change and impact. Using people-centred approaches, they will be able to drive change within their organisations and influence program design and evaluation upon completion of this course..
The hands-on course will provide you the skills and confidence to use Design Thinking and Human -Centred Design when faced with wicked problems. It will explain why social innovation does not need to be expensive and risky, and why evaluation is part of every stage of the design process.
The course will discuss why an understanding of systems thinking and place is important. A place-based approach means understanding the relationships, experiences and systems that interact and bring about change within our communities.
The course is a practical step towards improving creativity and innovation within your team and organisation, and designing innovate service responses to organisational and community needs.
Partnering with QUTeX is Hand Heart Pocket the Charity of Freemasons Queensland
Hand Heart Pocket is a philanthropic foundation established by the Freemasons of Queensland with a history of helping the community for more than 110 years. We partner with other charities and philanthropists to help create positive change for people in need, particularly for youth at risk. We also back Freemasons in hundreds of local community initiatives each year.
Who should participate?
Participants will:
Learn the theory and practice of Design Thinking
Understand why systems thinking is important when designing solutions
Discuss the challenges of social innovation with peers and experienced designers
Work in small multi-disciplinary teams to put theory into practice
Learn from real-world case studies

Your expert facilitators
Dr Ruth Knight & Ray Bull
Dr Ruth Knight is an experienced trainer, researcher and evaluator who has been working in the nonprofit sector for more than 30 years. Ruth is passionate about facilitating conversations about social outcomes, logic modelling and impact measurement. She has undertaken a wide range of research and evaluations and helped organisations develop strategies, tools and approaches to ensure they are compliant, innovative and developing a continuous improvement culture. Ruth provides practical and high energy workshops to create collaboration and action learning.
Click here to learn more about Dr Ruth Knight
Ray Bull is a specialist with 25 years' experience leading multi-disciplined stakeholder groups to create innovative design outcomes. Ray uses Human-Centred Design principles to help organisations address complex organisational and community problems. Ray is an experienced facilitator, trainer and mentor who is regularly engaged to lead the development of creative solutions and has recently worked on key projects for Australian Taxation Office, DV Connect, Global Care and City of Gold Coast.
Core concepts
Explain the steps of the HCD process to create innovative solutions to real-world challenges
Describe strategies for understanding complex social problems
Build rapid prototypes to make ideas come to life
Describe ways to implement organisational learning and greater social impact
Details
Where and when
QUT Executive Education Centre
B Block, QUT Gardens Point
2 George St, Brisbane QLD 4001
Session 1 - Friday, 10 June: 9am – 4:30pm AEST
Session 2 - Friday, 24 June: 9am – 4:30pm AEST
Certification
Certificate of Participation
Cost
Hand Heart Pocket subsidised price - $1070 (GST Incl.)
Full standard price - $2640 (GST Incl.)
The subsidised price equates to $535 per person per day.
There is no need to contact QUTeX or Hand Heart Pocket for subsidy, please register online via the "enrol now" button.
Course fees include course materials, morning tea, lunch and afternoon tea.
More details
The Hand Heart Pocket subsidy is available to organisations registered with the ACNC or are a Social enterprise organisations / Government Agency supporting NFPs operating in the youth at risk space. During the enrolment process, you will need to provide the following details to confirm your eligibility:
ABN (11 digit number)
Link to your organisations' entry on the ACNC Charity Register or if you are a Social Enterprise Organisation / Government Agency supporting NFPs operating in the youth at risk space please provide details below to verify.
Please list your charity program classifications as provided in your ACNC Annual Information Statement