Set yourself up for success and excel in QUTeX Trainee Solicitors Program for admission to the Supreme Court of Queensland as a legal practitioner. Complete your 90 hours of approved training or fill gaps in your workplace training with supplementary training.
Overview
Trainee solicitors in a supervised work experience program are required to complete an additional 90 hours of training to satisfy the legal practitioner admissions rules. QUTeX Trainee Solicitor Program (TSP) provides trainees with this required 90 hours of approved training. This online course offers the flexibility to complete the training at any time over 12 months. Trainees can choose between one core area or two elective areas of practice.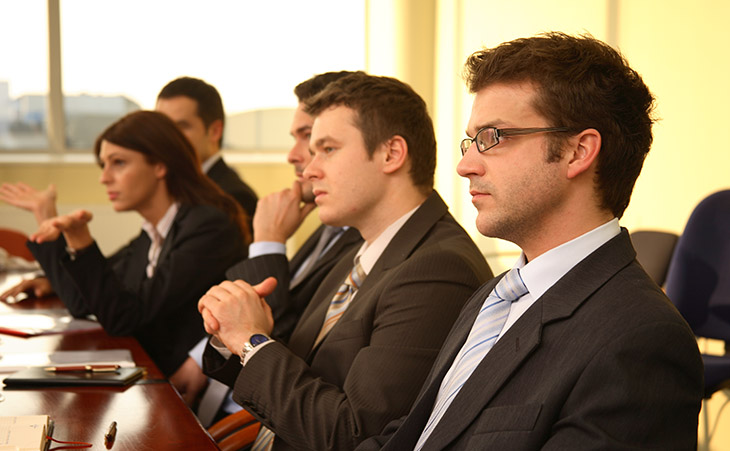 Evolve with QUTeX
Approved by the Legal Practitioners Admissions Board, QUTeX Trainee Solicitor Program (TSP) provides high-quality online training by utilising the university's extensive experience in training Queensland legal practitioners. The Supreme Court of Queensland requires trainees to complete approved training and workplace training to cover all areas of practice outlined in the Admission Rules. QUTeX offers trainees both approved training and supplementary training; supplementary training is for those who need to complete areas of practice listed in the Admission Rules that their workplace doesn't cover. Besides Criminal Law, which has a one-day attendance component, all other units are online with each unit requiring completion within six months of commencement. Participants will be provided a suggested timetable to assist with time management.
Who should participate?
The Supreme Court of Queensland requires that law graduates completing Supervised Workplace Experience programs in law firms, (formerly known as 'articles of clerkship'), must also complete 90 hours of approved training as a prerequisite to be admitted as a legal practitioner.
(See rule 9 of the Supreme Court (Admission) Rules 2004). To be eligible for the Trainee Solicitors Program you must hold a Bachelor of Laws and a current traineeship with a registered law firm. Contact qutex@qut.edu.au about eligibility for Supplementary Training.
Core concepts
The 90-hour Trainee Solicitor Program (TSP) includes a compulsory ethics component and either one 12 credit point core unit or two 6 credit point elective units. To meet the Queensland admission requirements, you must complete two areas of study, either in workplace training or as part of approved or supplementary training. Trainees undertaking supplementary training may choose from the list below to supplement their workplace competencies required under the Admission Rules.

Core units (12 credit point units)
Litigation
Property
Commercial
Elective units (6 credit point units)
Administrative Law
Family Law
Criminal Law (has a one-day attendance component)
Banking and Finance
Employment and Industrial law
Planning and Environment Law
Wills and Estates
Consumer Law
Details
Where and when
Online Delivery
This course will be held entirely online, via Blackboard, QUT's online learning platform.
You can start training at any time and can work at your own pace at a time that suits you within the given time frame.
Cost
Trainee Solicitor Program (TSP)
$2,090 (GST exempt) includes the compulsory Ethics component, plus either 2 x 6 credit point 'elective' units or 1 x 12 credit point 'core' unit.
Supplementary training
You can register for supplementary training if your firm cannot provide training in all of the legislated areas of practice and you haven't covered them in your approved training.
$792 per 6 credit point unit (GST exempt)
$1,584 per 12 credit point unit (GST exempt)
More details
The program is delivered via flexible online learning. Criminal law has a one day attendance component, but all the other units can be completed wholly online.
Customised and contestualised for your organisation
QUTeX can work closely with your organisation to develop and deliver learning solutions to help build capability and achieve your specific business objectives.
Join a growing community of leading Australian organisations creating results-driven learning solutions with QUTeX, in industries including government, financial and professional services, health and community, construction and mining, retail, education, agribusiness and more. Get started today.