Gain insight to the links between enterprise level transformation and the challenges that you are likely to be facing in your context.
Overview
Following on from The Enterprise Transformation Equation: "In Conversation with Major General Stephen Porter. AO" presentation, this workshop will cover a co-design and strategic transformation taster, built around the 'Batteries of Change' model, presented by Dr Catherine See.
You will then participate in small interactive group discussions, facilitated by GM Stephen Porter, Dr Catherine See, and Dr Antony Peloso. Here, you will explore how the enterprise transformation equation relates to your environment, what actions you can take, and what you can do to lead successful change and transformation.
Transformation & Co-Design Hands on!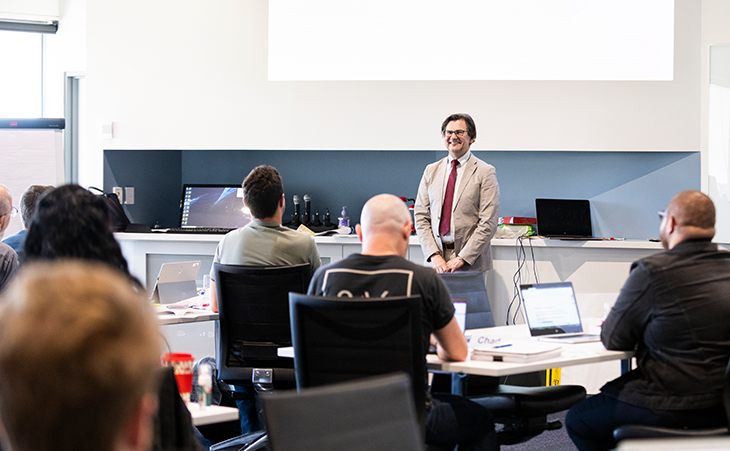 Evolve with QUTeX
Take part in the entire Five-Part Series to transform your learning.
This series includes three full-day facilitated workshops and two 90-min conversation sessions, with guest Major General Stephen Porter AO.
Who should participate?
Leaders who are charged with designing and enabling significant and 'whole of enterprise' enduring transformation efforts.
Professionals who are charged with guiding and implementing significant changes in their divisions, product, and service delivery lines.
Specialists who are charged with designing and building transformation teams.

Your expert facilitators
Major General Stephen Porter AO, Dr Catherine See & Dr Antony Peloso
Major General Stephen Porter. AO
Major General Stephen Porter. AO has led significant transformations within the Australian Defence forces and for this he was appointed a Member of the Order of Australia and subsequently he was appointed Commander of the 2nd Division. Since leaving active service he continues his work supporting current and former serving members in many ways. In his own words Stephen says that he can dissect and understand complex problems in ambiguous environments, the capability to simplify the problem and lead organisations through workable practical solutions. In his transformation work he focuses on cultural and structural reform, improved service delivery, reputation and in particular stakeholder and partner relationships. For more information click here.
Dr Catherine See
Dr Catherine See is a corporate educator and executive coach with over 25 years of executive leadership, consulting and coaching experience in a range of settings. She has extensive experience in designing and delivering leadership and capability development solutions in partnership with client organisations, cognisant of their unique organisational needs. Her recent professional projects range from the provision of individual executive coaching to the design of organisation-wide capability development and career management frameworks in complex organisational environments.
Dr Tony Peloso
Dr Tony Peloso is a Corporate Educator in Corporate Education within QUT's Faculty of Business. In this role Tony teaches strategic thinking, strategy implementation, innovation, and marketing. He has strong expertise in strategic thinking and business planning, innovation and creative processes, and leadership development. He has also taught undergraduate, graduate and MBA classes since 1997 at both QUT, Australia, and Arizona State University, USA. His research interests include employee loyalty, organizational climates, and corporate reputation. For more information click here.
Core concepts
By attending this workshop, you will learn the proven, coherent process and approach to significant and lasting change in environments of rapid change and ambiguity. You will explore the following:
Setting the scene for the transformation;
Understanding the Transformation Equation;
The benefits of transformation and innovation;
Understanding what innovation 'looks like';
Real world concepts and examples you can use in the workplace.
Details
Where and when
The virtual delivery of the series will be delivered online via Zoom.
Tuesday 30th March 2021 | 12:00 pm to 1:00 pm AEST
Cost
| Registration type | Cost |
| --- | --- |
| Standard registration | $45.00 (including GST) |
| QUT Alumni / Students / Staff | $25.00 (including GST) |
* Registration closes 2 business days prior to course commencement
More details
Take part in the entire Five-Part Series to transform your learning.