Learn the self-care strategies you need to support your wellbeing and improve your students' learning outcomes.
Overview
As a teacher or educator, it can be easy to put the needs of the young people you work with ahead of your own. These actions can adversely impact your health and wellbeing, and as a consequence, the learning outcomes of your students.
Self-care for teachers is about actively looking after your own well-being so you can support your students more effectively. To help sustain your career and improve your performance as a teacher you need the right strategies to support yourself so you can support others.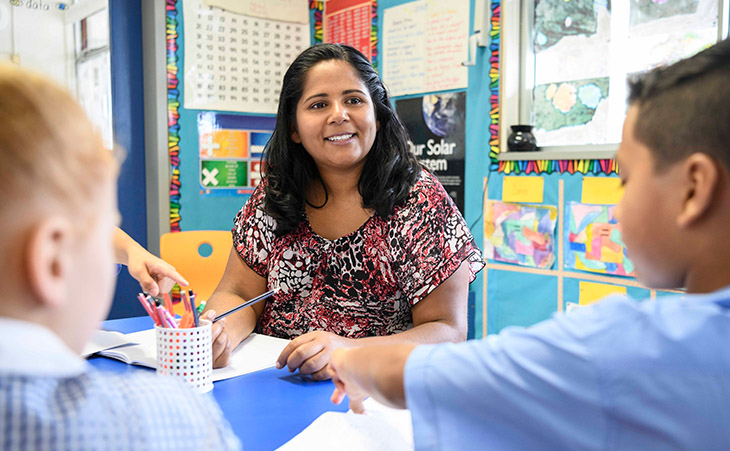 Evolve with QUTeX
QUTeX harnesses the expertise of the whole university to revolutionise professional development. QUTeX develops the practical skills of educational professionals wanting to improve their performance in the classroom and look after their wellbeing to build a sustainable career.
In this one-day workshop you'll understand the importance of teacher wellbeing and learn self-care strategies to support your wellbeing so you can improve your students' learning outcomes.
Who should participate?
This workshop has been designed for early childhood, primary and secondary teachers and school leaders across public and private schools and institutions. Self-care and Wellbeing for Teachers is for educational professionals wanting to find a work-life balance and learn strategies for self-care to help sustain their career and improve their performance in the classroom.
This workshop aligns with the following Australian Professional Standards for Teachers (APST):
6.1: Identify and plan professional learning needs
6.2: Engage in professional learning and improve practice
6.3: Engage with colleagues and improve practice
6.4: Apply professional learning and improve student learning
Your expert facilitator
Dr Rebecca Spooner-Lane
Dr Rebecca Spooner-Lane is an educational leader and psychologist with expertise in the field of teacher education, professional learning, school leadership and school improvement, mentoring and teacher wellbeing. She delivers a range of professional development workshops including: professional dialogues and difficult conversations, mentoring and coaching, and resilience and wellbeing.
Core concepts
This fun and engaging one-day workshop will guide you through a range of topics, including:
building greater self-awareness of how stress is impacting on you in the present
recognising the symptoms of work-related stress
employing a range of strategies to combat stress
developing an individual self-care plan.
Details
Where and when
QUT Kelvin Grove
Victoria Park Road
Kelvin Grove QLD 4059
Enquire Now
Certification
On completion of this workshop you'll be issued a Certificate of Attainment for 6 hours of CPD.