The law and ethics of AI – How will the law respond to the rise of AI systems, and the areas where law and ethics that will be challenged by machine learning and big data systems?
Overview
Artificial Intelligence promises to revolutionize the way our entire society works—and law and ethics are at the heart of how we will make sure that AI is beneficial and not detrimental.
Facial recognition systems, deepfake videos, and automated social media bots are early, worrying examples where the power of the technology has outstripped our ability to regulate it. Fast-approaching technologies like lethal autonomous weapons systems (aka "killer robots") and fully autonomous vehicles will challenge us even more.
Professor Dan Hunter will explain how AI and machine learning systems work, and examine how we can craft laws and ethical systems to ensure that the worst of our fears about AI never come to pass. He will talk about how we can produce fair, accountable and transparent AI systems—and how they might be better than humans at a range of legal and ethical problems.
As an attendee, you will be equipped with the critical tools needed to understand, anticipate and navigate the unpredictable future, and to become involved in the dialogue around this vital issue.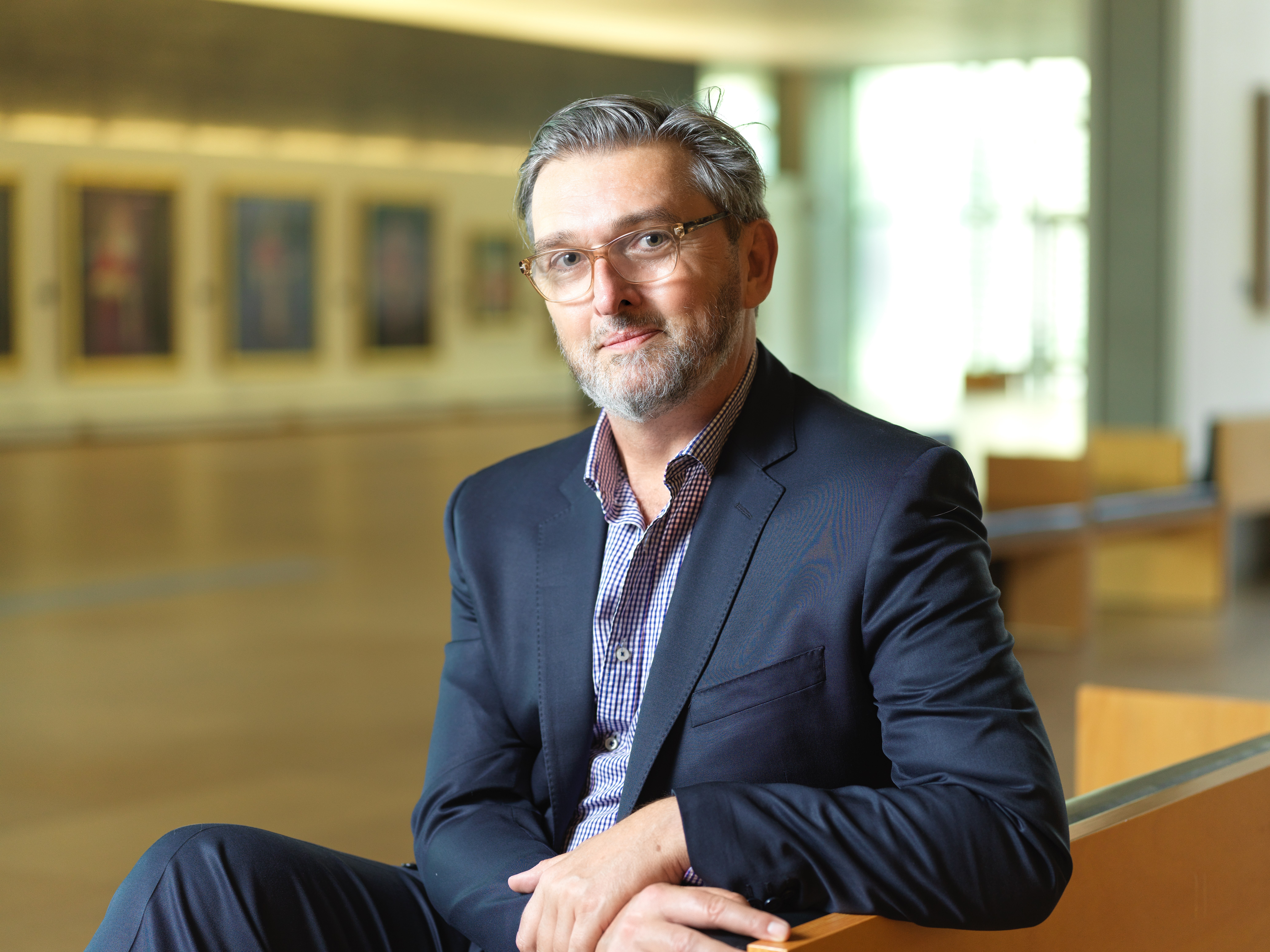 Your Real World Futures Leader
Professor Dan Hunter
Professor Dan Hunter leads the QUT Faculty of Law as Executive Dean and is an international expert in internet law, intellectual property, and cognitive science models of law.
He was Founding Dean at Swinburne Law School until 2019 and prior to this was the Head of the Intellectual Property and Innovation Program at QUT, and general editor of the QUT Law Review.
As an international leader in his discipline, Professor Hunter has taught at various national and international institutions, including the New York Law School, The University of Melbourne, The Wharton School at the University of Pennsylvania, the University of Cambridge, and Deakin University. He was a barrister and solicitor prior to working in academia.
During his career, Professor Hunter has provided inspiring leadership and has demonstrated an extremely impressive scholarly track record.
He has received numerous awards, honours, and research grants from the National Science Foundation, the MacArthur Foundation, the Joyce Foundation, and the Australian Research Council. He is a Fellow of the Australian Academy of Law and has been a recipient of a Fulbright Postgraduate Fellowship, a Fulbright Distinguished Chair, a Smithsonian Fellowship, an American Council of Learned Societies Research Fellowship, a Herschel Smith Research Fellowship in Intellectual Property Law, and a Science Commons Fellowship.
Learn more about Professor Dan Hunter
Core concepts
About Future Thinking
Thought and creativity will become our most important assets as technology shapes a future with new ways of working, playing and connecting. The big shift will be the simplification and automation of mundane processes – whether on the factory floor, the construction site or the office. The employee of the future will be judged more on their thinking skills and creativity than technical ability. Understanding the potential power of the brain and how it can be refined, will enable leaders to attract the best people and achieve the best results. The enterprise of the future will be valued on quality ideas to conceive and execute what a connected consumer wants and needs.
About Future Working
Digital tools and machines will replace many process jobs over the next decade. They will create both efficiency and dislocation, requiring businesses and employees to think differently about their careers and the training and education that skills them. International research now being replicated in Australia shows close to half of all occupations are at risk from technological disruption. New technology will also unleash new creative forces and inspire new waves of entrepreneurialism, creating both challenges and opportunities while maintaining pressure on work-life balance. The winners will be the enterprises and individuals that can maximise their use of new technology while drawing on human strengths that can set them apart.
About Future Living
The connected society is already changing the way we work and relate to each other. The latest mobile devices put what we once would have called a supercomputer in every pocket or handbag. As these devices continue to evolve it will further change every aspect of how we consume and relate to each other. In tandem with other discoveries, innovation will offer greater insight into our physical and mental condition. We will live longer but this will be accompanied by further challenges as society adapts to an aging population. It doesn't end there; the power of networks will expand, for instance, into how energy is created, stored and used. Many other businesses will need to disrupt or will struggle to stay alive. The deep social, economic and political consequences are already starting to be felt and will only increase with time.
Details
Where and when
QUT Executive Education Centre
B Block, QUT Gardens Point
2 George St
Brisbane QLD 4001
Thursday, 20 February 2020
7:15am - 8:45am (arrival from 7:00am)
Join our community
Join the QUTeX community and learn more from like-minded professionals with the QUTeX newsletter.