Navigating the Future of Digital Transformation Risk
Overview
Digital transformation is a term that has been bandied around the business world long enough for some to roll their eyes when they hear it. The reality however is that many organisations are yet to fully embrace this journey, even after the rapid shift to remote working in response to the threat of a global pandemic. What the pandemic has highlighted however, is that the future of business is digital. Many large organisations remain cautious and still hesitate to embark on a redesign of their business based on an expensive program of technology-based projects - and for good reason. Around the world, the track record in digital investment / transformation is appalling. According to a Forbes report from 2019, 70% of all digital transformations fail to reach their goals. However, this doesn't need to be the case. By re-framing digital transformation through the lens of human centred design and involving the human perspective in all steps of the transformation process, some of the biggest risks to the success of a transformation initiative can be mitigated and avoided altogether.
In this webinar we will discuss some of the factors unique to technology investment and explore digital investment / transformation risks through the lens of the investment life-cycle. The webinar brings a sharp focus on the human element of digital transformation and the leadership skills needed to navigate and steward projects to success. If your organisation is contemplating, beginning or in the thick of digital transformation, then this is a must attend Real World Futures session.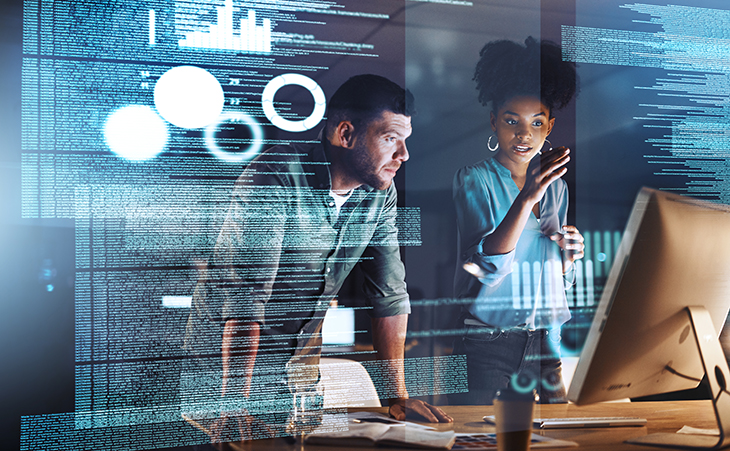 Your expert facilitators
Dr Shari Read & Professor Malcolm Thatcher
Dr Shari Read is an award-winning educator in the QUT Graduate School of Business and leads the QUTeX Activate: Transformation eXcelerator as well as a series of transformation short courses. Shari has a strong background in psychology and management and has experience in both the public and private-sectors as well as over 10 years running her own nation-wide business. Shari's career has taken her on a journey of personal transformation, from yoga teaching in New York, to researching the nuances of leadership mindset and effective organisational transformation. Shari has over 25 years' experience as an educator with a strong focus on facilitating personal, team and organisational transformation.
Shari was the Program Director for Australia's first university-based program on leading organisational transformation. After bringing the program to QUT in 2019 Shari continues to work with the Australian Transformation and Turnaround Association to offer the only course in the Asia-Pacific region to professionalise the practice of organisational transformation.
As an educator, Shari emphasises human-centred approaches to leadership, management and new ways of working and in 2018 her excellence in teaching was recognised with the ANU Vice Chancellor's inaugural award for Excellence in Education.
Professor Malcolm Thatcher is a Professor of Digital Practice in the QUT Graduate School of Business and leads the QUTeX Digital Capability Practice. Mal is a career technologist and has held senior executive leadership positions in both the public-sector and the private-sector. Mal's experience includes establishing start-up technology companies both here in Australia and in the USA. Mal has over 35 years' experience in leading and delivering business value through technology-led innovation and transformation.
Mal is regarded as an expert in Digital Risk and Governance, which was the focus of his PhD and subsequent book titled The Digital Governance Handbook for CEOs and Governing Boards – a book that has featured in Amazon's best seller list under Corporate Governance.
Mal has served on a number of Boards and Committees, including QUT Council where he also acted in the role of Chancellor of the University. Mal was the inaugural recipient of QUT's Outstanding Alumni Award for the then Faculty of Information Technology and in 2016, Mal was named as one of Australia's Top 50 CIOs by CIO Magazine.
Core concepts
About Future Thinking
Thought and creativity will become our most important assets as technology shapes a future with new ways of working, playing and connecting. The big shift will be the simplification and automation of mundane processes – whether on the factory floor, the construction site or the office. The employee of the future will be judged more on their thinking skills and creativity than technical ability. Understanding the potential power of the brain and how it can be refined, will enable leaders to attract the best people and achieve the best results. The enterprise of the future will be valued on quality ideas to conceive and execute what a connected consumer wants and needs.
About Future Working
Digital tools and machines will replace many process jobs over the next decade. They will create both efficiency and dislocation, requiring businesses and employees to think differently about their careers and the training and education that skills them. International research now being replicated in Australia shows close to half of all occupations are at risk from technological disruption. New technology will also unleash new creative forces and inspire new waves of entrepreneurialism, creating both challenges and opportunities while maintaining pressure on work-life balance. The winners will be the enterprises and individuals that can maximise their use of new technology while drawing on human strengths that can set them apart.
About Future Living
The connected society is already changing the way we work and relate to each other. The latest mobile devices put what we once would have called a supercomputer in every pocket or handbag. As these devices continue to evolve it will further change every aspect of how we consume and relate to each other. In tandem with other discoveries, innovation will offer greater insight into our physical and mental condition. We will live longer but this will be accompanied by further challenges as society adapts to an aging population. It doesn't end there; the power of networks will expand, for instance, into how energy is created, stored and used. Many other businesses will need to disrupt or will struggle to stay alive. The deep social, economic and political consequences are already starting to be felt and will only increase with time.
Technology is changing how we think, work and live. QUTeX Real World Futures series keeps track of what this means. Learn more and rediscover our past Real World Futures events.
Details
Where and when
This live webinar will be delivered virtually via Zoom.
When:
Thursday 3rd September 2020
8:00am - 9:00am AEST: Live Webinar
Cost
More details
Future Professional Development of Interest
QUTeX Digital Capability Practice can help you prepare to take advantage of digital opportunities and to manage digital threats by developing your competencies across three domains – from digital information and data literacy, to digital strategy development and digital ethics.
Join our community
Join the QUTeX community and learn more from like-minded professionals with the QUTeX newsletter.