Grow your skills to sensitively care for palliative and end-of-life patients.
Overview
This course equips nurses with beginner-level knowledge of palliative and end-of-life care in a variety of healthcare contexts for real-world application. The primary treatment goal for patients with little or no prospect of recovery is to uphold their dignity, communicate with empathy, and optimise their quality of life. Participants will acquire advanced knowledge of the assessment and management of physical and psychosocial symptoms to provide patients who have life-limiting illness and their families with holistic, patient-centred care and support. Developing this knowledge, along with highly advanced interpersonal skills, is essential for nurses caring for patients with a life-limiting illness. Participants will also examine the role and function of a palliative care nurse as part of a multidisciplinary team and as an autonomous practitioner.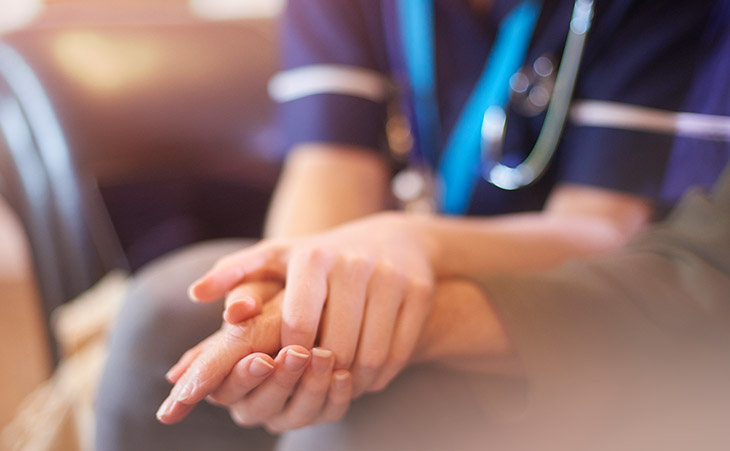 Evolve with QUTeX
This course gives nurses the skills to care for adults who require palliative care in their place of choice as they progress through a life-limiting illness. Participants will be guided through principles and practical knowledge to optimise quality of life for patients with a life-limiting illness, focusing on sensitively upholding the dignity of the patient and communicating with empathy, honesty, and compassion.
A course outline, study guide and readings will be provided online via the QUT Blackboard site. There is no requirement to attend the university throughout the duration of the course. You will need reliable internet access to complete the course.
Who should participate?
This course is aimed at registered and clinical nurses, clinical nurse consultants, and nurse managers who care for adults with life-limiting illness in any healthcare sector. Learners are advised to have at least 3 months experience caring for people with life limiting conditions.
Core concepts
Participants will learn to;
Apply palliative-care principles to the assessment, planning, and management of personalised care of a person and family requiring palliative care;
Critically analyse, evaluate and apply ethical, evidence-based decision-making in caring for clients with life-limiting conditions and their family;
Critically evaluate the effectiveness of palliative care interventions and their impact on outcomes for the patient and family; and
Explore collaboration and communication strategies to establish and maintain therapeutic relationships for persons with life-limiting conditions and their families.
Details
Where and when
This course will not be offered in 2021. 2022 course dates to be advised.
Please email QUTeX to be added to enquiry list.
Certification
You will receive a QUT-endorsed certificate of completion upon successful completion of the modules and assessments.
If you successfully complete the modules and assessment and are accepted into the Graduate Certificate in Nursing, you can apply for credit (advanced standing) for one elective unit worth 12 credit points.
Cost
*The below pricing schedule is indicative only.
| Registration type | Cost |
| --- | --- |
| Early Bird registration | $1,215 (GST exclusive) |
| Standard registration | $1,350 (GST exclusive) |
| QUT Alumni registration | $1,012.50 (GST exclusive) |
| Group registration* (5 or more) | $1,215 (GST exclusive) per person |
*For group registrations, please contact QUTeX for further instructions.
Fees include access to online learning materials and Blackboard (QUT's interactive learning tool).
You will also need to purchase the set textbook for the course: O'Connor, M., Lee, S., Aranda, S. (Eds.). Palliative care nursing: A guide to practice (3rd ed.). North Melbourne: Ausmed Publications.
More details
Customised and contestualised for your organisation
QUTeX can work closely with your organisation to develop and deliver learning solutions to help build capability and achieve your specific business objectives.
Join a growing community of leading Australian organisations creating results-driven learning solutions with QUTeX, in industries including government, financial and professional services, health and community, construction and mining, retail, education, agribusiness and more. Get started today.