Take charge of your personal and professional growth by discovering your leadership strengths and how to utilise them.
Overview
Successful leaders not only understand their strengths and weaknesses, but they also use this knowledge together with reflection, evaluation, and ultimately action to develop personally and professionally. As organisations become increasingly complex, teams diversify, and workplace practices change, leaders need to build resilience within themselves and others. Begin your self-awareness journey to develop your leadership skills and fulfil your human potential.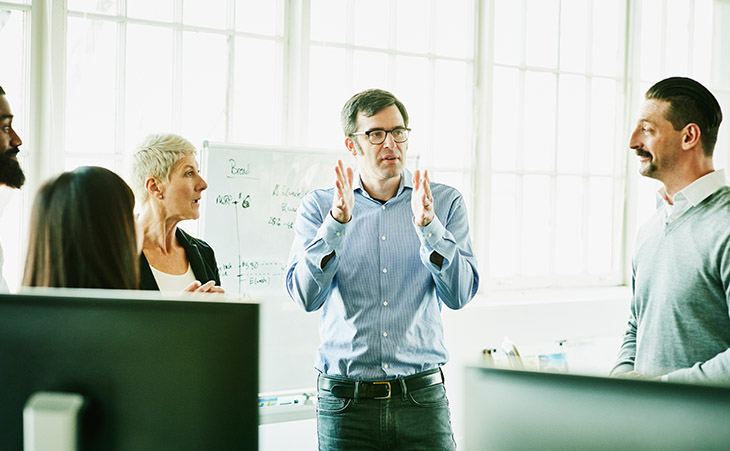 Evolve with QUTeX
Be ready for twenty-first-century workplace challenges by developing your personal and professional skills with QUTeX's Enterprise Leadership (ELP). Leading Self and Others will help you understand your strengths and weaknesses to develop and implement appropriate personal leadership development strategies. You will not only learn to build self-resilience but tools to encourage the leadership capacity of others to build a strong team foundation.
Who should participate?
Leading Self and Others maximises the leadership abilities of team leaders and program managers across all sectors. This course will show you practical, real-world leadership and management practices to maximise your capabilities while developing the leadership skills of others within your organisation.
Your expert facilitator
Dr Danica Hooper
Danica is an organisational psychologist with a strong focus on leadership development. She works with individuals to assist them in developing self-awareness, interpersonal skills, and problem solving capability; and has experience working with leadership teams to develop both their strategic direction and team dynamics. Danica combines a strengths-based and solutions-focused approach to her work.
For more information on Danica please click here to access her LinkedIn profile
Core concepts
Through interactive learning Leading Self and Others, aids participants to;
Evaluate their current leadership style;
Develop their workplace leadership skills;
Establish a personal leadership development plan to thrive within continual organisational change; and
Grow the skills to build the leadership abilities and resilience of others in their organisation.
Details
Where and when
QUT Executive Education Centre
Level 4, B Block, QUT Gardens Point
2 George St
Brisbane QLD 4001
Pre-work starts: 27 Agust 2020
Workshop dates: 10 September & 8 October 2020
Certification
At the end of the course, you'll receive a Certificate of Attendance documenting your participation in the course.
Cost
| Registration type | Cost |
| --- | --- |
| Professional Development Module EARLY BIRD (closes 4 weeks before pre-work opens) | $1,710 (GST exempt) |
| Professional Development Module (closes 2 weeks before pre-work opens) | $1,900 (GST exempt) |
| QUT Alumni / Staff registration (25% discount) | $1,425 (GST exempt) |
More details
Part of the QUTeX Enterprise Leadership Series
The growth into enterprise leadership can be daunting but it doesn't need to be. Whether you're an established or aspiring enterprise leader, QUTeX's Enterprise Leadership series provides you with the framework and capability to understand complex environments, adapt to change and guide your organisation to success.
With a suite of flexible learning Professional Development Modules designed by leading experts across QUT's faculties, you'll benefit from the ability to pick and choose the right study areas for you.
Each module harnesses transdisciplinary knowledge and is developed using the latest in innovative learning design, so you can use what you learn today, in your workplace tomorrow.
Learn more about Enterprise Leadership at QUTeX
Graduate Certificate in Business (Enterprise Leadership)
Did you know that you can transform your leadership development into a postgraduate qualification?
This Enterprise Leadership module can be completed with an additional (optional) Credential unit. This provides you with the accreditation needed to go towards the completion of a Graduate Certificate in Business (Enterprise Leadership), an MBA, or an Executive MBA.
QUT's Graduate Certificate in Business (Enterprise Leadership) has been designed as an extension of the Enterprise Leadership series, to provide participants with a postgraduate level qualification in leading with an enterprise perspective. To attain this qualification, you will need to complete two core Enterprise Leadership modules (Leading Self and Others and Actioning Strategic Innovation) plus any two electives from the available Enterprise Leadership modules.
This program encourages leaders to work on behalf of the whole organisation as well as on their own business unit or team. It is suitable for leaders in corporate, public and non-profit sectors.
Learn more about the Graduate Certificate in Business (Enterprise Leadership)
Join our community
Join the QUTeX community and learn more from like-minded professionals with the QUTeX newsletter.