Use conversational leadership to lead change in your organisation.
Overview
Conversation is a powerful tool in today's communication focused world. Skilled leaders operating in innovative organisations understand the benefits of conversation to discuss quality performance and development with other leaders, team members and the organisation as a whole.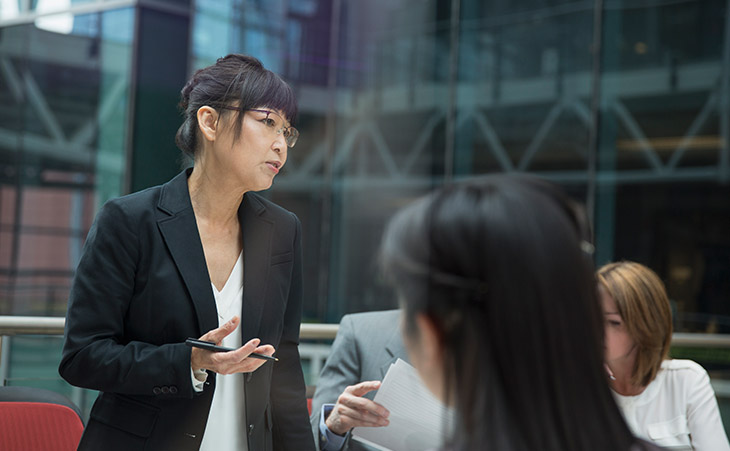 Evolve with QUTeX
Business leaders, managers and professionals who further their expertise with QUTeX empower their potential for career advancement by learning effective communication to lead change and growth. With this one-day workshop you'll learn how to establish the right psychological contract for the conversation you need to have and develop your conversation capabilities so you can improve your work performance.
Who should participate?
This workshop has been designed for leaders and managers wanting to discover how to lead change in the workplace, enhance their verbal communication abilities and influence those around them using conversation as a social and professional tool.
Your expert facilitators
Dr Tim Baker and Aubrey Warren
Dr Tim Baker
Dr Tim Baker is a master trainer, executive coach, published author, visiting university lecturer and keynote speaker. He has conducted major consulting projects in Saudi Arabia, Finland, Canada, Singapore, Malaysia, India, Hong Kong, Taiwan, Indonesia, the Philippines, Vietnam. New Zealand, and Australia. His clients include IBM, Unilever, Nokia, Boeing, Singapore Airlines, Warner Brothers, Volvo and SAP. Click here for more information on Dr Tim Baker.
Aubrey Warren
Aubrey Warren is a Situational Leadership® master trainer and the Australia-New Zealand global affiliate for the Centre for Leadership Studies. He is a globally experienced facilitator and executive coach and lectures in communication and leadership for the QUT Graduate School of Business. Aubrey's commitment is to equip individuals, teams and organisations to connect, communicate and collaborate more effectively. Click here for more information on Aubrey Warren.
Core concepts
This workshop covers a range of topics, including:
the nine barriers to effective communication
holding productive conversations
how to manage organisational barriers
establishing the right psychological contract for the conversations you need to have
an introduction to the 'Five Conversations Framework'
the five essential principles and practice for communicating with influence.
Details
Where and when
QUT Executive Education Centre
B Block, QUT Gardens Point
2 George St
Brisbane QLD 4001
Course date: Tuesday 24 August 2021
Certification
At the end of the course, you'll receive a Certificate of Attendance documenting your participation in the course.
Cost
| Registration type | Cost |
| --- | --- |
| Early Bird registration (closes 4 weeks prior to course) | $790 (GST included) |
| Standard registration (closes 2 days prior to course) | $880 (GST included) |
| QUT Alumni / Staff registration | $660 (GST included) |
| Group registration (4 or more) | $790 (GST included) per person |
Fees include: course materials, morning tea, lunch and afternoon tea.
More details
Customised and contestualised for your organisation
QUTeX can work closely with your organisation to develop and deliver learning solutions to help build capability and achieve your specific business objectives.
Join a growing community of leading Australian organisations creating results-driven learning solutions with QUTeX, in industries including government, financial and professional services, health and community, construction and mining, retail, education, agribusiness and more. Get started today.
QUTeX Professional Advantage Package
This exclusive package enables you to immerse yourself and your team in fresh ideas and ground-breaking business thinking through QUT's real world learning. Through Professional Advantage, you'll gain access to constantly evolving course content in the QUTeX Professional Program and Enterprise Leadership Program (ELP), equipping your team with the skills to grow as leaders, manage complex challenges and adapt to change. You'll benefit from a generous discount off the standard program rate (up to 28%) and get access to exclusive package inclusions. Click here to find out more today!