Ignite your students' curiosity and love for STEM education by introducing engineering activities into your primary school
Overview
In this workshop, you will learn how to engage children in interdisciplinary STEM subjects through an engineering context. You'll learn how to create units of work so your students can design and solve engineering problems and activities by applying mathematics, science and technology concepts.
You'll be given an overview of research evidence that shows the positive impact these activities have on students' learning outcomes. You will also have the opportunity to collaborate with colleagues from other schools on future STEM activities and ideas.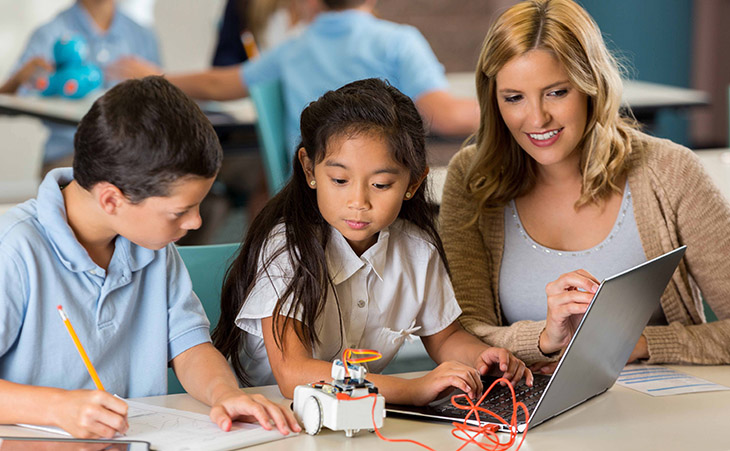 Evolve with QUTeX
Give your students a head start on building the STEM skills, capabilities and literacies needed to succeed in a world of fast technological change. By introducing engineering activities in your primary school classroom, you can help your students build a lifelong love and curiosity in STEM subjects.
Who should participate?
This workshop is suitable for primary school teachers (Years 3-6) who are interested in teaching STEM and engineering concepts to their students.
This workshop aligns with the following Australian Professional Standards for Teachers:
1.1 Physical, social and intellectual development and characteristics of students
1.2 Understand how students learn
2.1 Content and teaching strategies of the teaching area
2.6 Information and communication technology
3.3 Use teaching strategies
3.4 Select and use resources
4.1 Support student participation
Your expert facilitator
Associate Professor Donna King
Donna King is an Associate Professor in science education at QUT. Her research in science education spans three interconnecting fields: the emotional engagement of students in science in the middle years, using engineering contexts for teaching science and context-based science education. An outcome of this work is the development and implementation of innovative context-based units where teachers have adopted new pedagogical approaches for teaching science. She has been a chief investigator on a number of ARC projects with the most recent one focussing on students' use of data for modelling when learning STEM through an engineering context. She is the lead co-chief editor of the international journal Research in Science Education and the Master of Philosophy course coordinator.
Core concepts
By the end of the workshop you will be able to:
understand good models of integrated STEM through an engineering context
design a teaching unit for STEM in primary years
use research-based practice in STEM education.
Details
Where and when
QUT Kelvin Grove
Victoria Park Road
Kelvin Grove QLD 4059
Enquire Now
Certification
By completing this course you'll be issued a certificate of attainment for 6 hours of CPD.