Learn how to use Desmos graphing calculators to help your students learn and love mathematics and science.
Overview
In today's rapidly changing world, teachers need to have the capabilities to bring technology into the classroom to enhance students' learning and diversify their skills. Desmos is a free and fun graphing calculator that teachers can use to create interactive and dynamic activities in mathematics and science subjects. With user-friendly features and a sophisticated interface, Desmos scientific calculator is a powerful alternative to the clunky and outdated graphing calculators most teachers and students are familiar with.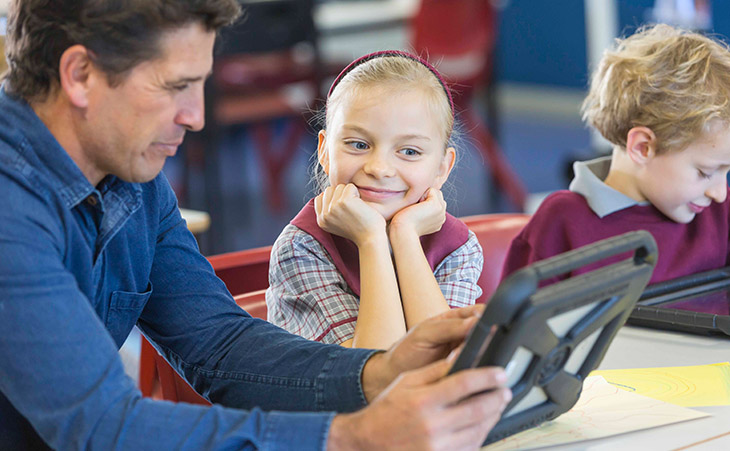 Evolve with QUTeX
QUTeX furthers the professional development of educators with real-world learning activities relevant to real classrooms.
In this workshop you'll be given a guided introduction to the basics of graphing and calculating, learn how to create Desmos-based activities through 'active play', be introduced to the Teacher Dashboard and search engine features and build your own Desmos activity.
Who should participate?
This workshop has been designed for mathematics and science teachers who teach students from Years 7 – 12 and are looking to diversify their capabilities by learning how to use Desmos graphing calculators and introducing them into their students' learning activities.
This workshop aligns with the following Australian Professional Standards for Teachers:
2.1: Content and teaching strategies of the teaching area
2.2: Content selection and organisation
2.6: Information and Communication Technology (ICT)
3.2: Plan, structure and sequence learning programs
3.3: Use teaching strategies
3.4: Select and use resources
4.1: Support student participation
Your expert facilitator
Professor Dann Mallet
Professor Dann Mallet is a university mathematics education expert, pre-service teacher educator and applied mathematician. He has experience in academic and curriculum team leadership and mentoring as well as extensive experience as a university mathematics educator at all levels.
Core concepts
Throughout this workshop you will be engaged in an interactive learning process guiding you through:
using Desmos classroom activities to enhance teaching of mathematics and science
using the Teacher Dashboard feature of Desmos
creating your own Desmos-based classroom activity
using Desmos as a graphing tool
creating and engaging in Desmos classroom activities.
Details
Where and when
QUT Kelvin Grove
Victoria Park Road
Kelvin Grove QLD 4059
Enquire Now
Certification
On completion of this workshop you'll also be issued a certificate of attainment for 3 hours of CPD.