This course is a professional development opportunity for innovation capability building. Designed for senior leaders and change agents.
Overview
The two-day Disruptive Innovation Leadership Course is a highly interactive executive education program that introduces innovation lenses, and helps you to develop practical skills that can be applied immediately in your organisation. The course provides leaders with a new way of thinking, builds capability and skills, and enables a culture of innovation.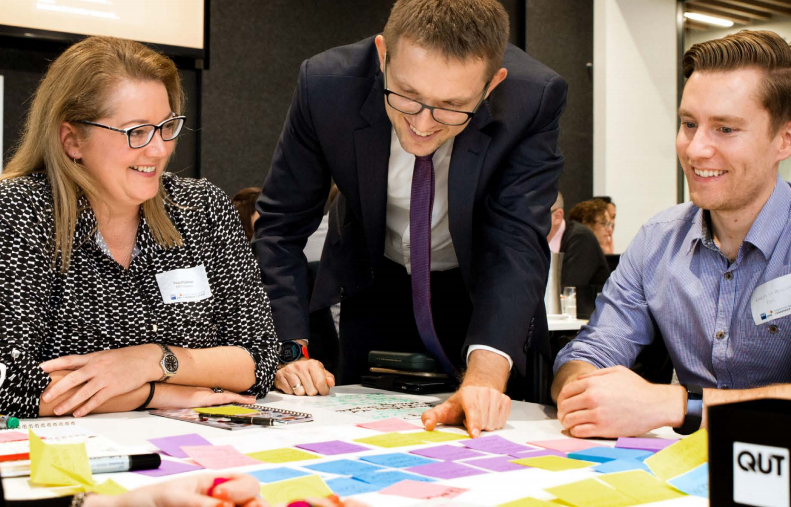 Evolve with QUTeX
Disruptive Innovation Leadership Course is a professional development program that cultivates future thinking in participants. The purpose of this intensive, interactive workshop is to create an opportunity mindset through the introduction of strategic innovation lenses to fuel decision making and build a culture of innovation that empowers leaders with confidence and an understanding of the thinking patterns and practical skills required to proactively identify and capitalise on new opportunities available in the digital economy.
Participants learn how to empathise, ideate, prototype and test new ideas. Through small group work, you will learn to co-design creative solutions to complex problems in a high-energy, stimulating environment. You will build capability, skills, confidence, and a common language in service delivery innovation; a solution focused methodology that applies logic, imagination, intuition, and systemic reasoning to problem solving; and a structured framework for customer-centred thinking.
Who should participate?
This workshop is for CEO & C-suite Executives, Senior Leadership Teams, Digital Transformation Project Teams, Emerging Leaders and Corporate Innovation Leaders
Your expert facilitators
Professor Marek Kowalkiewicz and Peter Townson
Professor Marek Kowalkiewicz is an academic and industry leader with extensive global experience in conducting academically sound research, co-innovating with industry and university partners, and delivering innovative products to the market. As Founding Director of the Centre for the Digital Economy, Marek leads the digital economy research agenda of Queensland University of Technology in Australia. The Centre for the Digital Economy (CDE) is a research centre dedicated to designing digital transformation strategies for complex economic and social challenges. CDE's research informs and empowers government and heavily regulated industries to understand and optimise digital transformation.Prior to joining QUT, Marek was based in Silicon Valley where he was Senior Director of Products and Innovation at SAP. He has 15 patents and is a frequent keynote speaker, presenting to government, corporate, and global audiences.
Peter Townson is the Senior Designer in the Centre for the Digital Economy. Peter works with organisations to harness the opportunities in the digital economy by combining a design mindset with rigorous research to deliver impactful solutions that build digital capability. Peter's work is unique in that he lectures, research and practices various design thinking, human-centered design and design-led innovation techniques that are utilised within the sprint method. Peter was awarded a Masters in Research with studies on integrating design into organisational culture.
Core concepts
The learning outcomes from this workshop will include:
Strategies and approaches for innovation
Five Innovation lenses for ideation
The two facets for ambidextrous innovation
Confidence and know-how for rapid ideation
Details
Where and when
QUT Executive Education Centre
B Block, QUT Gardens Point
2 George St
Brisbane QLD 4001
Thursday 16th and Friday 17th September 2021 (8:45am to 5:00pm daily)
Certification
You will receive a certificate of attendance documenting your participation in the course.
Cost
| Registration type | Cost |
| --- | --- |
| Early Bird registration (closes 4 weeks prior to course commencement) | $2499 (GST included) |
| Standard registration (closes 1 week prior to course commencement) | $2748.90 (GST included) |
| QUT Alumni / Staff registration | $2061.70 (GST included) |
| Group registration (4 or more) | $2499 (GST included) per person |
Fees include: course materials, morning tea, lunch and afternoon tea.
More details
Customised and contestualised for your organisation
QUTeX can work closely with your organisation to develop and deliver learning solutions to help build capability and achieve your specific business objectives.
Join a growing community of leading Australian organisations creating results-driven learning solutions with QUTeX, in industries including government, financial and professional services, health and community, construction and mining, retail, education, agribusiness and more. Get started today.