Design real strategies for the new Queensland Certificate of Education (QCE) that can be used in your school context.
Overview
The Queensland Government has introduced a new Queensland Certificate of Education (QCE) system, beginning with Year 11 students in 2019. The new QCE provides an opportunity for schools to gather as teams to develop strategies and solutions that will help activate learning and ensure the best outcomes for students. Innovative approaches like design thinking - a human centred approach to understanding challenges - allow for teams to develop relevant solutions through a process of collaboration so teachers can prepare for the new QCE.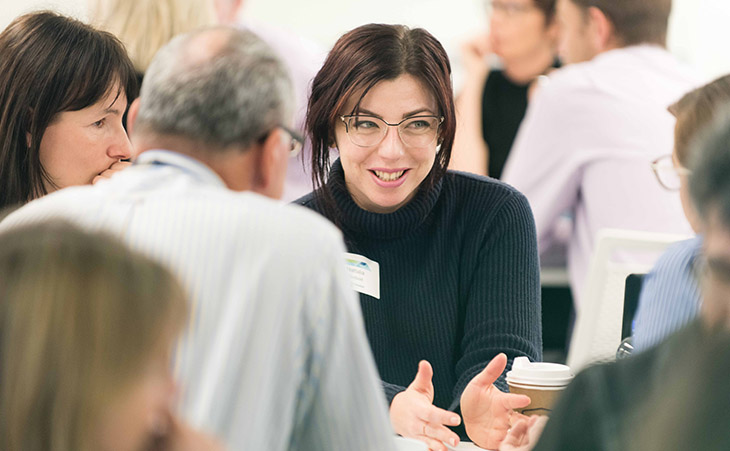 Evolve with QUTeX
QUTeX furthers the professional development of educators with real-world learning activities relevant to real classrooms. Design Lab: Activating Learning in the New QCE is a one-day workshop with a half-day follow up that encourages schools to participate as teams of three to five people.
In this workshop your team will be introduced to design thinking as an innovative approach to school improvement. With support from QUTeX experts, your team will use design thinking to identify and develop new approaches to ensure the best outcome for your school and students in the new QCE.
Who should participate?
This workshop has been designed for senior secondary school curriculum leaders (Subject Coordinators, Heads of Department and Deputy Principals in charge of curriculum) and their team of three to five teachers. This course is for schools and educational professionals who want to be prepared for the new QCE and develop strategies to help their students achieve the best they can.
This workshop aligns with the following Australian Professional Standards for Teachers (APST):
3.2 Plan, structure and sequence learning programs
5.1 Assess student learning
6.2 Engage in professional learning and improve practice
6.3 Engage with colleagues and improve practice
6.4 Apply professional learning and improve student learning
7.4 Engage with professional teaching networks and broader communities
Your expert facilitators
Dr Chris Blundell and Ms Danielle Gordon
Dr Chris Blundell
Dr Chris Blundell is a Lecturer in assessment, digital pedagogies and strategic management with the Faculty of Education, QUT. His research interests include professional learning, design thinking, the challenges of integrating digital technologies in teacher practice, and the interaction between pedagogy, curriculum and high-stakes assessment. He has 26 years of teaching and 12 years of executive-level school leadership experience.
Chris also has 20 years' experience as a curriculum writer and moderation leader with the Queensland Curriculum and Assessment Authority, and consulted on the draft Australian Curriculum for Senior Earth and Environmental Science.
Ms Danielle Gordon
Danielle Gordon is a Lecturer in assessment with the Faculty of Education, QUT. Her research interests include finding ways to enhance pre-service teachers' self-efficacy beliefs and, the impact of curriculum and assessment reform. She has 12 years of teaching experience and 3 years at QCAA leading the writing of 2019 syllabuses, external assessment trials (English) and mock external assessments.
Core concepts
This workshop takes you through an interactive learning process, enabling you to:
understand design thinking as a strategy for improvement
design a strategic approach to the new QCE that proactively links curriculum, pedagogy and assessment
use the experience of colleagues from other schools to consider challenges and identify new approaches that are responsive to students' needs
implement and reflect on those new approaches.
Details
Where and when
QUT Kelvin Grove
Victoria Park Road
Kelvin Grove QLD 4059
Enquire Now
Certification
On completion of this workshop you'll be issued with a Certificate of Attainment for 9 hours of CPD.
More details
Please bring your own laptop or device along with you to the course.