Learn design strategies and develop the skills and capabilities to help you build internal capacity that enables innovation and brings new services to life.
Overview
This one-day workshop will focus on helping you to build robust new service design capabilities within your organisation. It embraces powerful customer experience and customer empathy models and builds these insights into a service design and delivery model.
The service blueprinting methodology brings the design and design process to life. In essence, it is where the 'rubber hits to road' in terms of enacting strategy.
The focus of this unique workshop will be on building around customer and client needs in a specific and highly disciplined manner, by using key customer insights and linking to organisational capabilities, specifying onstage and backstage roles, and mapping internal processes.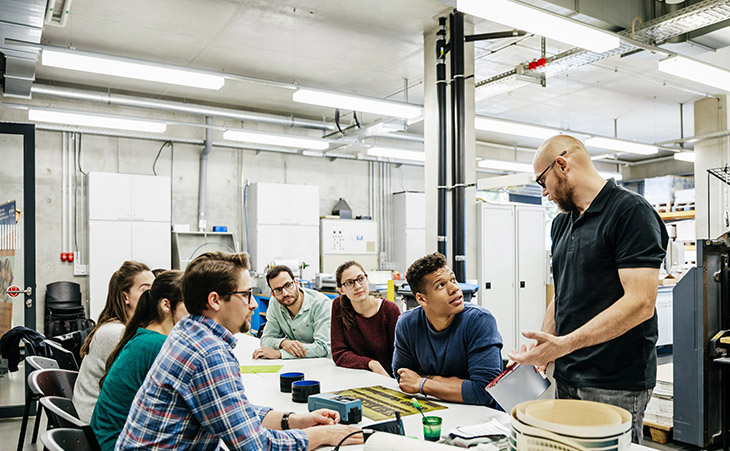 Evolve with QUTeX
Professionals who develop their skills with QUTeX develop real-world capabilities today, that they can bring to their workplace challenges tomorrow.
You'll gain knowledge and skills about the importance of customer insights and 'customer jobs to be one' (CJTBD) mapping, service, concept, and process mapping, design testing and iteration, plus execution and team motivation.
Who should participate?
This workshop is for customer service specialists, project directors, customer experience leaders, service executives in the private and public sector.
No prior experience or training in this area is required.
Your expert facilitator
Dr Tony Peloso
Dr Tony Peloso is an expert corporate facilitator. He works with service strategy teams, senior strategy teams and graduate and Executive MBA cohorts. He has worked as an Associate Professor at Arizona State University, and now at QUT.
Tony has co-delivered a long-term service blueprinting program at Honeywell Aeronautical and also delivers as a business coach in the Stanford Executive Education Leading Change and Organisational Renewal Program.
Tony has strong expertise in strategic thinking, innovation, creative processes, and strategy implementation. His research interests include organisational climates, trend analysis and leadership drivers of employee and customer experience.
Core concepts
This one-day workshop and its tools and methods, are highly visual, actionable, flexible and interactive. We will cover a range of topics, including:
Customer Centric Service Blueprinting OR The Service Blueprinting Methodology
Customer empathy mapping
Customer jobs to be done analysis
Business model canvas
Implementation planning and checks: 30:60:90 & 5+1 Priority Setting
Details
Where and when
Details TBA
Certification
At the end of the course, you'll receive a Certificate of Attendance documenting your participation in the course.
Cost
| Registration type | Cost |
| --- | --- |
| Early Bird registration | $790 (GST included) |
| Standard registration | $880 (GST included) |
| QUT Alumni / Staff registration | $660 (GST included) |
| Group registration ( 5 or more participants) | $790 (GST included) per person |
More details
Customised and contextualised for your organisation
QUTeX can work closely with your organisation to develop and deliver learning solutions to help build capability and achieve your specific business objectives.
Join a growing community of leading Australian organisations creating results-driven learning solutions with QUTeX, in industries including government, financial and professional services, health and community, construction and mining, retail, education, agribusiness and more. Get started today.
QUTeX Professional Advantage Package
This exclusive package enables you to immerse yourself and your team in fresh ideas and ground-breaking business thinking through QUT's real world learning. Through Professional Advantage, you'll gain access to constantly evolving course content in the QUTeX Professional Program and Enterprise Leadership Program (ELP), equipping your team with the skills to grow as leaders, manage complex challenges and adapt to change. You'll benefit from a generous discount off the standard program rate (up to 28%) and get access to exclusive package inclusions. Click here to find out more today!