Enhance your skills in communicating authentically to achieve better results for yourself and your organisation.
Overview
In an era where so much is being said, and so little is being heard, the demand for authentic communication is growing. Whether it's in the workplace or customer-facing, the ability to authentically communicate using public speaking, strategy, story and building credibility is extremely valuable for leaders wanting to achieve better results from their team or advance their career. Communicating authentically means adapting techniques to suit different audiences, responding proactively and being thoughtful in what is actually being said.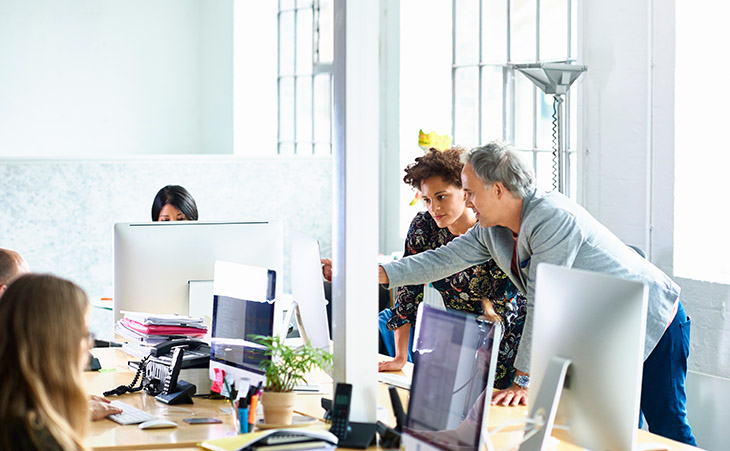 Evolve with QUTeX
QUTeX leverages the whole of the university's research and expertise to revolutionise professional development and teach skills professionals can learn today and use tomorrow. With Authentic Communication for Leaders you'll develop your leadership capabilities as a skilled communicator so you can present confidently, communicate thoughtfully and connect with your audience.
Who should participate?
This one-day workshop has been designed for business leaders and managers wanting to enhance their skills in public speaking and presenting to pitch ideas and projects and better communicate with their audience.
Your expert facilitators
Professor Paul Makeham and Lesley Irvine
Professor Paul Makeham
Professor Paul Makeham is Director of Corporate Education for QUT's Creative Industries Faculty. He has an extensive record as a producer, writer, presenter and performer, and leads a range of commercial projects with a leadership and professional development focus. Paul is a former Chair of the Board of La Boite Theatre Company (2012-15).
Lesley Irvine
Ms Lesley Irvine is a qualified speech teacher and journalist who has worked as a newsreader at Brisbane radio station 4KQ and a speech writer at Education Queensland. She has travelled extensively, conducting communication sessions and teaching professional and speech communication. Lesley has coached broadcasters, politicians, business leaders and students, and conducts communication workshops for numerous corporate clients.
Core concepts
This one-day workshop covers a range of topics, including:
the basics of strategic speech communication
public speaking and presenting
designing and structuring messages according to your audience
the power of story
appropriate media technologies
using body language and voice to communicate effectively
establishing credibility and presence
Details
Where and when
QUT Executive Education Centre
Level 4, B Block, QUT Gardens Point
2 George St
Brisbane QLD 4001
Wednesday, 30 September 2019
9:00am - 4:30pm (registration from 8:45am)
Certification
At the end of the course, you'll receive a Certificate of Attendance documenting your participation in the course.
Cost
| Registration type | Cost |
| --- | --- |
| Early Bird registration (close 19 August 2019) | $725 (GST included) |
| Standard registration (close 26 September 2019) | $850 (GST included) |
| QUT Alumni / Staff registration | $640 (GST included) |
| Group registration | $725 (GST included) per person |
Fees include: course materials, morning tea, lunch and afternoon tea.
More details
QUTeX Professional Advantage Package
This exclusive package enables you to immerse yourself and your team in fresh ideas and ground-breaking business thinking through QUT's real world learning. Through Professional Advantage, you'll gain access to constantly evolving course content in the QUTeX Professional Program and Enterprise Leadership Program (ELP), equipping your team with the skills to grow as leaders, manage complex challenges and adapt to change. You'll benefit from a generous discount off the standard program rate (up to 28%) and get access to exclusive package inclusions. Click here to find out more today!
Join our community
Join the QUTeX community and learn more from like-minded professionals with the QUTeX newsletter.