Build an innovation toolkit to create value for your enterprise, so you can innovate again, and again and again.
Course overview
How do you action innovative change in your workplace? It's so much more than just saying "go!" Leaders today are expected to use design thinking, strategy and communication tools to assist their team to deliver real benefits to their organisation.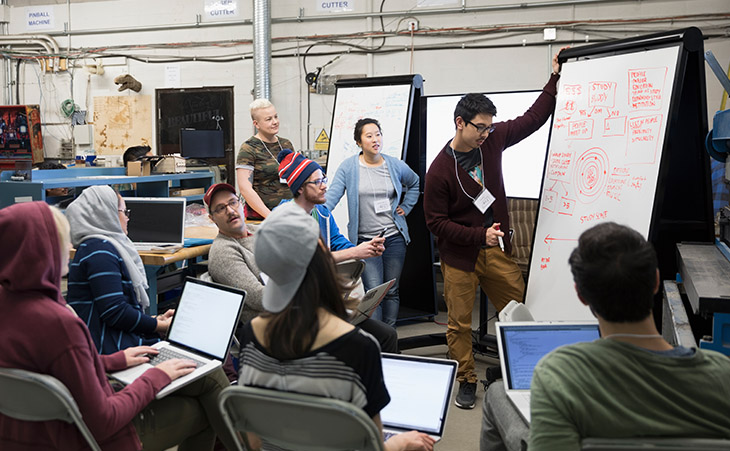 Evolve with QUTeX
QUTeX leverages the expertise of the whole university to create professional development for the real world. Leaders who build their knowledge and skills with QUTeX's Enterprise Leadership Program (ELP) know that what they learn today, they will use tomorrow. With Actioning Strategic Innovation you'll be guided by an expert in design thinking, strategy and implementation to steer and implement innovation into your organisation.
Who should participate?
This workshop is designed for team leaders and program managers wanting to design, develop and implement innovation strategies and initiatives into their organisation.
Your expert facilitator
Dr Judy Matthews
Dr Judy Matthews is an experienced facilitator, educator and coach of knowledge creating processes and practices in innovation and capability development.
Judy works with staff to apply design integration principles and practices to their company's strategic and operational organizational processes and challenging problems. She regularly develops and delivers workshops with industry, government and non-profits introducing and applying design thinking to current challenges and opportunities, and gives invited presentations to universities, diverse industry panels and future leaders' forums.
Judy specialises in assisting organisations develop their knowledge and skills in applying creativity, innovation and knowledge management to address organisational issues.
Core concepts
Throughout Actioning Strategic Innovation, you'll be taken through an immersive process of:
problem definition to ensure the customer is at the centre of all decision making
idea generation and evaluation
pitching an idea for an innovation and ensuring it aligns with the strategic priorities of the organisation
planning for implementation
benefits realisation.
Details
Where and when
QUT Executive Education Centre
Level 4, B Block, QUT Gardens Point
2 George St
Brisbane QLD 4001
First offering:
Pre-work starts: 13 February 2019 - Workshop dates: 27 February & 27 March 2019
Second offering:
Pre-work starts: 11 September 2019 - Workshop dates: 25 September & 23 October 2019
Certification
At the end of the course, you'll receive a Certificate of Attendance documenting your participation in the course.
Cost
| Registration type | Cost |
| --- | --- |
| Active Learning Module | $1,850 (GST exempt) |
| QUT Alumni / Staff registration (25% discount) | $1387.50 (GST exempt) |
To obtain QUT Alumni / Staff discount, please email the ELP team requesting the discount code.
More details
Participating in this program gives you the option to continue your studies and pursue a Graduate Certificate in Business (Enterprise Leadership).
QUTeX Professional Advantage Package
This exclusive package enables you to immerse yourself and your team in fresh ideas and ground-breaking business thinking through QUT's real world learning. Through Professional Advantage, you'll gain access to constantly evolving course content in the QUTeX Professional Program and Enterprise Leadership Program (ELP), equipping your team with the skills to grow as leaders, manage complex challenges and adapt to change. You'll benefit from a generous discount off the standard program rate (up to 28%) and get access to exclusive package inclusions. Click here to find out more today!
Join our community
Know more. Do more. Join the QUTeX community and learn more from like-minded professionals with the QUTeX newsletter.