The QUTeX Speakers' Circle is a carefully curated group of QUT academics whose entire speaking fee supports the QUT Learning Potential Fund, to provide student scholarships which are then matched by the university.
When selecting a speaker for your next event, you can simultaneously access QUT's expertise and give prospective students the financial boost they need to reach their full potential.
Global thought leaders
Access to a select set of respected international thought leaders and subject experts.
Book a speaker
Search an exclusive selection of speakers who can share inspirational insights at your leadership or executive event.
Learning Potential Fund
All fees from QUTeX Speakers' Circle go to scholarships for students with financial difficulties.
What we offer
Designed to inspire, educate and guide actions, the QUTeX Speakers' Circle provides much needed advisory capacity suited to a board meeting, a strategic leadership gathering or regular meetings such as executive lunches.
In a fast-moving world with rapid technological progression, new business models and demographic and regulatory challenges, 'environmental sensing' has become a key challenge. However, the busyness of conducting business often prevents leaders from comprehensively sensing, identifying and assessing emerging opportunities and challenges. This can lead to unconscious incompetence – we don't know what we don't know – and create a significant roadblock to progression.
The QUTeX Speakers' Circle provides access to a select set of international thought leaders covering a plethora of contemporary disciplines and themes. Each speaker is a globally recognised researcher committed to QUT's real-world ambition and producing highly applicable and relevant work.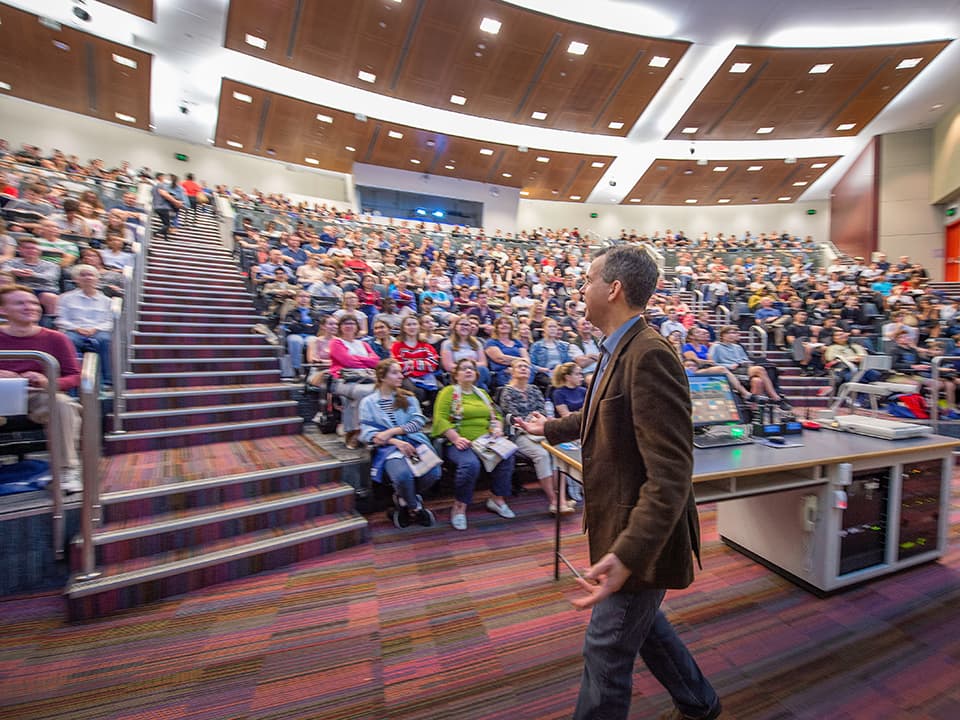 Our experts
Keynote: Innovation-Driven Entrepreneurship, Ecosystems, Time and Patience
Innovation
Business Solutions
Entrepreneurship
Innovation takes time. Entrepreneurship that is driven by innovation doesn't happen overnight, despite some media reports of entrepreneurs as being 'overnight successes'. An ecosystem of innovation-driven entrepreneurs needs more than just entrepreneurs.

Government, universities, funding bodies, and established businesses all have a role to play individually and collectively to ensure an innovation-driven entrepreneurial ecosystem can be developed and maintained. All this takes time and patience. Both are needed, alongside commitment, but the effort is worthwhile as the objective and subjective assessments of innovation-driven entrepreneurial ecosystems will show. Drawing on examples of innovation-driven entrepreneurial ecosystems from around the globe, Rowena Barrett outlines the features of an innovation-driven entrepreneurial ecosystem and draws on institutional and role theory to explore the possible roles different parties can play and elaborate processes and actions that can be used to develop such an ecosystem.
Keynote: All That Nudges: Why and How Behavioural Economics is a Game Changer in Business and Government
Behavioural Economics
Business
Why should behavioural economics change the way people go about their business? How can we better understand how problems in an organisation arise? Understanding why most customers, employees, and stakeholders will often not rely on a reflective way of thinking and asking about the consequences for decisions made in your organisation, will allow you to understand better how problems arise.

Behavioural economist, Uwe Dulleck invites participants to experience cognitive biases with a simple experiment. In a lively presentation, Uwe shares ideas on how to help customers, employees, and stakeholders to make better decisions as judged by themselves. It is this approach that changes the game. Uwe introduces his audience to basic concepts and evaluation techniques that allow you to find out 'what works'.
Keynote: Urban Informatics, Smart Cities and Participatory Design
Urban Informatics
Interaction Design
Media Architecture
Smart Cities
Ubiquitous computing, mobile devices, and big data come together to give rise to a new urban paradigm being celebrated by many technology corporations and local governments alike: the smart city. Yet, the current hype around smart cities often tends to be technocratic.

What evidence is there to suggest that a smart city can provide genuine answers to a number of complex problems cities face? As an international thought leader who first coined the term urban informatics, Marcus Foth moves the discussion beyond technology fads and data hype with insights from applied research that realigns the smart city agenda with the needs of people and the urban environment.
Keynote: Big Data Analytics in Practice: Lessons from the Coalface
Big Data
Mathematics
Statistics
"Big Data" is a term that is on everyone's lips and every organisation's agenda. However, the real question is: now that we have Big Data, what do we do with it?

In this presentation, Kerrie Mengersen presents a range of global and local success stories - and failures - in extracting actionable insights from big data. Kerrie draws on her experience as one of the early pioneers in Big Data Analytics to shed light on the role of statistics and data analysis in personalised health, conservation and agriculture, smart cities and complex industrial processes.

Kerrie discusses how organisations and individuals can become co-investors in the extraction and analysis process, and look to the horizon to see where the big data of the future might lead us.
Keynote: The Psychology of Performance
Performance
Creative Industries
Psychology
Drawing from her extensive experience in elite sport and other high-performance settings, Professor Moyle explores the psychology that sits behind getting the best out of people - including yourself!

Focused upon approaches and learnings from across a variety of contexts, she will share real-life stories that highlight how important the mental side of performance is to achieving your goals.
Keynote: Rise of the Machines: Robots, Autonomous Vehicles and Artificial Intelligence
Robotics
Artificial Intelligence
Electrical Engineering
Robotic Vision
Artificial Intelligence (AI) and related technologies are shaping up to be some of the biggest technological transformations in human history. Michael Milford works at the boundary between robotics, neuroscience and computer vision. Based on his experiences Michael will share a brief history of these technologies and how they work: how they feed on data to become intelligent, what they can and can't do, and how, why and in what ways it will transform all sectors of society forever.
Keynote: The Future of Energy and Resources
The global population continues to grow, and living standards around the world are steadily improving. A predictable consequence of these trends is that society's demand for energy and resources is also steadily increasing. At the same time, however, it's clear that we have to be far more concerned about the environmental, ecological, and social consequences of these activities than we have historically been.

Balancing all of these important objectives will not be easy, and will almost certainly require significant innovation and the introduction of impressive amounts of new technology. There can be little doubt that tomorrow's energy and mining sectors will look quite different from what we see today. But what will these vitally important industries look like in the future? How will their architectures change as digital technologies take root, and what capabilities and assets will confer power and profitability in this new reality?

Rob Perrons understands many of the barriers that society faces as we try to change how the market supplies these mission-critical inputs to the world economy and is working hard to improve how we do it.
Keynote: The Art of the O(pportunity)
Digital Economy
Corporate Innovation Systems
Opportunity Management
The emergence of the digital economy has shifted the focus from an economy of corporations to an economy of people and things. In this environment, organisations are exposed to an over-supply of emerging opportunities however, tools and mindsets tend to be problem-centred. What is required to truly establish an organisation, culture, systems, and governance to benefit from opportunity management?

Michael Rosemann draws on global research, local case studies and experience to demonstrate the application of opportunity management covering various industries. In this presentation, Michael discusses the power of an opportunity appetite statement and the importance of measuring opportunity costs and opportunity-led innovation practices.

Michael shares how executives can master the 'Art of the O(pportunity)' and create new customer experiences and revenue streams based on today's digital technologies.
Keynote: Thriving in the Digital Economy: Are you digitising or digitalising?
Digital Economy
Business
Technology
Communities
The digital economy has been both a significant positive trend in the world and a big headache for many entrepreneurs who do not want to fall behind. It is no longer enough for organisations to focus on process improvements or cost reduction. To thrive in the digital economy, it is critical to be able to look for new opportunities, find and exploit them. It is also essential to develop profound insights into customer journeys and new opportunities for how to serve customers better (and more frequently) in the future. Many of the opportunities merge thanks to the latest trends in business, technology, and society.
A professor in the digital economy, Marek Kowalkiewicz discusses the significant difference between digitising and digitalising a business, and where and when each of the two approaches are important. Marek introduces "jobs-to-be-done" as a new way of looking at customer needs, creating a broader perspective beyond product features and industry boundaries, and allowing organisations to approach innovation in a much more predictable way. In his presentation, Marek brings together technology and business topics, to help organisations develop successful strategies.
Keynote: Social Media in Australia: A 'Big Data' Perspective
Social media is now a crucial component of public and private communication in Australia, and an important source of 'big data' on public debate and popular opinion in fields ranging from business and politics to culture and sports. But research to date has focussed mainly on th study of isolated events, as described for example by specific Twitter hashtags relating to elections, natural distasters, public events, and other moments of heightened activity in the network.

Axel Bruns presents the first ever comprehensive study of the Australian Twittersphere as an entity in its own right. The study examines the structure of the follower network amongst some 3.7 million Australia Twitter accounts and the dynamic of their day-to-day activities, exploring the Australian Twittersphere's engagement with specific recent events. This research opens up significant new possibilities for businesses, governments, and the general public to understand public debate about current events in Australia.
Book a speaker
The QUTeX Speakers' Circle is an exclusive selection of QUT speakers who can share inspirational, thought-provoking insights on topical issues at leadership or executive events.
Choose from a range of topics to inspire your team or we can work with your organisation to help select the speakers that best suit your business needs. We provide a quote at time of application based on size of audience, type of organisation (e.g. not-for-profit or commercial), and speaker time required.
The entire speaker fee-for-service contributes directly to the QUT Learning Potential Fund. Please note that the fee does not cover the speaker's travel and expenses and, because it is a fee-for-service, it cannot be claimed for charitable taxation purposes.
To book a speaker contact qutex@qut.edu.au
Learning Potential Fund
We want everyone with the determination and potential to experience the transformative power of a university education. That's why QUT established the Learning Potential Fund (LPF) in 1998. The LPF provides scholarships to students who exhibit academic potential but whose financial circumstances might otherwise preclude them from pursuing further study.
The LPF is easily the largest such perpetual endowment fund in Australia and is proudly supported by QUT's friends, alumni and hundreds of our own staff.
It is an outstanding demonstration of QUT's commitment to building excellence and opportunity together. Through your contribution and the help of our generous academics, we are seeking to boost the LPF's capital base so we can help all our students in need.
Contact us

Book a speaker or find out more information.