Improved outcomes
'My goal is to achieve the best outcomes for students. Through my study at QUT I have measurably increased my own ability and that of my team to provide quality intervention for disruptive and disengaged students.'
Kay Ayre, Doctor of Education
Completing a postgraduate degree can give you a competitive edge in your career, or help you change careers entirely.
What are the benefits of postgraduate study?
The median full-time salary for people with a postgraduate qualification is $18,000-$30,000 higher than for those with an undergraduate degree alone, according to a 2014 Graduate Careers Australia study, making postgraduate study a sound investment.
You can graduate eligible for registration with professional organisations, and studying a research degree can lead you to becoming a leader in your field. Postgraduate study is also an opportunity to continue your university education simply for the love of learning.
Postgraduate courses by study area
Change your career
You may be able to launch your career in a completely new direction with our career change courses. These postgraduate qualifications don't require an undergraduate degree in the same study area, meaning that you can start fresh in a whole new field of study.
Types of postgraduate course
Postgraduate study can be either coursework or research, each with individual benefits. You need to decide which is best for you. Or, if you're looking for a quick upgrade of your skills, you can try a short course.
What's involved in a coursework degree?
Boost your career, enhance your knowledge or acquire new skills.
Study a shorter degree to specialise in your area of interest.
Course fees vary, but domestic students may be able to get a government HELP loan.
Attend lectures, tutorials and practical subjects.
What's involved in a research degree?
Ideal if you want to pursue a career in research or academia, or as an expert in your field.
Pursue an idea to make a significant and original contribution to research in your field.
For domestic students, your course may be paid for by government contribution (except honours).
Complete fewer coursework units, and study flexibly and independently to complete a research project or thesis.
More information about research degrees
Customised education and short courses
Develop your skills with our short courses for continuing professional and personal development.
Short courses allow you to learn new skills or develop your existing knowledge without having to commit to a long-term award course.
Short courses and professional development
Studying coursework
Graduate certificate
Study 4 units either full-time or part-time to complete a graduate certificate in your field of study. A graduate certificate can take as little as 1 semester to complete.
Graduate diploma
A graduate diploma typically builds on a graduate certificate. Study 8 units either full-time or part-time to complete a graduate diploma in your field of study. A graduate diploma can be completed in 2 semesters.
Masters by coursework
A masters degree is a further continuation of a graduate diploma, and can be completed in a 2-8 semesters. A masters by coursework lets you study a selection of units in your field.
Postgraduate study pathways
To make things easier, some of our courses can be broken down into smaller pieces, so you can opt in and out when it suits you. You might have the opportunity to study a graduate certificate now, and progress on to a graduate diploma or a masters when you're ready.
Alternatively, if you're having trouble finding the time to continue in your masters program, you may be able to exit early with a graduate certificate or graduate diploma.
Your study pathway will depend on your course and your faculty. See your course information for more detail.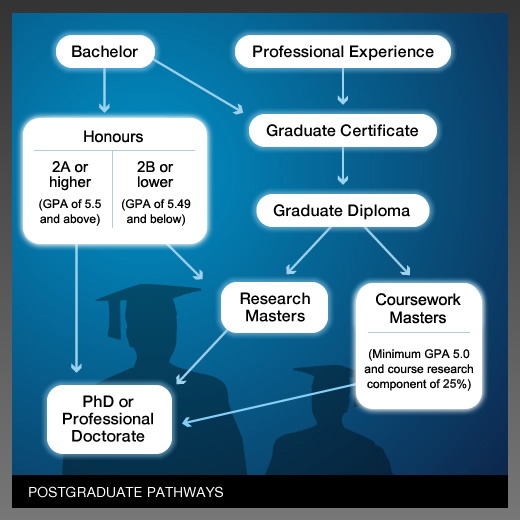 How to apply
Follow our step-by-step guides for applying for postgraduate degrees.
Postgraduate coursework application guide
Contacts
HiQ
HiQ is your place to go for student services, support and general enquiries.
Phone: 3138 2000
Int. phone: +61 7 3138 2000

Download our postgraduate study guide
Stay connected
Get just the information you want on courses, scholarships and events.