Jo La Spina
Neonatal Nurse Practitioner and Nurse Unit Manager, Mt Isa Hospital
Jo La Spina manages and runs a three-bed special care nursery in the remote location of Mt Isa. She completed the QUT Master of Nurse Practitioner course in 2019.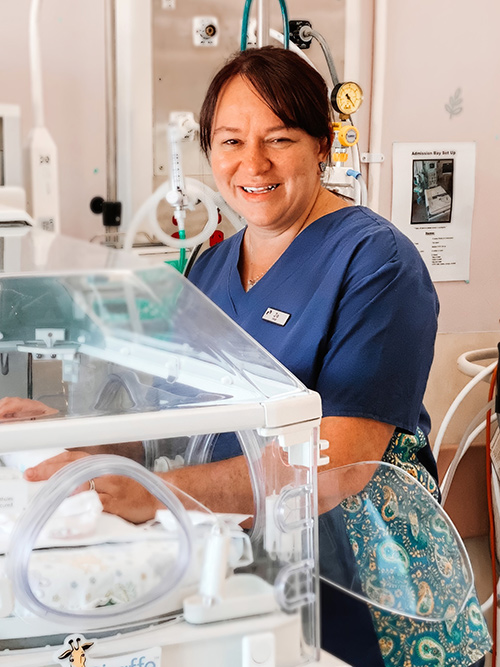 Jo's story
The driving force for me becoming a nurse practitioner was to enable babies to be cared for in their home environment rather than be retrieved from their families to tertiary centres like Townsville—a 900km, 10-hour drive from Mt Isa. Having a baby is a very stressful time for some families and if we manage babies in their hometown (or close to their hometown), it really helps. When babies were retrieved from our regional facilities, I saw the impact it had on not only the families but also the staff in those facilities. So, after working as a neonatal nurse for nearly 20 years, I wanted to be able to do more, but I was restricted by the scope of practice I was tied to. I thought that with extra training I would be able to provide care that would mean babies would not need to be retrieved.
So, I did the Master of Nurse Practitioner course at QUT. At the beginning I was surprised by some of the subjects—I wondered why they were important for me as a neonatal nurse—but I found what I didn't know about neonatal nursing. For example, breaking down the systems of the body and applying the learning from an adult world to a neonate world was inspiring. And I liked listening to other students through our online sessions—this gave depth to my learning and gave me a true respect for other disciplines.
I can't pin it down to a specific point but somewhere in there my ability to think critically shifted and I was able to understand the importance of not only reference ranges but why an investigation needed to happen, the implications of it happening, and the impact that it would cause. I was able to look deeper, I guess, and now it seems like second nature. So, doing the course did make me a better nurse!
I'm focused on providing exceptional, evidenced-based neonatal care. I aim to be an advocate for the babies (and their families) admitted to the special care nursery. Working in small hospital in a small town, you get to know everyone quickly, and it's a friendly atmosphere walking through the hospital, but my greatest pleasure comes from getting to know the families of our babies. Being able to have open conversations with them and support them on their journey is a real privilege.
I've worked as a nurse in Cairns, Townsville, and now Mt Isa, and I feel it's been a good career path. I was supported through education and training at a major tertiary hospital—learning from fellow QUT nurse practitioners—and now I'm bringing that with me to Mt Isa. QUT has a good relationship with the neonatal unit in Townsville—there were six nurse practitioners working on the floor when I started, and I completed the course with two other nurse practitioner students who graduated with me. You could say QUT neonatal nurse practitioners are taking over North Queensland!
This is a new position for the North West Hospital and Health Services, but I believe it will become invaluable over the next year. We plan to increase capacity in our special care nursery and manage babies from an earlier gestation. I've formed great relationships with staff in both Townsville and Mt Isa hospitals and I've been trained by the best neonatologists in North Queensland. Townsville is our tertiary hospital and being able to apply the knowledge I gained there here in Mt Isa means we are aligning across the state.
I feel honoured to be able to share my knowledge and expertise with the team here. In turn, that enables us to either keep babies close to home or bring them home from tertiary centres sooner.
Find out more about the QUT Master of Nurse Practitioner course