Professor Fiona Coyer PhD, RN, DipN, MScN, PGCEA
Professor of Nursing, QUT/RBWH
In 2012, Professor Fiona Coyer established the Intensive Care Nursing Professorial Unit at the Royal Brisbane and Women's Hospital, where she has developed a program of work focused on developing evidence-based approaches to nursing care and management of skin integrity for mechanically-ventilated critically-ill patients in intensive care.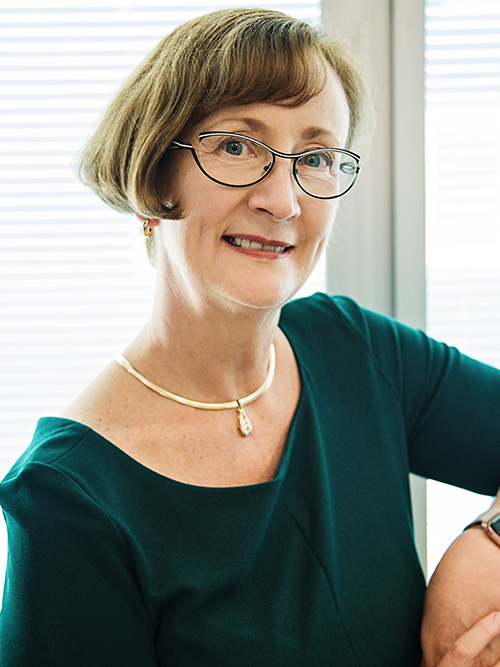 Fiona's story
I started my nursing training at the Princess Alexandra Hospital in Brisbane in 1979. I knew nothing about nursing, other than what I'd seen in television shows, but as soon as I started, I loved it.
The hospital training was regimented: we knew what we had to do and when to do it. But we didn't know why, and that frustrated me.
I worked in a busy medical ward for a while, then in ICU. I wanted to go overseas, so I wrote about forty letters to hospitals in the UK, asking to join their intensive care nursing programs. I was offered an interview, and then a place, at Guy's Hospital, in London. That really started my passion for learning. It was intense, but I thoroughly loved it. I was appointed as a clinical nurse consultant in Reading and then decided to get formal qualifications, starting with a diploma of nursing.
I was led to research out of something I experienced and wanted to explore further when I had my daughter. She was born very early, at twenty-six weeks. I found that my experience of being a parent of a baby in the neonatal intensive care unit was very different from my perspective as a CNC in ICU. The NICU staff were so inclusive, so welcoming, and I could see that we didn't do that so well in our adult ICU. When I studied for a master's, I decided to focus my dissertation on how we could involve families more in intensive care.
When I returned to Australia, I completed a PhD and worked at QUT. Funding for research into families was not a priority then. But I had good links with ICU at the Royal Brisbane and Women's Hospital, and I knew they were seeing an increase in pressure injuries. I thought that was something I could look at. This clinical need drove a change in the direction for my research.
At the same time, I was fortunate that through a QUT research collaboration, I met Professor Nancy Stotts, from the University of California, San Francisco. She was nearing the end of her career as a very senior professor in skin integrity and wound care and I was at the beginning of my research career. We teamed up as mentor and mentee. She was just brilliant; so direct, but so very generous. She talked me through things, teased out my answers, and I realised what I really wanted to do, and that was research.
Now, I'm a professor of nursing at QUT and the RBWH, working mostly from the hospital. I've been in this role a while now. I'm definitely one of the team and this has given me huge opportunities to help make changes, because it's not about me making the change, it's about clinicians changing their practice underpinned by evidence-based care.