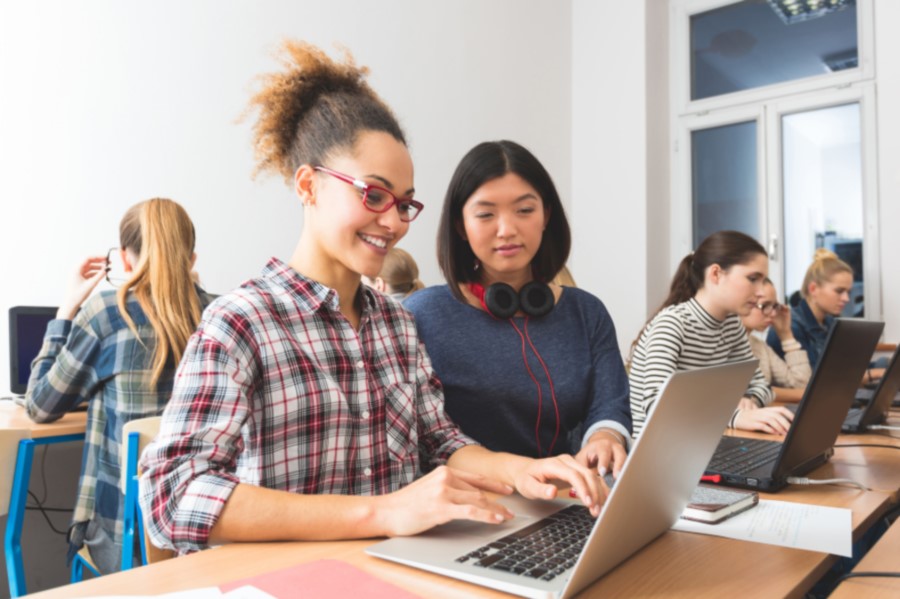 QUT is working in partnership with the national Girls' Programming Network to provide girls opportunities to explore skills, study and career interests in computer science, programming and information technology.
QUT will be running a series of workshops this year for high school girls for all skill levels from absolute beginner to coding ninja. You just need to be excited to learn about technology! Each event is run with the help of current university students and Alumni who love IT and will help girls learn at a pace that is right for them.
Bookings
Watch this space - details of our next workshop are coming soon.
You can also subscribe to our mailing list to stay up-to-date with information about this and other events.
Program
The outline for the event includes:
| Time | | Activity |
| --- | --- | --- |
| 9.30am | | Registration |
| 10.00am | | Start with welcome activities |
| 10.15am | | Go to the computer labs and begin working on project with the help of the tutors |
| 12:00pm | | Lunch and networking (Lunch is provided) |
| 1:00pm | | Back into the labs to finish off the project |
| 3:45pm | | Wrap up and group photo |
| 4:00pm | | Day concludes |
Become a tutor
The Girls' Programming Network (GPN) is not-for-profit so relies on volunteer tutors to teach high school students to code. We are looking for role models studying, working or educating in the STEM fields, or even just programming enthusiasts.
As a tutor you will teach the participants how to program games, websites and much more using basic programming concepts through specially designed GPN workshops. It is fun, friendly learning!
So, if you are a current university student or Alumnus, Industry professional or teacher who wants to share your knowledge with others SIGN UP to be a GPN tutor and help us engage young girls into STEM.
Who Can Tutor?
To be a GPN tutor you need to:
Identify as a woman, transgender or non-binary person
Know some basic Python (if statements, loops, lists, dictionaries)
If you are not familiar with Python but have other coding experience, we can provide you with resources to convert you to a Python pro in no time.
A volunteer Working with Children (Blue Card) check is required. (We will help you apply.)
Benefits of being a tutor
By joining us as a tutor you will:
Be a role model for young girls interested in learning about technology
Empower them with the knowledge of coding and show them how fun it can be
Connect with other women in tech
Have fun!
Register now
FAQs for tutors
What do tutors do?
Be a friendly face to greet the girls as they arrive
Help the girls complete the project for the day by helping them work through errors or understanding the workbook content.
Helping the girls involves finding syntax errors, helping to piece together pieces of code and general computer help.
If you so wish, extra responsibilities on the day could also include the chance to give mini lectures, help run computer science based games, or welcome girls to the workshop. We won't make you do anything you are not comfortable with.
How much time do I need to commit to being a tutor?
On the day of the event tutors will be asked to attend from 9am to 4pm.
Can't attend the whole day? No problem just let us know and stay as long as you can.
We will also provide a training session about two weeks before the event day. This is will be a 60 to 90 minute session held virtually, all you will need is a device and an internet connection. It is also ok if you can't make it, we will send you all the information so you understand the material and your role.
GPN events are held up to four times a year. You can attend one or all four. We will contact you prior to an event to check your availability.
What do I need to know to tutor?
Some basic knowledge of programming is preferable.
The workshops are primarily Python-based, occasionally branching out into Javascript and other languages. We mainly teach the basic concepts like strings, lists, loops, if statements and dictionaries.
There are three different levels in the workshops for participants, beginner, intermediate and advanced. You will tutor at the level you feel most comfortable.
The participant workbooks are designed to be very easy to follow and tutors can go through them to understand the material.
Do I need to be female?
GPN aims to support gender groups underrepresented in tech, including women, transgender, and non-binary people.
How many students will I be tutoring?
Our preferred ratio is 1 tutor to 3 students for the workshop.
The total number of participants at the event depends on the event itself, room availability and capacity and tutor numbers.
I'm nervous, I'd like to tutor but I don't think I'll do a good job.
It's okay! There will be lots of other tutors and us here to support you. Most tutors are nervous when they start, many of them gained confidence over time. Give it a go you might surprise yourself.
It's also okay to share with the participants that you were nervous too. They might be in the same boat and really appreciate you sharing with them.
Contact us if you've got questions about our Young Accelerators program, or subscribe to our mailing list to stay up-to-date with our news and events.