Admission pathways
Even if you haven't studied in a while, there are many ways to get into the course you want at QUT, including past school results, other study, or work experience.
Regardless of your age or background, there are many ways you can qualify for entry to our courses. Many applicants do not have an OP, but can be allocated a selection rank based on previous TAFE or university studies, work experience, as well as past school results.
What is a selection rank?
A selection rank is used to assess your eligibility for entry to undergraduate courses. The highest rank is 99, the lowest is 1. You might have heard a lot about OPs, but these are only used by current Queensland school leavers.
Selection ranks can be assigned to each of your different qualifications and experience. They are not added together to form an overall score - we will generally use the best of these ranks to assess your eligibility.
When you submit your application online via the Queensland Tertiary Admissions Centre (QTAC), you will be advised if you need to supply supporting documents and how to do this.
Find out more about the undergraduate applications process
How are students chosen for QUT courses?
For most of our courses, students are selected on the basis of their selection rank or OP. When course offers are made, OPs and selection ranks are treated equally so you won't be disadvantaged if you aren't a school leaver.
When you're looking at course information you'll notice that each course has an OP and selection rank threshold from the previous intake. This gives you an indication of the selection rank that you will need to get into that course. However, thresholds change from year to year depending on the popularity of the course, so use the previous threshold as a guide only.
It is important for you to complete all six preferences provided on your QTAC application, so that you can maximise your chances of getting in.
Ordering and changing your QTAC preferences
Entry requirements
Every university in Queensland has different criteria to get into their courses, and you'll need to check each institution separately.
For QUT, you must have completed Australian Year 12 (or equivalent), or be aged 17 or older and be applying on the basis of your previous study, work experience or life experience.
When you're applying for our courses, you should consider:
Entry pathways
There are a number of pathways for you to develop your selection rank.
Entry based on school or bridging studies
Entry based on degree-level study
Entry based on TAFE or private provider study
Alternative Entry - based on employment
Special Tertiary Admissions Test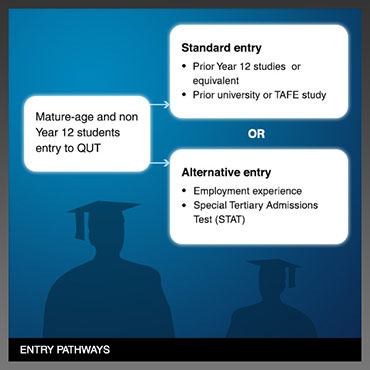 For more information about study options and adult learner pathways for all Queensland tertiary providers visit the You to Uni website.
Contacts
HiQ
HiQ is your place to go for student services, support and general enquiries.
Phone: 3138 2000
Int. phone: +61 7 3138 2000
Stay connected
Get just the information you want on courses, scholarships and events.