Overview
Study at the heart of technology
You've got ideas that can help shape the world? Our courses will give you the tools, equipment and technology to bring your concepts to life.
We're a university of technology, future-focused and always exploring emerging disciplines and equipment. We'll teach you to push the boundaries of scientific development using cutting-edge facilities housed in our specialist precincts, labs and workspaces.
We will prepare you for the real world
Throughout your course you'll get out in the field and learn how things work, right from your first semester. Join exciting projects and competitions with your fellow students to test your skills, and complete design projects and lab work with a real-world focus.
Many of our courses include work placement opportunities, which will give you invaluable first-hand industry experience. You'll see what it's like to work in STEM out in the real world, including worksite visits, internships and placements.
We also offer specialisations in project management, which will give you alternative pathways to use your STEM skills out in the real world.
Learn from the best
Our lecturers, teachers and researchers are at the forefront of their fields, and have had their expertise recognised with numerous awards and achievements. They've got years of experience both in the lab and in industry, so you'll benefit from their first-hand know-how. You'll also learn from prestigious guest lecturers who will share their experience and specialised knowledge.
Graduate work-ready
You'll graduate from most of our courses fully accredited and ready to work anywhere in the world. You'll have the theoretical foundations, practical skills and industry networks you need to take your first steps into you career in STEM.
Women in STEM
We're committed to gender equity and equal representation in our students, graduates and staff. We run programs for women in STEM to build important networks, collaborate and build relationships with other women, and collaborate on world-leading programs.
Pathways to research
If you're planning a career in research and innovation, we have pathways from honours degrees through to PhDs where you can explore your interests, work on a dedicated project, and make a real difference at the leading edge in your field.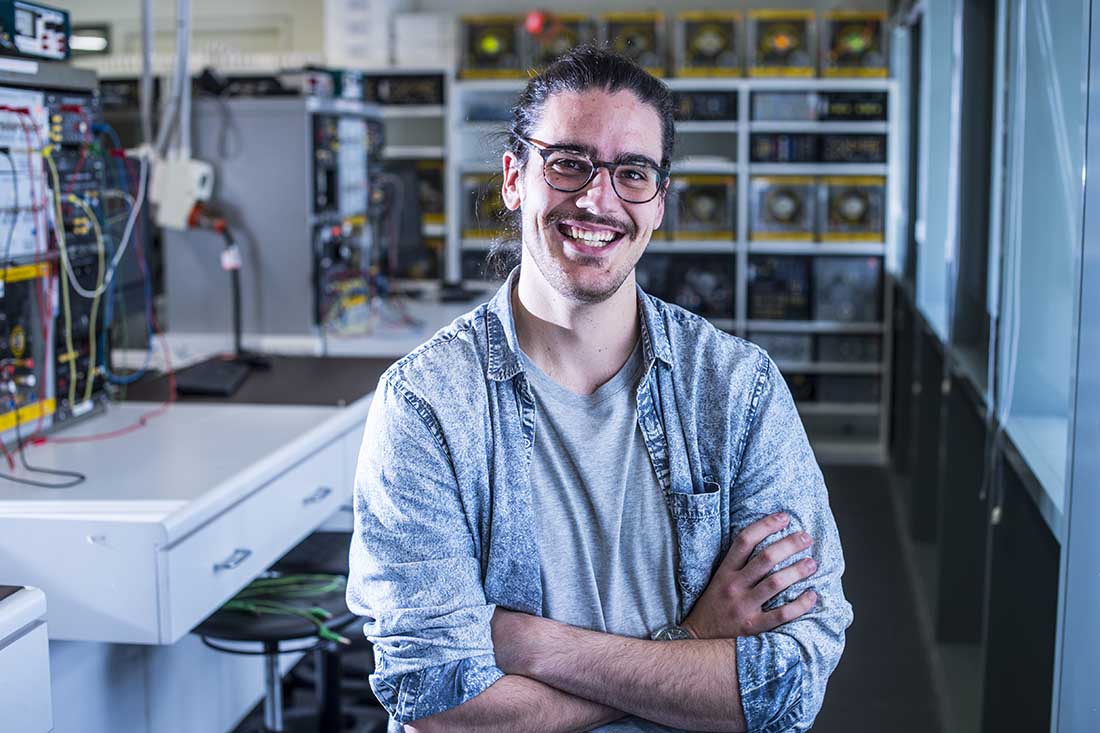 Ben's engineering double degree took him to Berlin
"My double degree allowed me to study in areas I love while still having a life outside of uni. It even took me to Berlin for 6 months to study alongside some of the best machine learning and cognitive algorithm experts in the world."
Ben McGhee - Bachelor of Engineering (Honours)/Bachelor of Information Technology
Study at the heart of technology
Staying ahead of the curve depends on knowledge, experience and being future-focused. Our postgraduate courses are intertwined with current industry practices and the latest research outcomes.
We're committed to delivering coursework programs and research outcomes that contribute to the National Government's push for greater depth STEM.
Expert staff
QUT students learn from the best. Our teaching staff and research supervisors offer an intellectual community that supports the generation of new knowledge and ideas.
Working closely with research facilities enables us to deliver programs that incorporate current research outcomes.
Supportive learning environment
We provide extensive support services to help you succeed in your studies. Our staff can help you devise a course of study that meets your professional development goals and fits alongside your work and family commitments.
World-class research
Our key research capabilities in big data, biomedical engineering, materials science and plant biotechnology are developing high-impact solutions to transform society, as well as how industry and government practise.
QUT's Science and Engineering Faculty hosts, or is a partner in, a number of leading research institutes, centres, and facilities that bring together experts from diverse fields of STEM.
Women in STEM
We're committed to gender equity and equal representation in our students, graduates and staff. We run programs for women in STEM to build important networks, collaborate and build relationships with other women, and collaborate on world-leading programs.
Realise your potential
"I chose QUT because working in the city it suited me to go to classes after work. The guest lecturers from industry offered real-world insights that I found valuable. Studying at QUT has helped me to move on to managing more complex and more interesting projects. One of my career highlights has been working on a hybrid operating theatre at St Andrews Hospital in Brisbane."
Lavinia Buckley - Master of Project Management
Computer science and information technology
If you're passionate about computers and technology, you can harness that passion and turn it into a stellar future in information technology. Focus on what makes technology work, and explore how to design and develop new systems and software. You'll work with and learn from information technology professionals who will help you develop creative software solutions for complex problems.
Undergraduate courses
Not sure what to study in information technology?
The Bachelor of Information Technology is designed so you can explore each of the core majors in your first year. This will help you make an informed decision about which major to study from your second year. If you already know what you want to study, you can explore our majors.
Build an IT qualification to suit your aspirations. We have strong links with IT vendors giving opportunities for internships in Australia and overseas.