Understanding the environment through sound
Professor Paul Roe summarises large volumes of sounds recorded in nature through visual representation. Using numbers and colours as identifiers on spectrograms, bird calls and the sounds made by wildlife can be identified at specific times and places, allowing for analysis of endangered species and biodiversity.
Australian Research Council grant to build acoustic observatory
A QUT-led research collaboration between ecologists, biologists and computer scientists will see an observatory established to analyse Australia's fragile and mega-diverse environment through sounds detected and recorded through sensors installed in over 400 locations around the country.
Connecting people across distances through daily routines
Professor Margot Brereton has developed a messaging kettle that lights up a lava lamp type device when a connected kettle in another location is turned on. The device keeps people in touch while living apart - turning on the kettle reminds people of each other, and they can also write messages through a connected device.
Helping patients to communicate post-stroke
Dr Bernd Ploderer has developed StrokeAssist, an app that allows stroke survivors to communicate when their ability to speak and understand has been impaired. Its functionality allows users to express their needs to medical staff, schedule medical appointments, and track mood and pain during recovery.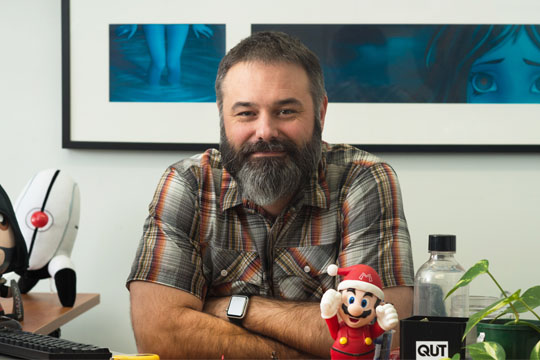 Overview
We work to design and better understand human-machine interfaces and systems.
We focus on understanding how technology is used by particular communities and developing new and improved forms of socio-technical systems.
Our experts
Our discipline brings together a diverse team of experts who deliver world-class education and achieve breakthroughs in research.
Explore our staff profiles to discover the amazing work our researchers are contributing to.