Our stories

Our researchers focus on future food systems
Professor Doug Baker will lead the Future Food Systems Cooperative Research Centre investigating logistics and urban design. This research will identify planning policy, design and infrastructure for integrating high-tech growing and processing facilities.
About the new centre
Award-winning students
Urban development student Libby Hogarth received the Queensland Division of the Planning Institute of Australia's award for her project on housing affordability for low socio-economic households in master planned communities.
Learn more about the awards
Planning students attend World Congress
Planning Honours students Chelsea Winn and Maddison Granzin attended the Intelligent Transport Systems World Congress 2019 in Singapore. Their shared thesis, funded under iMove, examines issues with street parking in Brisbane's West End. Their research informed a GIS model that will underpin a tool to facilitate conversations with community on contested infrastructure.
iHub living labs research
Dr Wendy Miller is leading the iHub living labs research as part of a wider project by the Australian Institute of Refrigeration, Air Conditioning and Heating (AIRAH), partially funded by the Australian Renewable Energy Agency (ARENA).
Read more about the living labs
NAWIC International Women's Day Scholarship
Congratulations to lecturer Dr Fiona Lamari for receiving the 2019 NAWIC International Women's Day Scholarship. Her research aims to promote the diverse careers in the construction industry to female high school students through virtual reality.
A new model for healthy senior living
Professor Robin Drogemuller (right) is leading a $1.15 million NHMRC-funded research project to examine alternative means of healthy senior living by co-locating with school campuses across urban and regional Australia.
Supporting Queensland's cycling infrastructure
Dr Tracy Washington is leading a study to understand the feasibility of an e-bike scheme within a corporate setting, as part of the Queensland Cycling Strategy 2017-2027. The research will inform government investment in new infrastructure such as cycling infrastructure, charging stations and end-of-trip facilities.
Our research
We address social, economic, technical, health and safety, and environmental challenges in diverse construction, development and planning projects in urban and regional contexts. We use human-centred thinking and critical perspectives to engage stakeholders in the design and innovation of the built environment.
Our strengths in data analysis, design thinking and strategic planning are used to solve problems, improve efficiency, manage change and implement innovative processes at different phases of the construction and development process.
Reef restoration research
Our Head of School, Associate Professor Karen Vella, is involved in the Reef Restoration and Adaptation research consortium. Her research looks at how to support stakeholder engagement and public participation options to understand the acceptability of technology interventions in the Great Barrier Reef.
Managing mining risks
Dr Tim Rose is leading a project funded by the Cooperative Research Centre for Optimising Resource Extraction focusing on approaches to risk management and technology adoption in the mining industry. The outputs will address a gap in industry practice and reduce potential challenges in the adoption of new technology.
Smart cities
Associate Professor Tan Yigitcanlar leads the Smart City research group. This research group focuses on developing urban systems that are sustainable and balanced in societal, economical and environmental impacts. Their research includes investigating better preparing for disasters, such as floods, optimising stormwater management and technological disruption, such as artificial intelligence.
Our courses

Project Management
"I chose QUT because working in the city it suited me to go to classes after work. The guest lecturers from industry offered real-world insights that I found valuable. Studying at QUT has helped me to move on to managing more complex and more interesting projects. One of my career highlights has been working on a hybrid operating theatre at St Andrews Hospital in Brisbane."
Lavinia Buckley
Master of Project Management
Urban Development
"QUT provided a vast knowledge base and array of skills to help prepare me for my job as a professional quantity surveyor. During my degree QUT helped me obtain a cadetship with leading firm, Turner & Townsend. Now I am employed by Turner & Townsend where I have worked on projects across a number of sectors."
James McMahon
Bachelor of Urban Development (Honours)
Our partners

The core of our industry engagement is through our research and research training activities and our undergraduate and postgraduate teaching programs.
We partner with businesses and organisations from start-ups to multi-nationals and our scope of application is inclusive.
Future Food CRC
iMove CRC
Queensland Department of Transport and Main Roads
CRC ORE
Australian Institute of Marine Science (AIMS)
CSIRO
Great Barrier Reef Foundation
Great Barrier Reef Marine Park Authority
Brisbane City Council
Brisbane Smart Transport Research Centre
Black & White Cabs
The University of Queensland
James Cook University
Cambridge Centre for Smart Infrastructure and Construction
Center for Integrated Facility Engineering – Stanford University
Centre of Construction Law – King's College London
Chongqing University
Cranfield University
Curtin University
Design Innovation Research Centre – University of Reading
Griffith University
Hong Kong Polytechnic University
Nanyang Technological University
National University of Singapore
Northumbria University
Penn State University
University College London Engineering
University College London (The Bartlett)
University of Hong Kong
University of New South Wales
University of Salford.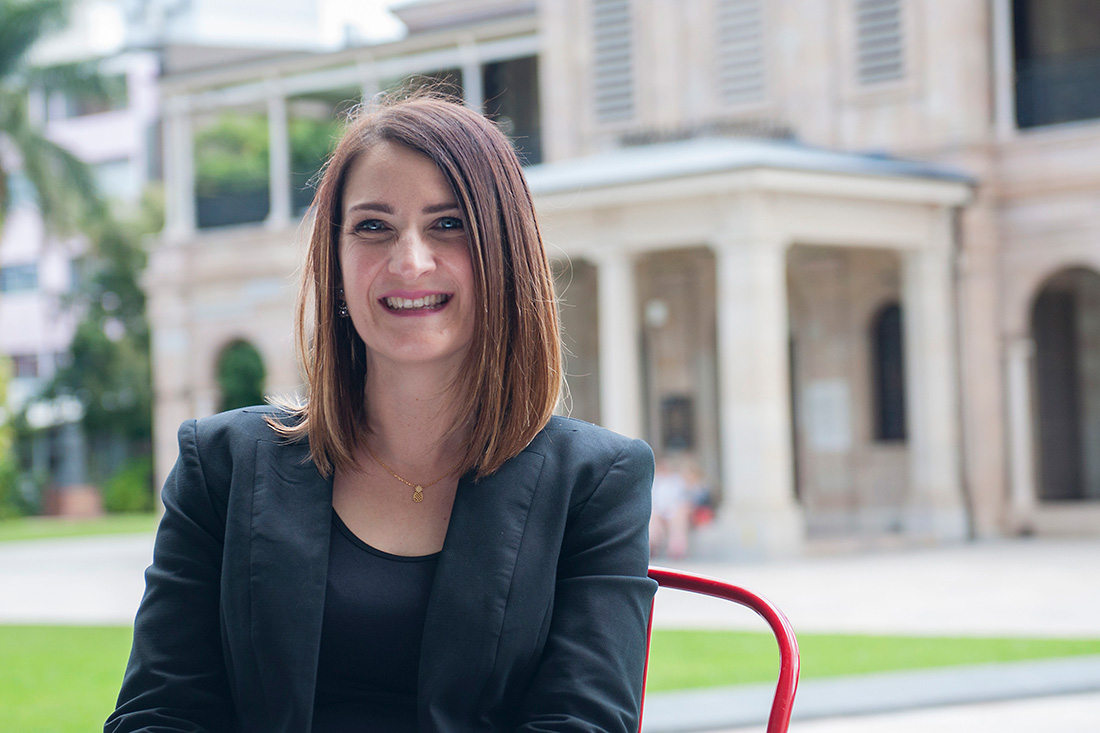 Our people
Our school brings together a diverse team of experts who deliver world-class education and achieve breakthroughs in research.
Explore our staff profiles to discover the amazing work our researchers are contributing to.