Overview
The Samford Ecological Research Facility is a 51 hectare property located in Brisbane's north-west. The property adjoins Camp and Upper Camp Mountain Roads to the east, and borders Samford Creek to the west. Of the total 51 hectares:
38 hectares consists of remnant Dry Sclerophyll Forest, the last substantial patch of this vegetation remaining in the Samford Valley - only 30 per cent of the original extent of this vegetation type remains in Queensland
3 hectares consists of remnant Gallery Rainforest (Riparian zone) which hugs the creek line, and is listed as endangered under the Vegetation Management Act 1999, with only 10 per cent of this vegetation type remaining in Queensland
the final 10 hectares of the property has been modified since European settlement, including clearing for grazing.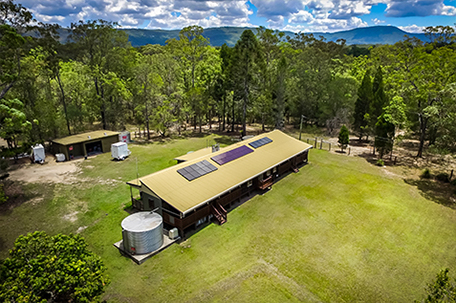 On-site facilities
Our on-site facilities include:
The Barracks, which houses an on-site office, meeting space for up to 40 people (lecture style) and accommodation for up to seven people (more possible in tents on grounds)
screenhouses, originally designed and installed to facilitate research on fruit flies, and now available for other research applications
permanent monitoring installations including a weather station, phenocam, pitfall traps, soil pits, soil moisture and carbon sensors, flux monitoring station, and litter traps.
Contact us

Samford Ecological Research Facility
148 Camp Mountain Road
Samford QLD 4520 Australia
Postal address
Samford Ecological Research Facility
148 Camp Mountain Road
Samford QLD 4520 Australia