Structural engineering and testing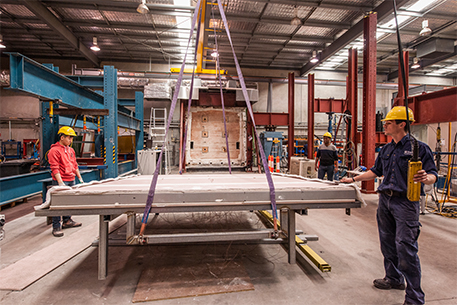 Our experienced team of technicians and engineers enable large-scale mechanical and structural engineering testing, including high temperature and flame conditioning at QUT's Banyo Pilot Plant.
The plant has the space and the equipment needed to perform large specimen handling, manufacture, testing and destruction and can conduct testing of built environment structures, from individual components to building systems.
We have a wide range of test equipment and manufacturing abilities including a strong floor and associated heavy steel framing, large-capacity hydraulic actuators and associated instrumentation devices.

Our expertise and equipment enable long-term academic projects and industry-focused research across a wide range of disciplines and sectors. Our team has a diverse skill set to facilitate singular and multidisciplinary research and provides experienced technical input.
Our facility provides many testing spaces suitable for mechanical and structural engineering testing.
Flexible test areas including:

field sample preparation laboratory used for materials science including surface analysis, thermal conductivity testing and exacting tolerances at 0.01 microns
environmental chamber.

Civil engineering areas including:
We have access to a wide range of equipment to enable mechanical and structural engineering testing including:
5t gantry crane
2.5t forklift
100m2 of strong floor (up to 500kN),
six-burner gas furnace that can deliver up to 1000°C.
We provide consulting and contract development services for research, industry and government partners in structural engineering and testing. Please contact us to arrange a consultation.
Contact us

Research Engineering Facility
Level 8, P Block
Gardens Point
2 George St
Brisbane QLD 4000 Australia
Postal address
Research Engineering Facility
GPO Box 2434
Brisbane QLD 4001