Robotics and autonomous systems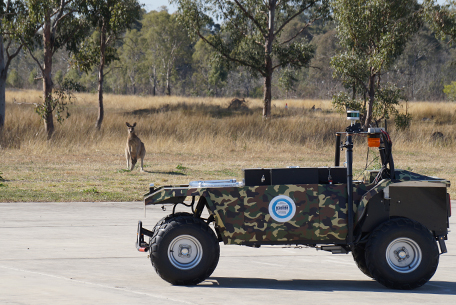 The Research Engineering Facility designs, builds, operates and supports a wide variety of robotics and autonomous systems to enable real-world research outcomes for QUT and our partners.
We provide robotic, machine learning and autonomous systems research, development and engineering expertise and develop robust, maintainable and extendable software solutions, creating effective software and commercially viable code for application in real-world scenarios.
Our experienced robotic and software engineers specialise in taking state-of-the art research solutions and developing them to solve complex problems. We design, develop and implement novel artificial intelligence and software solutions for a wide range of projects.
Key projects
The Research Engineering Facility (REF) has access to a wide-range of robotics and autonomous systems equipment to enable real-world results for our partners.
Equipment
Details
Robotic systems

Unmanned ground vehicles (UGVs) and mobile robots
Unmanned aerial vehicles (UAVs)
Robotic arms

Artificial intelligence (AI) techniques and machine learning
Applied research capabilities to support QUT's strengths in artificial intelligence research and development.

Path planning

Experience in the application of path planning techniques for a variety of platforms and conditions.
Perception systems

Vision sensors (camera/ stereo cameras)
Light detection and ranging (LiDAR)
Global positioning system (GPS)

Sensor fusion
Merging data from multiple sources can assist in building a more accurate world model for robot behaviour and navigation.
Hardware-software integration
Experience with hardware-in-the-loop (HITL) and software-in-the loop (SITL) testing and validation
We provide consulting and contract development services for research, industry and government partners in robotics and autonomous systems. Please contact us to arrange a consultation.
Contact us

Research Engineering Facility
Level 8, P Block
Gardens Point
2 George St
Brisbane QLD 4000 Australia
Postal address
Research Engineering Facility
GPO Box 2434
Brisbane QLD 4001