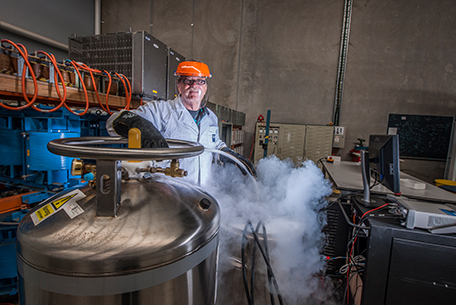 Our Research and Engineering Facility energy systems team provides cutting-edge research and development, fabrication and testing services in energy production and storage, electrical engineering and superconductivity technologies.
We have access to purpose-built facilities and provide a wide range of energy and electrical systems testing and production services including:
lithium-ion battery production with dedicated dry-rooms
experimental testing and qualification of power systems
energy testing of both high- and low-voltage devices
Power and energy engineering
We perform testing of High-Temperature Superconducting (HTS) machines for maritime propulsion, power equipment and defence applications and advanced electric power system technology testing of both high- and low-voltage devices.
Lithium-ion battery fabrication
QUT established Australia's first pilot plant facility producing commercial graded lithium-ion batteries. Our facility enables rapid prototyping of new battery formulations and cell types to improve the production and characteristics of lithium-ion batteries used in a wide range of applications.
Our facility features:
materials characterisation and coin-cell fabrication through our Central Analytical Research Facility (CARF)
ultra-low humidity dry rooms for effective lithium-ion battery cell fabrication
a chemical processing plant for the validation of battery materials
battery pack design, prototype and build capabilities specific to end user requirements.
Learn more about our lithium-ion battery production here.
Electrical and instrumentation workshop
Our team has access to assembly facilities for small Arduino projects including printed circuit board (PCB) design and construction. We enable data acquisition and instrumentation with a range of load cells, displacement sensors, laser and gauges.
We provide consulting and contract development services for research, industry and government partners in energy systems engineering and testing. Please contact us to arrange a consultation.
Contact us

Research Engineering Facility
Level 8, P Block
Gardens Point
2 George St
Brisbane QLD 4000 Australia
Postal address
Research Engineering Facility
GPO Box 2434
Brisbane QLD 4001