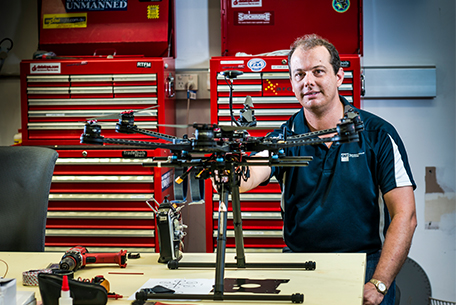 The Research Engineering Facility's drones and aviation capability is enabled through access to world-class equipment and the expertise to achieve real-world research outcomes for our partners.
We own and operate a fleet of Remotely Piloted Aircraft Systems (RPAS), commonly called UAVs or drones, to support and enable a diverse range of QUT and industry projects, including sensor integration, data and image capture requirements, and data processing and analytics.
The team also enables research into drone equipage for obstacle detection and collision avoidance, unmanned traffic management systems (UTM) and cooperative multi-agent systems (aka swarms).
QUT is a Civil Aviation Safety Authority (CASA) certified commercial operator of drones and holds a remote operator certificate (ReOC) CASA.ReOC.0466. This permits operations of multi-rotor drones up to 25kg maximum take-off weight (MTOW) anywhere in Australia, under the following conditions:
Extended line-of-sight (day or night) – out to 5.6km from pilot in command (platform specific)
Below 400ft AGL
Not within 3nm of a towered aerodrome
Not within 15m of the general public
Additionally, the team has access and approval to operate in a beyond visual line of sight environment for the testing of systems and platforms at a dedicated test facility located within three hours of Brisbane.
The Research Engineering Facility operates and supports a wide variety of drone, aviation and robotics systems to enable the research of QUT and our partners. We also have access to an extensive range of remote sensing equipment, much of which has been integrated onto our fleet of drones. Our team has a depth of experience in the integration of a wide variety of sensors onto robotic platforms, and can work with clients who have specific needs for their application case.
Aerial robots
Type
MTOW
Endurance
Payload
Quantity
DJI M600 Pro
15.1kg
16 mins @ 6kg
Up to 40 mins with no payload
Up to 6kg
3
DJI s800 EVO
7kg
12 mins @ 2kg
Up to 2kg
4
DJI Inspire 2
4kg
27 mins
560g
1
DJI Mavic Pro
743g
21 mins
NA
1
DJI Phantom 3 Professional
1.28kg
Up to 20 mins
NA
1
Silvertone Flamingo (fixed wing)
20kg
4 hours
Up to 2.5kg
1
CyberTech CyberEye II (fixed wing)
80kg
4+ hours
Up to 20kg
1
Solutions
Equipment
Gyro stabilised imagery solutions

Canon 5DSR
Zenmuse X5S
Zenmuse XT2 dual EO/IR camera
Zenmuse Z30 (30x optical zoom, 6x digital zoom)
FLIR Tau 2 + FLIR Tau VPC Module + BEVRC PV700 DVR
FLIR Tau 2 + TeAx ThermalCapture
CM-160 EO/LWIR gimbal camera system
Headwall Nano-Hyperspec
MicaSense RedEdge

Geospatial and referencing solutions

Hovermap 3D LiDAR mapping and autonomy payload
Velodyne HDL-32E Lidar integrated to NVIDIA Jetson TK1
Aaronia GPS Logger
NovAtel (DL-V3, OEMV, Propak-G3 RT2J SPAN receiver)
NovAtel ADIS-SPAN
iMAR FSAS
VICON Motion Capture system

Air quality solutions

DiSCmini nanoparticle sensor
Pollen spore trap
We provide drones and aviation services for academic, industry and government clients.
Selected equipment can be hired by researchers without the full-service, dependent on project scope.
Please contact us to arrange a consultation.
Contact us

Research Engineering Facility
Level 8, P Block
Gardens Point
2 George St
Brisbane QLD 4000 Australia
Postal address
Research Engineering Facility
GPO Box 2434
Brisbane QLD 4001